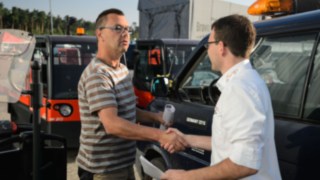 Be prepared for unexpected peaks in demand
If you need to cover a seasonal peak, prepare for an upcoming event or just deal with the fact that your order books are full, you will need to make it as easy as possible for your workforce and machinery to manage the extra workload. Our short-term "Linde Rental Solutions" are on hand around the clock to work with your company as a reliable partner. Wherever you are in the world, you can rest assured that we will have just the right forklift truck, warehouse handling equipment or fleet you are looking for, and you know you will be getting state-of-the art technology and the usual Linde quality.
Flexible solutions that suit you
The Linde rental solutions are not just about quick delivery of the trucks and equipment you urgently need – you will also be provided with all the advice and guidance required and have flexibility guaranteed both before and after your order has been fulfilled. This way, companies can take advantage of our flexible solutions to help them out during these often very busy periods.
Our service allows you to react to additional demands, last-minute changes and unforeseeable events in an appropriate and cost-effective way. Anywhere Linde can be found, you can be sure that special short term rental fleets adapted to suit local customers' requirements are not far away.
Our approach combines globally recognized standards with adjustments made in response to the local needs. The result is the ideal solution in the form of flexible rental options ranging from one day up to one year. What's more, the Linde rental solutions also provide a straightforward and practical way of testing out Linde trucks.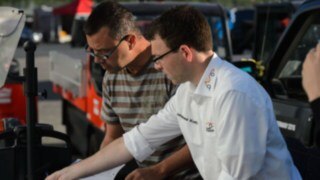 Quality and Performance
If you have a lot to move, you need reliable technology that has been adapted with your company's operating conditions in mind. The electric forklift trucks, IC trucks and other logistics trucks in the Linde short term rental fleet are all state-of-the-art pieces of equipment. Qualified Linde service technicians regularly check and service the trucks in the rental fleet and ensure that they are in line with the highest of quality standards.
Linde makes the whole process nice and straightforward, meaning that help is available quickly – ideal for managing short term capacity fluctuations. The wide range of Linde rental equipment on offer gives companies the chance to respond to almost any logistics requirements in no time and ensure their operations run smoothly.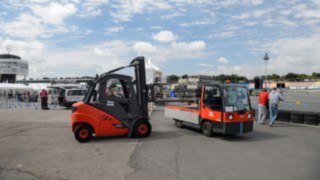 The full range of proven Linde solutions
Alongside forklift trucks and warehouse handling equipment, the Linde rental solutions give you access to other more specialized trucks and equipment whenever you need to use them on a temporary basis, including container stackers, special trucks, work platforms and accessories. This diverse range allows companies to put together their very own fleet that runs like clockwork.
Linde Material Handling will be on hand to provide you with help and guidance every step of the way, from the moment you make your rental inquiry, throughout your individually arranged rental period, right up until you return your rental trucks. Linde is a partner you can rely on before, during and after we provide you with the perfect rental solution to suit your requirements.
Before
Availability: Linde's rental service network is so extensive that you can always be sure to find a professional contact person near you.
Focused on the solution: Experienced Linde employees will be flexible and work quickly to find a solution to individual requirements, even when these are something more specific.
Industry knowledge: Linde's contact persons for rental trucks keep up-to-date on the latest technological developments through regular training. What's more, our advisors are also familiar with requirements specific to the industry, so can provide expert assistance when you are selecting a truck.
Availability: Every Linde contractual partner has an exclusive fleet of trucks at their disposal for short-term rentals (between one day and one year). Comprising more than 50,000 trucks, Linde's global rental fleet caters for all kinds of requirements with ease, no matter how specific the requirement.
Flexibility: The duration of the rental is flexible and can be adjusted to the requirements, whether just a few hours, one day or as much as one year. The agreed duration of the rental can also be changed at short notice at any time.
During
Fast service: If required, the equipment you need can be available within 24 hours of your order being received. Linde arranges fast delivery of the rental trucks at the right time, ensuring a convenient experience and no extra hassle for the customer.
Reliability: An experienced Linde service technician checks the trucks requested in good time before they are sent out, which ensures that they always meet Linde's high standards as well as legal and safety-related requirements.
Adaptability: Regardless of whether it is the requirements for the rental trucks that change or the rental duration, Linde's rental service offers you as much flexibility as you could possibly need. For example, we can provide you with different equipment if you request this, or shorten or extend the duration of the rental without endless bureaucracy.
Assistance: The Linde rental service team will be there to help you if you ever need assistance or additional equipment at short notice during your rental.
After
Warranty: Linde's rental fleet ensures that you get first-rate technology under fair conditions. This means that you avoid any unexpected surprises, even after the rental has ended.
Transparency: All administration and invoicing is simple and transparent. We reduce the amount of administration done to a bare minimum.
Satisfaction: We conduct Europe-wide surveys on a regular basis and use the findings from these to keep developing the range and service we offer.
The advantages of the Linde rental solutions at a glance:
Diversity: The biggest short-term rental fleet, with more than 50,000 products around the world.
Proximity: Extensive rental service network across Europe.
On-site selection: Local Linde partners with their own short term rental fleet.
Flexibility: Freedom to choose a rental period of between one day and one year.
Transportation: Delivery and collection service for rental trucks provided by Linde on request.
Service support: Support from the Linde service team whenever and wherever you need it.
Accessories: A wide range of attachments, batteries and chargers.
Assistance: Training opportunities for drivers.
Rent-to-own: A straightforward way of trying out a truck before you buy it by renting first.
Availability
Linde's short term rental service network is so extensive that you can always be sure to find a contact person near you.
Find the rental truck for you