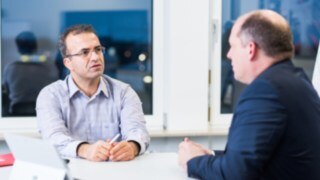 Linde Material Handling's HR Director Frank Oppenländer and the Chairman of the Works Council Özcan Pancarci talk about Linde's attractiveness as an employer, the effects of digitalization and the labor market of tomorrow.


Mr Oppenländer, Mr Pancarci, is Linde Material Handling an attractive employer?


Pancarci: Yes, absolutely. But that does not mean that we cannot do more for our attractiveness. I think we also need to do so, because demographic change and the challenges of digitalization present us with new, very concrete challenges. Both employers and employees are equally challenged.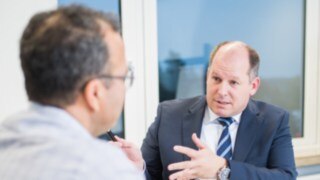 Oppenländer: We certainly don't have to shy away from comparison. Linde Material Handling is a recognised brand as an employer, not only in Germany but throughout Europe. The average length of service in EMEA is twelve years. The working atmosphere and opportunities for further development are right. Salaries also play a role, but we know from experience that it is even more important to our employees that the content of their work is right, that perspectives are available and that colleagues and the environment fit. All this is the case with Linde. In addition, we are now taking a targeted approach to attracting new employees - and to keep our current employees in the company tomorrow as well. Of course, we also expect the willingness to develop further. Anyone who is prepared to do so, anyone who wants to learn something new must and will be supported by Linde.


You're referring to the progressing digitization. Why are the tried and tested methods and instruments no longer helping here?


Oppenländer: The much-quoted "War for Talents" has undergone massive changes in recent years. Furthermore, it is difficult to recruit qualified young professionals, but with digitalization, the job profiles are also changing. We invest heavily in new technologies, offer our customers a comprehensive range of intralogistics services - and our employees need the necessary qualifications to master these technologies and turn them into added value for our customers. Training and further education will play an even more important role in the future, and the willingness to change and learn on a daily basis will become the key factor for a successful career at Linde Material Handling.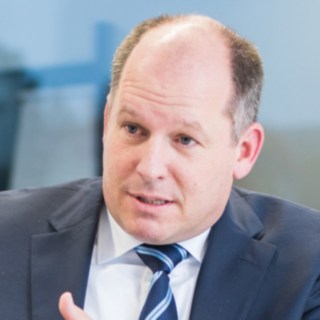 Training and further education will play an even more important role in the future - and the willingness to change, to learn on a daily basis, will become the key factor for a successful career at Linde Material Handling.
Frank Oppenländer, Director Human Resources at Linde Material Handling
Are employees sufficiently prepared for these challenges?


Pancarci: Many employees see the risks of digitalization. But more and more people are seeing the opportunities and want to take advantage of them. In history we are in a unique transformation process. We want to shape it positively and take the workforce with us. Everyone must have a chance to progress and qualify themselves and actively participate in shaping change. The willingness to change depends to a large extent on whether we can communicate openly and in dialogue with individual employees. The aim of the works council is to ensure that 75 percent of the new positions created can be filled from within the company. The remaining 25 percent must be found externally.


An ambitionous aspiration...


Pancarci: Yes, of course, but you have to have this ambition, that is what the employees expect from us. And I'm sure we have the right people in the company, otherwise we wouldn't be so successful today.
Oppenländer: I think that if we can fill 30 to 40 percent of these new positions internally, that would be fine. But of course: the more, the better! We follow the performance principle, and those who are willing to perform are in the right company at Linde Material Handling.
Pancarci: We have a good education, a good basis of technically competent employees - now we have to point out perspectives for all employees in the company. Linde's new human resources strategy is essential for the transformation process. We've had enough of concepts, agreements and presentations - now it's time to put all this into practice. I think we are on a very good path.
Oppenländer: Part of this is that we are concerned about training. Are the job descriptions still correct? Or do we have to adapt our current training professions and impart other technologies? In concrete terms: Is the training of industrial mechanics or mechatronics technicians still the right thing to do? Or do we need to pay more attention to industry 4.0? This goes all the way to our dual degree programmes in higher education. We have to ask ourselves: Are there enough places to study? Are they the right ones? And how can we win over universities and their graduates? This includes good employer branding and active and well-functioning university marketing.


Do you train according to your requirements?


Oppenländer: Clearly, yes! And if you show in your training that you are performing well every day and are willing to leave your comfort zone, we will take care of you. Naturally, we expect this performance principle not only from trainees but also from all employees.
Pancarci: I agree with Mr Oppenländer. But we must also clearly define what we need in the future. Education, qualification, further training - we must shape all this in a future-oriented way. This is a key issue for future corporate success and competitiveness. Those who best solve the issue of qualification and further training will also have a head start in the competition.


Facing demographic change and fostering young talent - these were the main objectives of the still existing human resources strategy, which was described in the Sustainability Report 2014. What has happened here in recent years?


Oppenländer: Quite a lot! And all this is reflected in our new human resources strategy, which will come into force next year. Just a few examples: In the future, there will be a separate recruiting center, where the newly aligned university marketing will also be located. We are also planning to set up our own Linde Training Center to provide further training for our employees, particularly in the areas of automation and digitization. We have strengthened our talent management to identify and develop internal talent. To this end, there will be a trainee program and special mentoring programs for young talents. The issue of diversity also plays a major role, because we want - no, we have to do more here.


At present, the share of women in Linde Material Handling is rather low at 16.6 percent...


Pancarci: Right. We see ourselves as being challenged here, especially when it comes to reconciling work and family life. And I don't see that as a woman's issue. On the contrary, more and more men are now taking parental leave, so something is moving here, including in their families. But once again, more can be done here! Incidentally, this is also an issue that we are discussing in the Supervisory Board.
Oppenländer: Of course, this is also an industry-specific topic - there are still too few women studying engineering sciences, for example. We are in a similar situation to the automotive industry. Irrespective of this, however, we also have to use other channels, such as events and websites where female graduates and executives in particular look around. Incidentally, the many women who have made a career at Linde Material Handling are excellent ambassadors.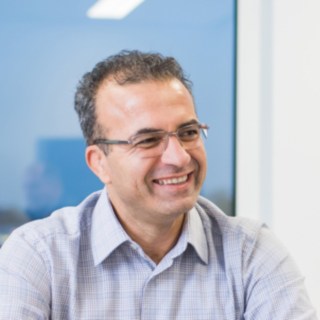 What can everyone learn from each other? In this way rules of the game are created for dealing with each other, but also values such as respect and mutual esteem.
Özcan Pancarci, Chairman of the Works Council at Linde Material Handling
Mr Pancarci, co-determination and employee participation are regulated by law in Germany. In practice, however, co-determination is "lived" differently. What role does this play in Linde Material Handling? Is there a "Linde Way"?


Pancarci: We have a good culture of co-determination both at Linde Material Handling and throughout the KION Group. The internal consensus within the company is already a success factor of our company from its history. In short, we talk to each other. At the end of all discussions, the common goal is to make the best decision for the company and its employees. This culture also shapes the relationship with management and executives, especially when it comes to personnel issues.


Is this valid throughout Europe or is it more of a German perspective?


Pancarci: Group-wide, we treat each other very respectfully, also in other countries such as France, Spain and Italy. But I would, of course, like us to have a culture of codetermination the way we do in Germany everywhere at Linde Material Handling. Because statistics show: Where there is a culture of co-determination, entrepreneurial success usually also comes about.
Oppenländer: Incidentally, Linde Material Handling has its own workshop for trusting cooperation between the works council and management at Linde Material Handling. I've never seen anything like this before - and I really appreciate these meetings. The following questions concern us there: How do we work together optimally, how do we avoid conflicts? How do we inform our partners in good time and comprehensively? How do we get each other's opinion? So far we have met four times - certainly not the last time. Mutual esteem is the most important thing in working together.
Pancarci: Talking together instead of talking about each other is the motto - and: What can everyone learn from each other? In this way rules of the game are created for dealing with each other, but also values such as respect and mutual esteem. All this is then passed on within the company. An exemplary function, so to speak.


Where do you see both Linde and its Human Resources department in a competitive comparison over the next five years? What are your goals?


Oppenländer: We are a premium provider and we want to remain a premium employer for our employees in the future, meaning we want to maintain a top employer attractiveness. Over the next few years, this means above all developing as many people internally as possible - and at the same time being so attractive externally that we can easily fill positions that cannot be filled internally.
Pancarci: I think so too. The yardstick for our success will be to shape the transformation process equally in the interests of the workforce and the company - and to ensure that we can retain as many jobs as possible.