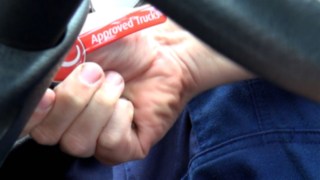 The requirements for industrial trucks are as individual as the companies that use them. In particular, start-ups, companies in their growth phase or with varying operating times for industrial trucks are looking for opportunities to meet their specific requirements both reliably and economically. Linde Approved Used Trucks are a high-quality and cost-effective alternative. The trucks are also a logical addition for companies with larger fleets of forklifts, if the aim is to provide an appropriate mix of new equipment and approved used trucks to meet various requirements and applications.
Linde Material Handling has developed a high-quality, reliable solution for these requirements. For this purpose, used forklifts from Linde undergo a standardized refurbishment process. This ensures that the forklifts meet the necessary quality standard for the requirements and areas of application in question.
Seamless service history and standardized Reconditioning
The industrial trucks in the 'Approved Trucks' program are essentially selected returns from Linde's own short term and long term rental fleets. These forklifts were regularly serviced by Linde service technicians during their initial use. The seamless truck and service history and careful inspection when the forklift is returned mean that Linde only selects the very best equipment for the 'Approved Trucks' program.
This equipment is then refurbished based on one of the three reconditioning standards, PLUS, SUPER, or ULTRA, and labeled with the 'Approved by Linde' seal of quality. This quality seal is an international standard, which guarantees that the approved used forklifts supplied by Linde always comply with the same high performance requirements. This ensures that buyers can always rely on the same high product quality wherever they buy an Approved Truck from Linde.
Comprehensive Reconditioning with a seal of quality
At Linde, used equipment is refurbished on the basis of a standardized process. Specially trained Linde technicians diligently work through the refurbishment process in specialized regional reconditioning centers or at selected local Linde service locations. If a part needs to be replaced, the technician only ever installs durable Linde original spare parts. Only once a forklift has successfully passed through the entire process does it receive the 'Approved Truck' seal of quality. To break it down, the process consists of the following steps:
1. Transparent truck history:
As a rule, approved used forklifts are selected returns from Linde's own short term and long term rental fleets, which have been regularly serviced by Linde technicians during their previous period of use. This ensures a transparent and seamless service and truck history.
2. Cleaning:
Every forklift undergoes high-pressure cleaning before inspection in order to remove any remaining dirt as well as oil and grease. The truck is then ready for a detailed inspection.
3. Inspection:
Experienced technicians scrutinize every component. A comprehensive visual inspection as well as a measurement and function check allow them to identify possible weaknesses on the forklift or on individual components which will require further inspection.

4. Engine check and emissions test:
Linde uses the latest diagnostics equipment to put the drive unit through its paces. This way, the full engine power, operational reliability and compliance with the applicable emissions standards can be guaranteed, especially for diesel forklifts.
5. Battery and charger:
The battery, together with the engine, is the centerpiece of every industrial truck. As a result, the charger and batteries of electric forklifts are carefully checked to ensure that they deliver the necessary performance. If this is not the case, the technicians replace the battery cells in full.
6. Refurbishment and repair:
The technician now consults with the responsible Head of the Used Equipment department to decide whether the equipment in question is suitable for the 'Approved Trucks' program. If so, all mechanical and electrical components, and all safety parts in particular, are carefully checked and replaced with Linde original spare parts where necessary.

7. Painting:
A first-class outer appearance is the finishing touch in the refurbishment process, ensuring careful handling by future users. That's why forklifts receive a completely new paint job and new original Linde labels where this is required. Minor signs of wear and tear are professionally repaired and re-painted in the original color.
8. Final inspection:
The last step is a comprehensive final inspection and acceptance. Linde provides the signed acceptance certificate and a safety certificate with every industrial truck as verification. Only trucks that have successfully passed through the inspection and refurbishment process receive the 'Approved by Linde' seal of quality upon completion of the refurbishment. This visibly distinguishes them from used forklifts that have not passed through the process.
Reconditioning standards for every requirement
Linde provides approved used forklifts in the three refurbishment standards of Linde PLUS, SUPER and ULTRA. The main differences between them are the level of refurbishment and the warranty period. This means that you as the customer can choose the right truck for your individual operating conditions and requirements.
Linde PLUS forklifts are ideal for applications with a lower workload. The Linde SUPER category is generally suitable for medium workloads. Linde ULTRA is the right category for demanding applications with a higher workload. However, the optimum refurbishment standard for your requirements depends on a number of factors. That's why your Linde sales partner is on hand to provide extensive advice to help you make the right choice. The following provides an initial overview of the details and the differences between Linde PLUS, SUPER and ULTRA.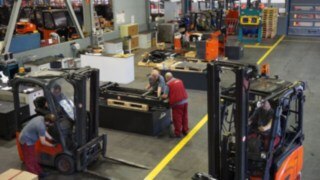 Linde PLUS
The Linde PLUS standard includes the following refurbishment measures and equipment features:
Used forklift serviced and tested in accordance with the manufacturer's recommendations
Mast, fork carriage and hydraulic system tested in accordance with the manufacturer's specifications
Emissions test
Charger tested for electric trucks
Battery in working order in electric forklifts
Safety of steering axle checked
Usable tires
Functional electric motor
Full functionality based on the local standards
Good color condition and Linde labels
Tested drive unit
Usable driver's seat and safety belt
Operating hours counter checked
Operating instructions
Approved Trucks Certificate
Linde SUPER
The Linde SUPER standard includes the Linde PLUS features mentioned above as well as the following points:
Emissions test and compression pressure measurement for IC trucks
Battery capacity of more than 70 percent
Steering axle checked in accordance with the manufacturer's specifications
Usable tires with more than 60 percent tread depth
Hydrostatic unit or combi-axle checked in accordance with the manufacturer's recommendations
Re-painting in original Linde colors and Linde labels
Well-maintained driver's seat and safety belt
Prongs and lift chains with wear limit at 40 percent
Transparent truck history
Complete transfer certificate
Warranty: 3 months/250 hours (certificate included)
Linde ULTRA
Approved used forklifts in the Linde ULTRA category have the same features as Linde SUPER together with the following additional features:
Overhauled combustion engine
Overhauled electric motor
Refurbished, tested and certified or new charger
New battery or less than three years old with at least 80 percent capacity
Completely overhauled steering axle
New set of tires or at least 90 percent tread depth
Flawless visual condition with full re-painting
Driver's seat and safety belt as new
New prongs or maximum 10 percent wear
New lift chains or maximum 10 percent wear
Bearings in the mast checked and replaced where necessary
Control elements new or as new
Warranty: 6 months/500 hours
Reliable all-round package
Benefits of the 'Approved Trucks' program at a glance:
Approved used forklifts are not just an alternative, but rather the first choice for certain companies. Approved Used Trucks offer relevant benefits depending on the specific requirements for the respective company phase or the composition of the existing fleet. These include:
Quality:
Careful, standardized refurbishment process for the approved forklifts, including parts replacement exclusively with new original Linde spare parts.
The entire Linde product range in 'Approved Trucks' quality: from hand pallet trucks to high-performance forklifts.
Certificate in accordance to the latest health and safety standards.
Choice:
Three standards to suit a broad range of individual customer requirements with regard to cost-effectiveness and operating conditions: PLUS, SUPER, and ULTRA.
Available from a location near you.
Large choice of accessories.
Service:
Various financing and service packages, such as long term rental with full-service contract.
Quick and comprehensive service directly at the customer's location.
Training opportunities for drivers or forklift license test.
Test drive possible at any time.
The wide selection of approved forklifts within the Linde network ensures that local partners always find the right truck for a customer that is tailored to the specific application and the available budget.