Visibility and High Handling Performance
The distinctive design of Linde counterbalanced trucks with overhead tilt cylinders gives the powerful and versatile Linde Roadster E20–E35 R a unique panoramic view. The overhead guard is connected laterally to the reinforced tilt cylinders, eliminating the need for the A-pillar. With the exception of the visibility-optimized mast, this concept offers the driver a largely unrestricted view of the load and working environment, even when storing and retrieving at height. If required, an optional armored glass roof provides a clear view upwards. The Linde compact axle with the two drive motors built into the axle, maintenance-free brakes and directly mounted power units provide the basis for maximum maneuverability and handling performance. Linde's energy management system optimizes energy consumption.
Characteristics
Safety
The E20–E35 R series offers comprehensive safety functions as standard for optimum protection of driver, load and working environment. An important safety factor is visibility. This is why on the E20–E35 R forklifts the overhead guard is connected to the side of the reinforced top tilt cylinders. This eliminates the need for the A-pillars, which restrict visibility. The driver also has almost unlimited view upwards, but is well protected by the overhead guard which extends to the mast – optionally available in armored glass. The redundantly designed control system and the electronic traction control ensure additional safety. In addition, numerous optional safety systems are available ex works or as retrofit solutions.
Safety functions as standard
Optimized all-round visibility and robust, enclosed driver's area
Protection of driver, load and working environment
Electronic traction control
Numerous optional safety systems ex works and as retrofit solutions
Ergonomics
User-friendliness and comfort are the preconditions for fatigue-free work and the efficient interaction between man and truck. Accordingly, all control components of the E20–E35 R electric forklifts can be operated intuitively and without physical strain. In particular, Linde's dual pedal control and the Linde Load Control for precise control of the mast functions reduce unnecessary body movements. The spacious driver's compartment without A-pillars offers excellent all-round visibility, ample legroom and a multi-adjustable seat with integrated armrest. In addition, the lift mast and drive axle are decoupled from the chassis by rubber bearings. As a result, vibrations and shocks are hardly noticeable for the driver.
Ergonomic layout of control elements
Efficient dual pedal control requires no foot repositioning
Sensitive control via Linde Load Control
Individually adjustable unit consisting of armrest and seat
Handling
The drive unit for the powerful electric forklift trucks is provided by the Linde compact axle: Two powerful drive motors are integrated into the axle, together with maintenance-free brakes and power components mounted onto the axle. This drive system and the intuitive, precise control of the vehicles via dual pedals and Linde Load Control ensure high productivity. The unique all-round visibility of the Roadster models without A-pillars also contributes to efficiency. In addition, the performance characteristics of the trucks can be adapted to the respective application requirements via three-stage adjustable driving dynamics.
Optimized all-round visibility
Reduced risk of accidents
Compact axle with two motors
Precision load handling
Individually adjustable driving dynamics
Service
The extremely long maintenance intervals are a testament to the efficiency of the E20–E35 R model series. The entire drive axle is maintenance-free, including the central components the three-phase motors, reduction gear, and oil bath disk brakes. The lift motor, too, operates on maintenance-free three-phase technology. Plus, the central electrical system is easily accessible via a service panel. The first maintenance testing and adjustment work is only necessary after 1,000 operating hours, and the hydraulic oil only needs to be changed after 6,000 hours.
Easy access to central electrical system
Initial service after 1,000 operating hours
Hydraulic oil change after 6,000 hours
Maintenance-free drive and lift motors and brakes
Technical Data
| Model | Load capacity/Load | Load centre distance | Battery voltage/rated capacity (5h) | Aisle width with pallet 800 x 1200 along forks |
| --- | --- | --- | --- | --- |
| E20/600RH | 2.0 (t) | 600 (mm) | 80 / 560/620 (V)/(Ah) o. kWh | 3800 (mm) |
| E20R | 2.0 (t) | 500 (mm) | 80 / 460/500 (V)/(Ah) o. kWh | 3766 (mm) |
| E25/600RH | 2.5 (t) | 600 (mm) | 80 / 560/620 (V)/(Ah) o. kWh | 3822 (mm) |
| E25/600RHL | 2.5 (t) | 600 (mm) | 80 / 700/775 (V)/(Ah) o. kWh | 3967 (mm) |
| E25/600RHL_'5Pz/625Ah' | 2.3 (t) | 600 (mm) | 80 / 575/625 (V)/(Ah) o. kWh | 3967 (mm) |
| E25R | 2.5 (t) | 500 (mm) | 80 / 460/500 (V)/(Ah) o. kWh | 3766 (mm) |
| E25RL | 2.5 (t) | 500 (mm) | 80 / 575/625 (V)/(Ah) o. kWh | 3911 (mm) |
| E30/600RH | 3.0 (t) | 600 (mm) | 80 / 560/620 (V)/(Ah) o. kWh | 3830 (mm) |
| E30/600RHL | 3.0 (t) | 600 (mm) | 80 / 700/775 (V)/(Ah) o. kWh | 3975 (mm) |
| E30/600RHL_'5Pz/625Ah' | 2.8 (t) | 600 (mm) | 80 / 575/625 (V)/(Ah) o. kWh | 3975 (mm) |
| E30R | 3.0 (t) | 500 (mm) | 80 / 460/500 (V)/(Ah) o. kWh | 3891 (mm) |
| E30RL | 3.0 (t) | 500 (mm) | 80 / 575/625 (V)/(Ah) o. kWh | 3986 (mm) |
| E35RHL | 3.5 (t) | 500 (mm) | 80 / 700/775 (V)/(Ah) o. kWh | 3975 (mm) |
| E35RHL_'5Pz/625Ah' | 3.3 (t) | 500 (mm) | 80 / 575/625 (V)/(Ah) o. kWh | 3975 (mm) |
| E35RL | 3.5 (t) | 500 (mm) | 80 / 575/625 (V)/(Ah) o. kWh | 4041 (mm) |
Optional Equipment
Active Battery Vent
Fast, Convenient, Safe: The automatic air vent makes the charging process very user-friendly, as it is based on a plug-and-play interface on the tailgate of the truck. Neither the battery compartment nor the door need to be opened in order to charge the battery.
High Frequency On-Board Charger
The optional high frequency on-board charger allows for fast and flexible charging without the need for dedicated battery storage or a charging room. Its high efficiency, temperature-controlled charging and automatic charge conservation and equalizing guarantee an energy-efficient charging process. A separate charging room is no longer required.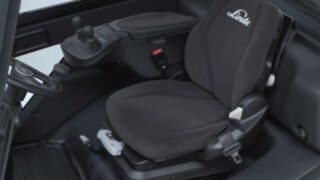 Swivel Seat
The swiveling driver's seat ensures good visibility even when reversing. With Linde Load Control, the seat can be turned through 17 degrees, and is ergonomically designed with an adjustable back.
Additional Hydraulic Circuits
The truck can be delivered with up to three additional hydraulic circuits which allow for the connection and operation of external equipment.


Get a Quote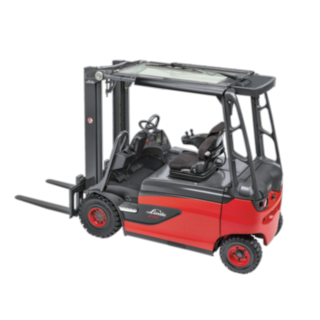 E20 – E35 R