Automated guided vehicles (AGVs)
Automatic movement
Automated guided vehicles are driverless conveyors which are controlled automatically and operated without human intervention. They are used to transport material with the aid of active or passive load-carrying equipment by means of both pulling and carrying.
Automated guided vehicles (AGV) are playing an increasingly important role in modern intralogistics. The term stands for an overall system, which comprises automated guided vehicles (AGVs), a master control, units for data communication and loading stations. Automated guided vehicles have a wide range of uses. The focus is on their role of transporting goods from A to B without human intervention, thus taking over from the non-value-adding transport.
AGVs offer a number of benefits in everyday warehouse operations: They take over repetitive transport tasks from employees, create optimum process stability, and thereby reduce error and accident rates in the warehouse. With its autonomous vehicles from the MATIC series, Linde Material Handling offers AGVs for virtually any customer requirement. The perfect device is part of this offer.
Correct navigation: How our AGVs work
As part of an automated guided vehicle, driverless trucks need to move quickly and safely through the warehouse environment. Two types of navigation technology are available for this.
Track-guided navigation With this option, the AGVs move using visual aids or magnetic tracks. The sensors of the autonomous logistics vehicles navigate to the desired destination by means of this track guide. Forward planning is required for this kind of track guide. Companies need to consider in advance precisely what their ideal route network should look like. Subsequent changes to the specified routes are often costly.
Natural Feature Navigation With natural feature navigation, AGVs are controlled by means of a laser-assisted navigation system. Additional infrastructure such as guide rails or light reflectors are not necessary. The AGVs scan their surroundings in all directions with laser sensors. The natural feature navigation is incredibly flexible and can be adjusted to new routes and surroundings with little effort. Mapping of the surroundings is performed during commissioning with the aid of the AGVs. This process enables additional sections to be added and used with little effort. Intelligent control software coordinates the routes and speeds of multiple automated vehicles as required. Linde uses natural feature navigation in its autonomous MATIC trucks too.
Small to large: These trucks are used in AGVs
Virtually any type of industrial truck known in manual operation can be used in an AGV. This includes autonomous tractors, pallet stackers, counterbalanced forklift trucks, reach trucks, and very narrow aisle trucks. Automated platform trucks are also incredibly efficient, especially in very tight spaces. They can lift and set down load carriers directly from a transfer station or together with trolleys that can be driven under.
The MATIC series from Linde comprises the following AGVs:
Efficient and safe: That's why it's worth switching to an AGV
For many companies, it makes a lot of sense and is necessary to switch their in-house intralogistics fully or partially to an AGV. This is for the following reasons:
Fewer staff: The use of AGVs means that non-value-adding transport tasks can be automated. This combats the lack of skilled workers and also saves costs. With manually controlled logistics vehicles, the required staff alone accounts for around 80% of the overall costs.
Continuous operation: What's more, driverless vehicles can be used 24/7. To achieve this, material flows are optimized as part of the automation process, which significantly increases the overall handling capacity.
Lower error rates: AGVs also increase safety in goods handling. The result is reduced rates of errors and accidents in the warehouse and thereby lower costs from damage to goods or the building infrastructure.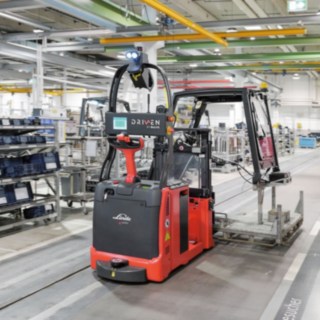 It's all in the mix: Use AGVs in mixed operation
Mixed operation of autonomous and manual industrial trucks is possible at any time. The AGVs from Linde can be controlled manually if required. This works because they are based on manual devices that have been subsequently automated. Autonomous forklifts, tractors, and pallet trucks in the MATIC series have intelligent navigation and safety technology for mixed operation. They can therefore work with people and manual trucks with ease in very tight spaces. The laser scanners on the AGVs enable safe movement and prevent collisions.
Fully networked: AGV interfaces with ERP and WM systems
Networking is essential for smooth processing of automated material flows. Two areas are particularly important here: ERP (Enterprise Resource Planning) systems facilitate comprehensive planning and coordination of tasks and resources. Warehouse Management Systems (WMS) cover all internal goods movements and increase efficiency in complex environments. The AGVs from Linde can communicate with ERP and WM systems for optimum automation. The intelligent control functions of AGVs also enable synchronization of vehicles and automatic hall doors. Connection to traffic light systems and the fire alarm system is possible too.
Professional implementation: How AGVs are integrated into existing systems
In order to automate individual process sections or entire material flows into existing warehouses, the support of specialist staff is required. When it comes to the development and implementation of an automation solution , Linde supports its customers with its own Implementation Team. Linde specialists help with the selection and design of the trucks, integration into existing processes, and ultimately operation of the system. Thanks to the infrastructure-free natural feature navigation, the trucks can be integrated quickly and easily into the existing process. If conditions change, the system can be adapted and rescaled without huge effort.
It's worth it: The costs for an AGV
When opting for an AGV, the main costs lie in the procurement of the trucks and commissioning of the system. The individual costs depend on various factors. First and foremost, the fleet size and the complexity of the application. Experience shows that investment in an AGV pays off very quickly. This is not least due to the fact that processes are optimized through automation and significant staffing costs are saved.
FAQ – Frequently Asked Questions about AGVs
What is understood by the term automated guided vehicles (AGVs)?
An automated guided vehicle takes over automated transport and warehouse tasks. The AGVs are usually guided by rails or magnetic strips. The MATIC trucks from Linde, on the other hand, use significantly more flexible natural feature navigation, which means that AGVs find their way by means of laser sensors. AGVs are used in material transport, storage and retrieval in racks, when transferring material to material handling technology, and when supplying material to production lines.
Why should I choose an AGV?
AGVs offer a number of benefits. This includes in particular maximizing the efficiency of internal material flows. This is due to the fact that an AGV increases the coherence and maneuverability of in-house material flows. In addition, AGVs lower dependence on staff and reduce the risk of accidents and damage in transit, while increasing the reliability of transport processes. Furthermore, AGVs improve the coherence and maneuverability of in-house material flows.
What is the difference between AGVs and autonomous mobile robots (AMRs)?
An AGV is an overall system for automating processes in in-house material flows. It consists of an automated guided vehicle (AGV), master control, units for data communication, and loading stations. The vehicles used move on defined routes and use the free natural feature navigation for orientation. Autonomous mobile robots (AMRs) on the other hand, rely more heavily on flexible navigation, which does not require additional infrastructure, with QR codes also being used here.
What types of AGV are there?
Different types of vehicle can be used in AGVs, including automated tractors, pallet stackers, counterbalanced forklift trucks, reach trucks, and very narrow aisle trucks. For transport by means of short and mid-length routes in tight spaces, automated mobile platforms are also a good choice. Depending on the model of vehicle used, AGVs can fulfill various tasks, including transport from floor to floor, from floor to rack, or from material handling technology to material handling technology.
What kind of safety systems are used with AGVs?
AGVs are equipped with a number of safety solutions which help to ensure risk-free material flow. The standard components include laser scanners with various safety zones and monitoring areas, as well as curtain lasers for detecting hovering obstacles. The trucks are also fitted with an emergency stop switch.
Who are AGVs suitable for?
AGVs are perfect for companies which already have a high level of standardization in their material flow processes. This includes, for example, the standardization of the load carriers and the regularity with which certain loads need to be transported from point A to point B. In general, the more standardization, the more efficient the automation. It is particularly cost-efficient to use AGVs in multi-shift operation.
Success stories – automated guided vehicles in use