Software for intralogistics and automation
The springboard into the future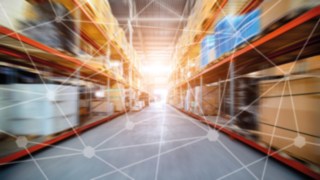 Integrated software solutions are becoming ever more important in modern intralogistics. Firstly, for collecting data and key figures that are used as the basis for sound corporate strategy decisions, and secondly, to analyze, optimize, and automate all goods, information, and resource flows. The visualization and real-time control of complex material flow processes is making the warehouse of the future more efficient than ever.
Whether manual, semi- or fully automated, block or high rack warehouse, Linde Material Handling software solutions offer a wide range of possibilities for improving the efficiency of your process flows and making tangible savings. Regardless of whether you have just started looking into the topics of digitalization and automation, or whether you have already taken the first steps, our applications let you get the most out of your warehouse.
Linde Warehouse Navigator
The Intelligent Warehouse
The Linde Warehouse Navigator is a digital warehouse management and forklift guidance system that ensures efficient material flows with minimal time expenditure. Thanks to automatic localization, you can track all goods in real time and no longer have to enter warehouse positions manually. The system triggers all driving orders fully automatically and assigns routes and storage locations. This allows you to optimally coordinate your industrial trucks while maintaining an overview of warehouse utilization.
Individual expansion modules allow you to extend the range of functions and adapt it to your respective level of digitization and automation. Autonomous trucks, automatic conveyor technology, and even fully automated high rack warehouses can be easily integrated into the system. Interfaces and user guidance always remain the same.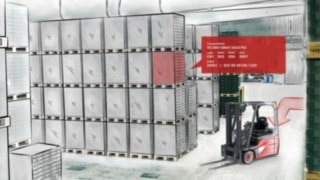 Modular System Architecture
Who needs the Linde Warehouse Navigator?
Linde Warehouse Navigator is the perfect entry into digital warehouse management for small to medium-sized companies that want to say goodbye to manual warehouse management. With little effort, the standard version allows you to manage all warehouse processes from goods receipt to storage to goods issue.
Likewise, Linde Warehouse Navigator is suitable for companies that either operate a block warehouse or have a large fleet of trucks. It enables accurate goods and pallet identification and supports the control of complex partially or fully automated intralogistics processes.
Functions of the Linde Warehouse Navigator
Complete management of diverse storage areas
Clear user interface with intuitive operation
Reliable goods tracking with real-time localization
Efficient storage, retrieval and picking strategies
Definition of operational areas and partial routes
Connection to ERP and automated systems
Connection of mobile devices (tablets, smartphones, scanners, etc.)
Available in 18 languages
Advantages of the Linde Warehouse Navigator at a glance
Full transparency of the current stock
Future-proof and modular system architecture
Automatic order processing
Scalable according to degree of digitization and automation
Traceability of all goods (even in block storage)
Error reduction during storage and retrieval
Optimized use of the entire forklift fleet
Reduction of empty runs
Linde VNA Navigation Interface – Non-stop through the high shelving
What can the Linde VNA Navigation Interface do?
The Linde VNA Navigation Interface is a useful addition to the Linde Warehouse Navigation. The Warehouse Navigation ensures that very narrow aisle trucks find the most efficient route between two points in the high shelving at the push of a button. The truck's Warehouse Navigation software uses the Linde VNA Navigation Interface to communicate with your Warehouse Management System. This means that the target coordinates for the next trip do not have to be entered manually, as they are fed directly into the truck's navigation software.
Who needs the Linde VNA Navigation Interface?
The Linde VNA Navigation Interface is a genuine asset for all operators of high rack warehouses who already use Linde Warehouse Navigation. Once the driver has completed an order, the forklift truck automatically receives the next one. The target coordinates for the goods that need to be moved next do not have to be individually entered in the system. This saves time and considerably increases the handling volume.
Linde VNA Navigation Interface functions
Interface between the WMS and trucks
Automated navigation in the high shelving
Efficient management of order lists
Available in numerous languages
Advantages of the Linde VNA Navigation Interface at a glance
Direct connection to the existing WMS
Optimum warehouse navigation to reduce travel time
Reduction in error rates
Higher handling volume in the high rack warehouse
Linde Truck Call – Coordinating Transport Jobs Digitally
What can Linde Truck Call do?
Linde Truck Call enables effortless management of logistics orders on any internet-enabled device or via an app on a smartphone or tablet. Linde Truck Call simplifies the assignment of driving jobs within the fleet and streamlines communication between shift supervisors and drivers. The shift supervisor can prioritize the orders, ensure that they include the necessary information and assign them to specific driver groups. In addition, he gets an optimal overview of the open, ongoing and completed orders.
Who needs Linde Truck Call?
Linde Truck Call is particularly suitable for companies with a small to medium-sized fleet of trucks. The shift manager can create a transport order with all the necessary information for the drivers on the smartphone. Important details, such as photos, documents or comments, can be attached. This makes communication quicker and ensures optimum use of the fleet.
Functions of Linde Truck Call
Simple, efficient setting and processing of transport orders
Precise assignment of orders to suitable truck types and driver groups, as well as specification of location, storage location and priority
Important details can be added in the form of a photo or document as required
Overview of all open, accepted and completed transport orders
Advantages of Linde Truck Call at a glance
Efficiency: reduction of empty runs and optimal utilization of the fleet.
User-friendliness: easy creation and processing of orders, even while on the move
Safety: forklift drivers do not need to make phone calls while driving