The New Generation of Linde Counterbalanced Forklift Trucks
Exactly the Right Truck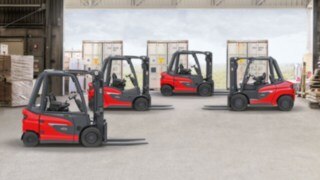 Counterbalanced forklift trucks are the multi-functional intralogistics solution that have to tackle a variety of challenges. Whether in e-commerce, just-in-sequence supply of production lines, or globally networked supply chains, the demands on goods and material flows are changing rapidly and becoming increasingly more complex. For industrial trucks, flexibility and connectivity are the key to success, combined with productivity, safety, and ergonomics.
Linde Material Handling is addressing these requirements head-on with its newly developed generation of counterbalanced forklift trucks. They are based on one universal platform, which can be fitted with an internal combustion engine or electric motor, according to the customer's preference. To date, Linde is the only manufacturer to combine all drive types and energy systems on one platform and therefore to offer a range of electric forklift trucks that can replace internal combustion trucks without loss of performance or durability.
Counterbalanced Forklifts for Every Customer Requirement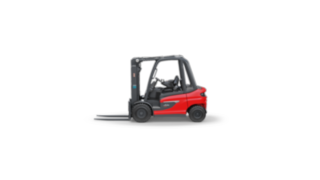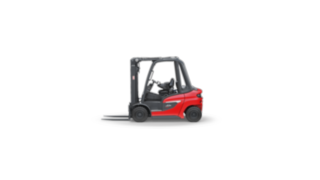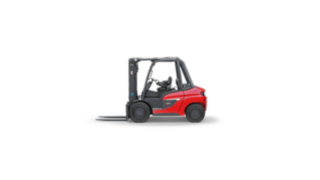 The new counterbalanced forklift trucks offer a unique combination of freedom of choice and future reliability. They are based on one innovative technological platform that is compatible with every type of energy system—functioning just as effectively with diesel and gas combustion engines as with high-performance electric drives supplied with energy from lead-acid batteries, lithium-ion batteries, or fuel cells. Whether for loading and unloading in tight spaces in the warehouse or for demanding outdoor use, Linde will help you to choose the right truck and the required energy infrastructure. Our promise: Every customer will receive the best truck by far for their own requirements—with no compromises.
The platform was developed with input from extensive market research. During special "Truck Clinics", developers conducted almost 1000 interviews with customers and sales employees from 26 countries. This allowed them to gain a comprehensive view of product demand, performance requirements, and the importance of specific features.
Maximum Performance
The new counterbalanced forklift trucks achieve outstanding handling performance, even in the standard version. With a wide range of price list options and customer-specific solutions, they can also be optimized for the intended purpose. For the first time ever, electric forklifts with the power of an IC truck: They offer an environmentally sustainable alternative, without compromising on performance or durability. The core component is a synchronous reluctance motor with the addition of permanent magnets which provide a quantifiable increase in the performance and energy efficiency of the truck. They do away with the usual vibrations, noise, and exhaust emissions associated with IC trucks, while the chassis and construction are designed for maximum durability. Thanks to the combi steering axle, the E models are ideal for use in confined spaces and narrow aisles. With their robust swing axle and long wheelbase, the X and H models are ideal for outdoor use.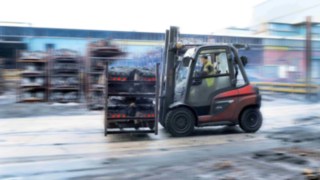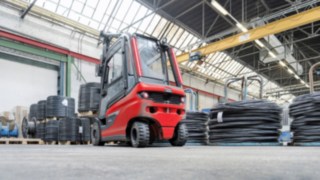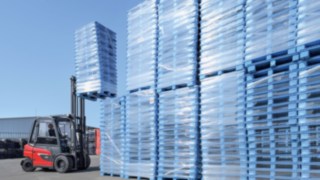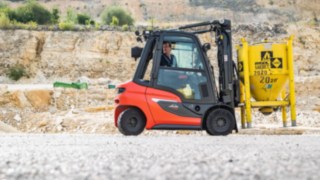 Impressive Driving Experience
This generation of counterbalanced forklift trucks also provides the optimum ergonomics as standard. The interior of the truck offers maximum space. The premium ergonomic design of the seats and a unique operating concept, together with the even better field of vision, provide an optimal driving experience. The driver has the best possible view of the load and the surroundings. This minimizes disruptions or operational failures, and maximizes productivity. In addition, the extended armrest with freely configurable control elements provides even greater comfort. To minimize the physical strain on the operator, the mast, axles, and chassis are decoupled to keep vibrations to an absolute minimum.
Optimum Protection for People, Trucks, and Surroundings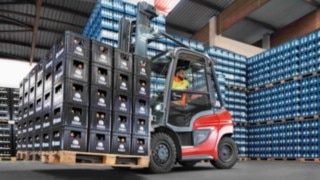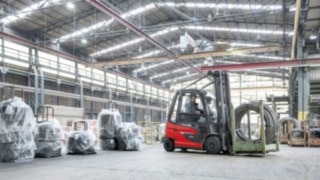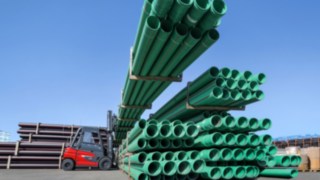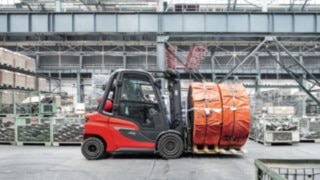 The new counterbalanced forklift trucks are constantly being optimized for safety. With their low center of gravity, they are designed for maximum stability to prevent tipping. The chassis, driver's cab, and mast are designed to provide as unobstructed a view of the truck, load, and work environment as possible. They also feature cutting-edge safety systems, including in-built assistance systems such as Linde Load Assist, which prevents tipping accidents and falling loads, as well as Linde Curve Control, which reduces the speed of the truck when turning.
Linde Motion Detection, which is available as an option, identifies movements in a 180-degree radius behind the truck and automatically stops the truck from reversing. Another option is the Linde LED Stripes, which use different colors to show the truck's direction of travel. Further assistance systems provide added safety for people, trucks, and surroundings.
Perfectly Networked
The new counterbalanced trucks are fitted with a comprehensive system of sensors as standard, providing secure data collection and transmission. This means the trucks can be seamlessly integrated into networked processes. Even with the basic versions, it is easy to carry out updates and, where necessary, to release extra digital functions such as load weight display. Using a smart control system, the trucks can be adjusted to suit the individual requirements of the driver and can be integrated into a superordinate fleet management system. Important parameters and performance data can be accessed and analyzed at any time, increasing the availability of the trucks. Connectivity is also ensured when it comes to energy management. With the E and X series of electric forklifts, data relating to the charge level and utilization of the charging infrastructure is collected and analyzed.
Your Benefits at a Glance