Maneuver and transport materials in narrow aisles safely and with agility
Linde Material Handling's P30 electric tow tractor and platform truck are perfect for flexible and safe transport over short and medium distances; even (and especially) when there is very little space available. The truck features precise self-centering power steering that the driver safely controls using the ergonomic two-handled steering unit. In addition, the P30's compact design makes maneuvering narrow aisles easier. The powerful three-phase motor accelerates quickly to its maximum speed. For comfort and stability while driving, the trucks are equipped with an adjustable backrest and a full-suspension standing platform with a nonslip floor covering. The P30 has a maximum load capacity of three tons. It can reach a maximum speed of 10 kilometers per hour.
Characteristics
Safety
The compact design of the steering unit prevents wide-sweeping movements, increasing driver safety. . While driving, the driver always remains within the protective confines of the truck, behind a four-millimeter-thick steel chassis. In addition, the ergonomic steering unit handles provide a safe grip and protect the hands. The nonslip floor covering also increases the stability of the driver. When cornering, the truck automatically reduces its speed. Hill-start assist prevents the P30 from rolling backwards on gradients.
Compact steering unit design
Thick steel chassis
Nonslip floor covering
Curve assist
Start driving on uphill gradients without rolling backwards
Ergonomics
A full-suspension platform and an additional cushioned foot mat prevent the driver from experiencing strong vibrations. Additionally, the driver can adjust the backrest to his or her exact height to relieve strain on the back while driving. Wide, spacious storage compartments are available so that the driver can always have all of his or her tools close at hand. All control elements are intuitive and ergonomic, making them easy to use.
Height-adjustable driver's seat
Large storage compartments
Full-suspension platform
Cushioned foot mat
Handling
The P30 features a powerful 3-kW three-phase motor, which accelerates quickly to its maximum speed, even when the truck is pulling its maximum three-ton load capacity. This provides increased handling performance even during rigorous continuous operation, together with effective brakes, which ensure that the truck comes to a stop quickly. Precise power steering and compact design are also important. Power steering simplifies many maneuvers when limited space is available.
Maximum speed with and without a load
Effective brakes
Precise power steering
Compact design
Service
The truck undergoes a quick service test after every 1000 operating hours. The technician then reads all of the truck's data using the CAN bus interface and checks it on a laptop. The relevant service components can then be easily accessed. The three-phase motor is maintenance-free.
Long intervals between service
CAN bus interface
Maintenance-free three-phase motor
Technical Data
| Model | Load capacity/Load | Overall width | Travel speed, with/without load | Turning radius | Battery voltage/rated capacity (5h) |
| --- | --- | --- | --- | --- | --- |
| P30 | 3.0 (t) | 790 / 736 (mm) | 10 / 10 km/h | 1740 (mm) | 24 / 500 (V)/(Ah) o. kWh |
Optional Equipment
Tires & wheels
Drive wheels made out of solid rubber come as standard. As an alternative to the standard option, tow tractors can be equipped with solid rubber, non-chalking and nonslip wheels or polyurethane wheels.
Front bracket
The bracket is located directly above the steering unit and can be used to hold a data terminal or a bar code reader.
Handrail
The rail is mounted behind the seat. A data terminal, clipboard, bar code reader, waste container, or drink holder are examples of things that can be found on the rail.
Equipment for cold conditions
For use in cold storage facilities, the truck can be equipped with specially protected components and lubricants that can withstand temperatures as low as -30° C (-22° F).
Creep-speed buttons
Creep-speed buttons on both sides of the truck make it easier to hitch a trailer properly and safely.
Lights
There are different truck models available with front headlights, a flashing warning light on a pole behind the seat, and taillights.
Metal rack
The rack has three sections that can hold computer equipment, such as a data terminal or a bar code reader.
Adjustable steering unit
The height of the steering unit can be adjusted to the size and position of the driver, ensuring even more ergonomic working conditions.
Lateral battery replacement
The battery can be replaced from the left or right side of the truck. A latch holds the battery safely in place in the battery compartment.
Types of batteries
Linde offers a wide selection of high and low capacity batteries for the truck, from 270 Ah (3 PzS) to 620 Ah (4 PzS).
Other battery equipment
Linde offers external chargers for batteries of all sizes. They also offer a sturdy battery stand that can hold up to two batteries.
Get a Quote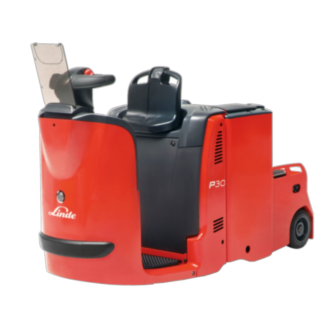 P30