Maximum versatility, maneuverability and stability
The four-wheel E16 - E20 EVO series offers a wide range of models. Depending on the requirements, different battery capacities, heights or versions for narrow aisle widths are available. In operation, they enable precise load handling in the tightest of spaces - with high stability. Linde's innovative combi-steering axle allows the axle stub of the rear wheels to be rotated 175 degrees. This allows the vehicle to turn on the spot without damaging the floor covering. The electric forklifts are also equipped with the Linde compact front axle: as an integrated unit, two powerful drive motors, maintenance-free brakes and power components mounted directly on the axle ensure maximum performance with high energy efficiency. Easy battery replacement or the optional on-board charger ensure high availability.
Characteristics
Safety
The Linde Protector Frame guarantees optimal safety for the driver while handling loads, the frame and roof of the driver's area forming a robust, enclosed protective zone. Thanks to the overhead tilt cylinders, the lift mast profiles are particularly slim and neatly encapsulated, giving the driver the best possible view of the load and their surroundings. What's more, effective traction control, redundant control circuits, and high residual load capacities all contribute to ensuring maximum reliability and operational safety.
Robust overhead guard
Control redundancy
Full traction control
Components offering optimal visibility
High residual load capacities
Ergonomics
Fatigue-free, effective working is the basis for high productivity in the interaction between man and machine. As with all Linde vehicles, ergonomics is an essential design principle of the E16 - E20 EVO series. This applies to the arrangement of all operating elements around the driver, such as the adjustable seat and armrest unit, the integrated, sensitive Linde Load Control for the control of the mast functions and the typical, efficient double pedal control from Linde. The chassis and the spaciously sized driver's compartment of the EVO series have deliberately been technically decoupled from each other in order to keep the transmission of vibrations to the driver as low as possible.
Ergonomic controls layout
Efficient twin pedal drive and sensitive control via Linde Load Control
Spacious driver's cab and reduced vibrations
Individually adjustable unit consisting of armrest and seat
Handling
The four-wheel trucks of the E16 - E20 EVO series offer particularly high lateral stability. Heavy loads can be moved with milliliter precision even at great heights. The innovative Linde combi axle allows the rear wheels to be turned so that the truck can turn on the spot, with minimal tyre wear and no ground damage. Precise control is provided by the perfect interplay between the twin-engine front drive and Linde Load Control. It allows all lift mast functions to be effortlessly operated with the slightest finger movement, and drivers can lift and tilt at the same time. In addition, three-stage adjustable driving dynamics ensure demand-dependent power delivery and energy efficiency.
Maximum maneuverability in even the tightest of confined spaces
Safe load handling with Linde Load Control
Wheels roll in opposite directions when turning
Reduced tire wear and damage to flooring
Energy efficiency due to minimal steering resistance
Service
E16 – E20 EVO series trucks are remarkably economical and service-friendly thanks to their extremely long maintenance intervals. The entire drive axle including the three-phase motors for the drive and lift drive, and central functional parts like the mast and tilt cylinders are all totally maintenance-free. The first overall inspection of the electric forklift truck is only necessary after 1000 operating hours, and the hydraulic oil only needs to be changed after 6000 hours. The truck models have been designed with ease of service in mind, which is why all truck components are easily accessible for repairs. All this makes using the truck trouble-free.
Initial service after 1,000 operating hours
Central parts such as electric motors and brakes are maintenance-free
Hydraulic oil change after 6000 operating hours
Service-friendly design enables fast part exchange
Continuous technical optimization
Technical Data
| Model | Load capacity/Load | Load centre distance | Battery voltage/rated capacity (5h) | Travel speed, with/without load |
| --- | --- | --- | --- | --- |
| E16P | 1.6 (t) | 500 (mm) | 48/575/625 [48/335] (V)/(Ah) | 20 / 20 (km/h) |
| E16PH | 1.6 (t) | 500 (mm) | 48 / 700/775 (V)/(Ah) | 20 / 20 (km/h) |
| E18PH | 1.8 (t) | 500 (mm) | 48 / 700/775 (V)/(Ah) | 20 / 20 (km/h) |
| E20PH | 2.0 (t) | 500 (mm) | 48 / 700/775 (V)/(Ah) | 20 / 20 (km/h) |
| E20PHL | 2.0 (t) | 500 (mm) | 48 / 840/930 (V)/(Ah) | 20 / 20 (km/h) |
| E20PL | 2.0 (t) | 500 (mm) | 48/690/750 [48/335] (V)/(Ah) | 20 / 20 (km/h) |
Optional Equipment
Active battery vent
Fast, comfortable, safe: The automatic air vent makes the charging process very user-friendly, as it is based on a plug and play interface on the tailgate of the truck. Neither the battery compartment nor the door need to be opened in order to charge the battery.
High frequency on-board charger
The optional high frequency on-board charging device allows for flexible and fast battery charging without the need for dedicated battery storage or a charging room. Its high efficiency, temperature-controlled charging, and automatic charge conservation and equalizing guarantee an energy-efficient charging process.
Lift mast variants
Linde's range of lift mast variants find the perfect balance between lifting height and overall height. The range covers standard masts with a lift of up to 5650 mm, duplex masts (fully free lift) with a lift of up to 4145 mm, and triplex masts (fully free lift) with a lift of up to 6075 mm.
Hydraulic battery replacement system
Fast and convenient battery replacement: At the touch of a button, the Linde hydraulic battery replacement system lifts the battery until it is 60% free of the truck, where it can be collected by a ceiling crane or a second truck. This option is available for E12 – E50 forklifts.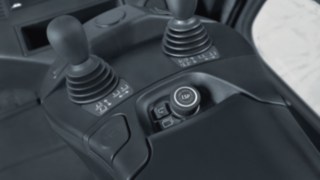 Linde Safety Pilot
Linde Safety Pilot
Get a Quote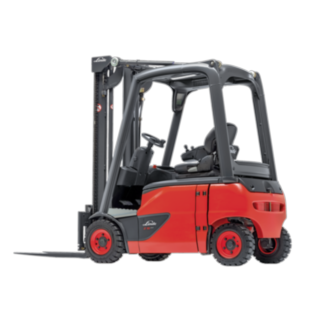 E16 – E20 EVO