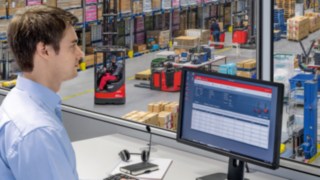 The connect:software provides comprehensive access to all of your fleet data. It enables the administration of forklift truck and driver data and facilitates the straightforward compilation of reports.

connect:desk – The Fleet Management Software
From the administration of forklift trucks and drivers to fleet deployment planning, monitoring and analysis of forklift truck data, all the way to service planning – connect:desk is the centerpiece of overall fleet management. The software is user-friendly and is suitable both for experienced fleet managers and for occasional users who only require individual functions.
Current software version:
connect:desk 2.3.1
connect:composer 2.2.8
The Right Infrastructure
Whether Bluetooth, WLAN or mobile communications, we have the ideal transmission technology for all types of infrastructure and fleet. All three variants run automatically in the background, without the driver or fleet manager having to actively contribute. Different types of transmission can also be combined within a fleet.
Bluetooth
If the forklift truck is located within range of a SyncPoint, the data is automatically called up and transmitted via Bluetooth.
Your Benefits at a Glance
No incursion into the WLAN network
Cost-effective: Usually installed at the factory. All that's required for transmission are a few SyncPoints on the company premises.
Data security: Data is kept within the company. The user therefore has full control.
On the Truck
Retrofit kit: The Bluetooth retrofit kit is available for older forklift trucks without Bluetooth. It can be ordered from the world distribution center in Kahl.
Infrastructure on Site
SyncPoints are installed at the most beneficial locations in the plant, which the forklift trucks continually pass by, such as charging stations, traffic junctions or parking areas.
WLAN
The data is transmitted directly from the forklift truck to the database within the WLAN network.
Your Benefits at a Glance
Data Security: Data is kept within the company. The user therefore has full control.
No new infrastructure required, since connect: utilizes the company's existing WLAN network.
Current data: Thanks to long-range coverage, the data is transmitted quickly, is constantly updated and is available at all times via connect:desk.
Authentication Algorithms and IT Standards: Authentication via WPA2 (with password) or WPA2-Enterprise (certificates) is consistent with the relevant standards and is secure.
On the Truck
The forklift truck must be fitted with a WLAN box, available as a retrofit kit.
Infrastructure on Site
Experts from connect: handle the one-off commissioning on site.
Collaboration with the company's IT department is necessary for the implementation of the WLAN transmission.
Mobile communications
The data is sent to the database via the mobile communications network.
Your Benefits at a Glance
No Infrastructure required: Unlike Bluetooth or WLAN, no hardware is needed on the premises for the transmission of the data.
Inside and out: The forklift trucks can transmit data indoors and outdoors. The stability of the connection depends on the network of the mobile telecommunications provider.
Quick and easy installation: The data unit can be retrospectively fitted to older forklift trucks in just a few steps.
On the Truck
The Onlinebox can be ordered ex works for nearly all new trucks.
For older forklift trucks there are retrofit kits for many product lines, which can easily be mounted in just a few steps.
Infrastructure on Site
No additional infrastructure, such as SyncPoints or WLAN hotspots, is required for data transfer.
Reports and Analyses
Transparency with connect:desk
Based on the comprehensive data on the forklift truck fleet, the connect:desk software can be used to create about 30 interactive reports on the fleet, individual areas, forklift trucks or drivers. The data is displayed in clearly arranged diagrams and tables. This way, fleet managers know exactly which forklift truck was used by whom and for what.
There are four categories of report:
Log book:List of all recorded events for individual forklift trucks
Use:Overview of use and capacity of all forklift trucks
Service:Overview of service and maintenance appointments for all forklift trucks
Coordination: Overview of use and capacity of all forklift trucks
An Overview of the Most Important Reports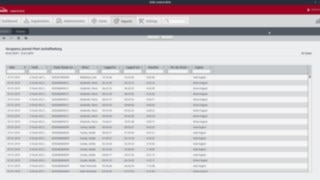 Allocation Journal
Here you see who used which forklift truck at which time. Driver log in and log out times are collected for each forklift truck. The driver(s) involved in specific incidents or accidents can always be easily identified.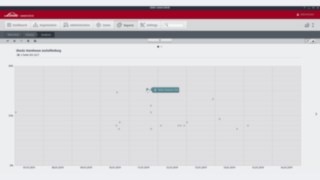 Shocks
With the use of shock values you can trace when a driver has caused a shock to the forklift truck, due to a collision or pothole, for example. This increases the driver's sense of responsibility.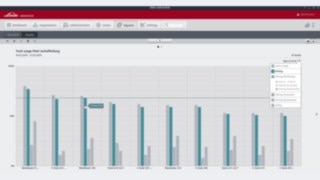 Forklift Truck Deployment
Here you will find detailed information on how a forklift truck is being used: How long is a driver logged in? How does this time break down into driving and lifting?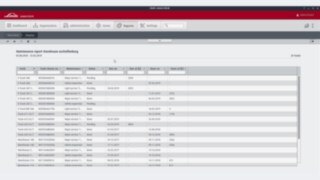 Service Overview
You have an overview of all pending maintenance and service appointments for the forklift trucks in your fleet. This makes scheduling easier. In addition, you can also bundle service appointments and reduce your costs in this way.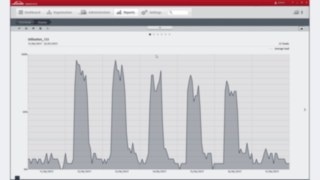 Utilization
This report helps you to optimize the forklift truck fleet. Here you can see for how long forklift trucks are being used or if perhaps they are not being used at all. Analysis can be carried out for the entire fleet or for individual forklift trucks.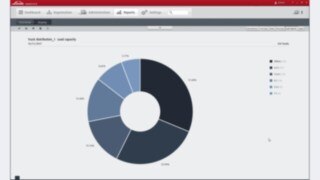 Forklift Truck Allocation
Here you will see an overview of how your fleet is comprised, grouped by manufacturer, forklift truck type and other criteria.