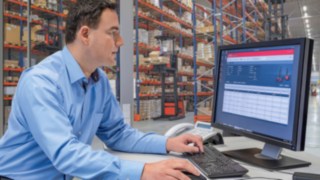 The connect:desk fleet management system provides clear access to all your fleet data. The software is used to manage forklift truck and driver data and enables effortless compilation of reports.
From forklift truck and driver management to maintenance and assignment planning, right through to monitoring and analysis of all forklift truck data – connect:desk is the centerpiece of your fleet management. The software is intuitive in its operation and it is therefore suitable both for experienced fleet managers and casual users who only require individual functions.
Current software version:
connect:desk 2.6.5
connect:composer 2.3.11
Variable Function Modules
The requirements for fleet management systems are often very specific: Every business offers a different working environment for the industrial trucks. You can therefore combine the individual function modules of Linde connect to form one system that optimally meets your individual requirements.
Via connect:ac operators control access to their fleet and allow for a safe and simple forklift truck check before every assignment. connect:dt documents deployment duration, accidents and functional capability of the fleet forklift trucks. With connect:an fleet managers analyze and monitor the capacity utilization and performance of their fleet. The module also assesses the status of the battery and detects possible operating errors. With connect:zi it is possible to monitor the positions of industrial trucks in various locations around the world. Within warehouse and production areas, it is also possible to define safety zones with speed adjustments.
connect:desk in Detail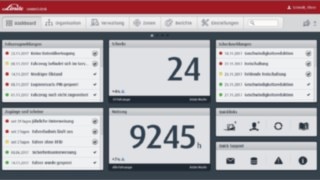 Dashboard
The dashboard serves as the communication hub for connect:desk. Fleet managers can use individually adaptable widgets, such as the calendar, forklift truck notifications and accesses, to monitor and inspect their fleet. All messages are forwarded to them directly by email if necessary.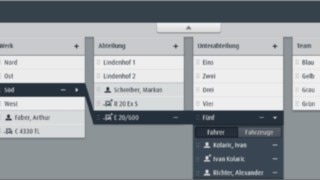 Organization
In the organization area, fleet managers can edit the driver, job location, assigned forklift trucks and other information. The hierarchically structured list display offers an overview of the organizational structure and simplifies the assignment and management of access and usage rights.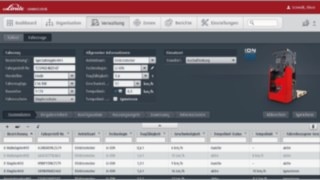 Administration
Tables, detailed views and various input elements enable flexible viewing, maintenance and expansion of large amounts of data. For example, it is possible to manage drivers' licenses, training and health checks easily.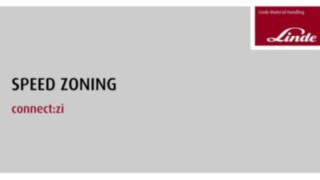 Zones
In the zones area, fleet managers use their own hall or plant plans to plan and configure zone areas and hall accesses and define automated speed adjustments if necessary. For example, forklift truck speed is controlled in a targeted manner at crossings or in narrow areas, which increases safety.
Transparency with Reports and Analyses
Based on the comprehensive data on the forklift truck fleet, connect:desk can be used to call up just under 30 interactive reports on the fleet, individual areas, forklift trucks or drivers. The data is displayed in clearly arranged diagrams and tables. This means that fleet managers know precisely who used which forklift truck, when and how. There are a total of four report categories:
The Right Infrastructure – Transmission Technologies