Efficient Material Flow in Production
The Linde Material Handling LT06 – LT20 series logistics trains are designed for packaged material transportation in indoor and outdoor areas, and under demanding industrial conditions. It boasts robust SE tires and a lift height of up to 200 mm, and it is possible to move loads of up to 2,000 kg per trailer, with up to 6 trailers. With different frame variants and trailer types, Linde logistics trains can be designed to adapt to specific production requirements. Thanks to the flat construction of the C-frame trailer, the transportation of long items is also possible. The trailers are available in C-frame and hanger frame variants, as well as in a platform construction.
Characteristics
Safety
Linde Logistics trains safely transport large loads of material around the production area. All trailers are linked to the tow tractor by data cable, with an immobilizer that ensures safety: The train can only begin to move if the load on each trailer has been raised. The lifting device can be operated both from the tow tractor and directly from the trailer. Trailers that do not have a lifting device are fitted with electrically monitored roller frame locks. The logistics train's driving assistant automatically regulates speed when cornering.
Immobilizer active if trailers are lowered
Cornering assistant helps to avoid tipping over
Noise reduction due to elevated loads
Handling
The logistics train (LT) can be equipped with either the extremely maneuverable 4-wheel steering, or the simpler 2-wheel steering, as required. In the four-wheeled variants, rollers with individual suspension and the special construction of the trailer provide good maneuverability, high directional stability, and small turning circles of 3.6 meters. The LT trailers can be adapted to all standard packaging dimensions. The bridge-shaped trailers are particularly advantageous as they can be loaded and unloaded from both sides. In total, there are four trailer variants to choose from. The lift function can be operated both by foot at the trailer or via a control unit in the tow tractor, while lights in the tow tractor and on the trailer show the driver the position of the lifting mechanism for each trailer.
Small turning circle of less than four meters
Directionally stable trailer steering
Foot switch for lifting operation at the trailer
Different trailer types for different containers
Service
The loading equipment of the Linde LT logistics trains are powered by maintenance-free lift motors. What's more, the connection, that utilizes a ball-coupling and draw bar, is virtually wear-free. The two-axle construction with central load space allows easy access for servicing the trailer, and each trailer has a specialized electronic systems that records the truck's every action. The data can be read out and analyzed using diagnostics tools.
Maintenance-free lift motors
Easy access for servicing
Wear-free couplings
Electronic recording of usage data
Technical Data
| Model | Load capacity/Load | Service weight | Lift | Overall width | Overall length |
| --- | --- | --- | --- | --- | --- |
| LT08 / LT12 / LT16 / LT20 | 0.8 / 1.2 / 1.6 / 2.0 (t) | 450 (kg) | 100 (mm) | 1079 (mm) | 3045 (mm) |
| LT08-B / LT16-B | 0.8 / 1.6 (t) | 450 (kg) | 100 (mm) | 1079 (mm) | 3045 (mm) |
Optional Equipment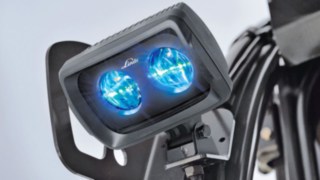 BlueSpot™
Lane warning device Linde BlueSpot™ Enhances safety during operation as the LED spot makes the forklift noiselessly visible.
German Road Traffic Act (StVO) compliant lighting
The tow tractors and trailers of the logistics train can be equipped with lighting that is compliant with the German Road Traffic Act.
Weather Protection
The trailers of the LT transport trailers can be equipped with weather protection, that can shield loads and goods during transportation.
Get a Quote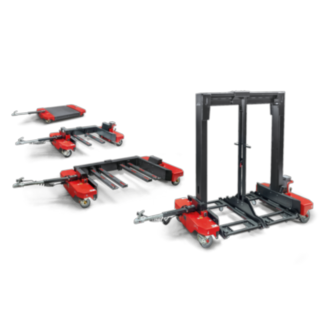 LT06 – LT20