Logistic Trains
In Sync with Modern Production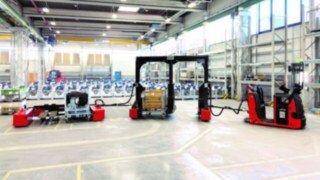 Modular, Flexible, and Cost-Effective
Modern industrial production is dependent upon processes being perfectly coordinated to deliver material to the assembly lines on time and in the correct order. As a result, material flow during manufacture has become a decisive profitability driver. With the logistic train frames LT10 – LT20, Linde Material Handling provides tailor-made solutions to specific customer requirements in order to achieve synchronized transport of material over long distances within the company premises as efficiently and flexibly as possible. The logistic trains complement Linde's portfolio of forklift trucks and warehouse handling equipment, and comprise tow tractors that can each be combined with different trailer modules in order to transport load carriers with rollers or pallets They can be loaded with up to 2,000 kg per trailer module, and are ideal for internal transport distances starting at 150 m since they transport larger loads more quickly. The cost-effectiveness of Linde logistic trains arises from the standardization of the material flow, increased safety for personnel and materials, and the variety of applications that the trailer modules can handle, allowing any imaginable load or goods to be transported⁠—whether pallets, skeleton boxes, or individual items. All Linde logistic train models are characterized by their high tipping and directional stability, and small turning circles.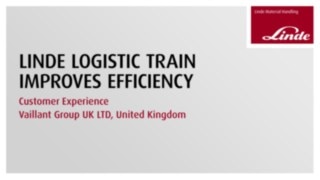 In Focus: Effectiveness in Handling
The main advantages of Linde logistic trains are their rapid and accurate handling, as well as the flexibility with which the trailer modules can quickly be adapted to all types of goods to be transported within the company premises. Each with a minimal turning circle, they can be used in even the most limited spaces. All Linde tugger trains operate with a variety of loading frames, which are equipped with a lifting function in order to raise the trolleys for transport and then to lower them again for unloading. This makes material transportation with Linde logistic trains not only effective and fast, but also safer and more energy-efficient than single transport runs.
Flexible Combination
The different and freely combinable frames can quickly and easily accept all types of goods that typically need to be transported within the company premises. They can be loaded with different trolleys and rolling racks, which will be automatically secured with a load locking device as a standard feature.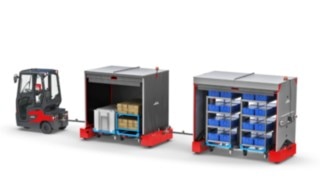 Safety and Ergonomics
Single transport runs cause a lot of traffic within production environments where space is often tight. As a result, the Linde logistic train not only offers safe operation for the driver themselves, but also reduces the internal traffic. Furthermore, the logistic train only drives straight and does not need to range out or turn for the load exchange, meaning that minimal space is required. The loads are located behind the driver and are fully secured so that the driver can focus all their attention on driving with a free all-around-view. The whole train is secured with an immobilizer and cannot begin to move until all load frames have been raised. The easy loading and unloading process at ground level in combination with a mechanical load protection with automatic locking after insertion makes the train equipment an effective part of any material supply chain. The tow tractors feature a driver assistance system that automatically restricts the speed when cornering to help avoid tipping accidents. All Linde logistic train trailer modules are connected to each other and to the tractor via data cables. This means the driver can operate the lifting function for all trailers centrally from the cab. He or she can see at a glance whether all load frames have been raised for transportation.
Accurate Steering and Simple Handling
In order to enable the logistic trains to be steered with maximum accuracy, all trailers are equipped with all-wheel-steering. This allows extremely small turning circles to be achieved⁠—even with four trailers⁠—for example, in the narrow space between production lines. The wheels of the trailer modules of Linde logistic trains are fitted to tilt axles. This enables loads to be transported with minimal risk of damage. Using a special trailer with a bridge frame, the goods to be transported can be loaded or unloaded from both sides. The movable middle support offers flexible load handling for different load sizes. All trailers are equipped with an accurate and quiet lifting mechanism, allowing the transported load to be raised smoothly.
Future-Proofed
In Linde logistic trains, the future is already built in. In digitally controlled production processes, the requirements for precision and punctuality in material logistics are constantly growing. Networked logistics concepts are required, in which machines, goods, and transport systems communicate with one another to ensure that the goods are transported as efficiently as possible. The next step in this direction is logistic trains that move autonomously around production halls, controlled centrally. Linde logistic trains are already fitted with powerful sensors, actuators, and control systems on the basis of which appropriate solutions can be implemented. The tugger train guidance system from Linde coordinates the driving orders and provides the drivers with the optimal routes. The software dashboard shows all essential information at a glance and can be used to generate analyses for process optimization.
5 x more output
More effective
Linde logistic trains operate cost-effectively, as they can carry and move large volumes of material. This makes them ideal for use in synchronized production.
Safer
Linde logistic trains are equipped with an immobilizer for safety: The trains cannot be moved unless all load frames in the trailer modules have been raised.
More cost-effective
Lifting up to 8,000 kg, the logistic trains move a great deal of material per operation, making them a particularly economical option for intralogistics.
More careful
The Linde logistic trains are optionally fitted with suspension and a smooth lifting mechanism. This enables them to move loads gently around the company premises.
More comfortable
Linde logistic trains provide maximum comfort in the workplace. What's more, the lift mechanism of the various trailers can each be operated by foot sensor.
Tailor-made Trucks
No two Linde logistic trains are exactly alike. In addition to standard equipment, each of the three models can be supplied with a selection of additional features that go far beyond just optional weather protection for the various trailers, as well as offering optional locks and lighting. In addition, the various customer requirements with regard to the means of transport to be moved can be met flexibly. Special paintwork in colors other than Linde red is optionally available.