Explosion protection in intralogistics
Safely through the hazardous area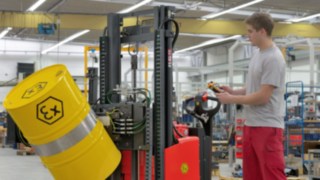 No matter whether you work in chemistry, pharmaceuticals, food, logistics or recycling, potentially explosive mixtures of gases, vapors and dust are created in numerous industries. Industrial trucks that are used in these hazardous zones must guarantee comprehensive explosion protection. At the same time, they need to be just as efficient and ergonomic as in any other area of intralogistics.
Explosion protection from Linde Material Handling is geared towards precisely these requirements. Suitable explosion-proof versions are available for numerous counterbalanced trucks, reach trucks, pallet stackers and pallet trucks. They comply with EU regulations (EN 1755) and the ATEX Directive (2014/34/EU). Linde can provide the right truck solution tailored to the relevant processes. This means that the material flow can be processed with a high handling capacity and level of ergonomics even in explosion-protected conditions.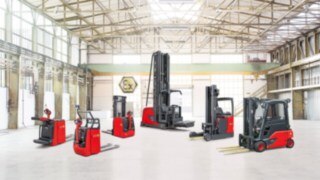 Explosion Protection from A to Z
Linde offers a large selection of its series models as explosion-proof trucks for various ATEX zones tailored to the particular requirements in various industries.
Five industry examples of explosion-proof trucks from Linde
Chemistry, Pharmaceuticals and Cosmetics
In addition to warehouse and transport movements, in the production departments of the chemical and pharmaceutical industry, liquids and solid materials are decanted, mixed and refined. Linde provides the right trucks for the specific requirements of these process steps. For example, the drum cradle helps to decant a liquid such as isopropanol safely and precisely. Using a remote control, the operator can control the tipping process with an optimum view of the drum, for example from a bridge. The quantity is measured by an integrated scale.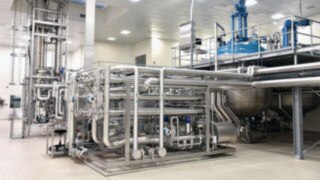 Food and Beverage
Explosive gas or dust mixtures can be generated in food and beverage production. For example, highly flammable vapors may form due to evaporation during distillation and storage in wooden barrels. When transporting barrels, there is the additional complicating factor of the driver having a restricted view. Fortunately, for the ATEX zone, Linde also offers comprehensive safety features from the camera to red warning lines and BlueSpot™ right through to automatic speed reduction when there are approaching trucks by the Linde Safety Guard assistance system.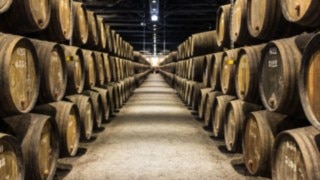 Logistics
Hazardous substances are stored and transported throughout the entire production process: from the storage of raw materials, the transport for further processing right through to transport and storage of the finished products. These logistical processes take place in the production plants, but substances are increasingly also being stored in external warehouses by logistics service providers. In this area, a high turnaround is just as important as safety. In addition to electric forklift trucks, Linde offers reach trucks and very narrow aisle trucks for quick and efficient storage and retrieval in ATEX zones 2/22.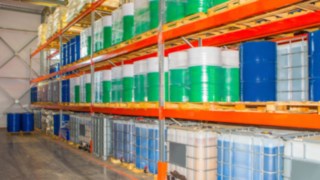 Oil and Gas
Trucks are frequently used in the open air in oil and gas extraction, refineries and petrochemical facilities. Internal combustion counterbalanced trucks are used here due to varying floor conditions and large distances. Due to their robust design and ergonomics, the ATEX version of the H50 and H60 IC trucks are predestined for these uses and ensure fatigue-free driving comfort. In interior areas, electric forklift trucks with a high lifting capacity are the best choice.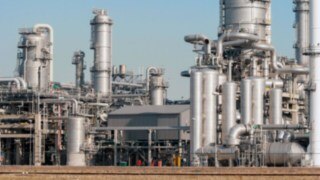 Recycling and the Military
Hazardous substances are decanted, drums are emptied and containers are transported during disposal and recycling. The Linde E25 – E35 electric forklift trucks ensure safe and ergonomic handling for these applications. ATEX-certified attachments such as drum clamps help with the disposal process. Military uses of industrial trucks frequently involve the transport of explosive materials or the disposal of ammunition. Explosion-proof trucks from Linde provide a safe foundation for this area.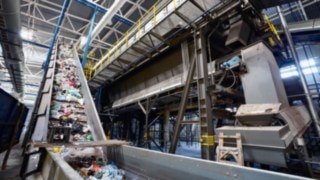 The Right Protection for any Potential Hazard
The extent to which there is a risk of explosion in a production area or warehouse depends on two factors: firstly, it is necessary to consider the amount of hazardous material that combines with oxygen to form a flammable compound. Secondly, there needs to be an ignition source, which in certain circumstances triggers an explosion due to sparks or hot surfaces. Due to their electrical and mechanical components, industrial trucks can become an ignition source, which is why special equipment is a mandatory requirement in environments where there is a risk of explosion.
Linde offers certified explosion-proof trucks for all environments, in which an explosive atmosphere occurs occasionally (zone 1/zone 21) or temporarily (zone 2/22). The specific requirements are stipulated in the ATEX Product Directive (derived from the French term "Atmosphères Explosibles") depending on the zone type, the explosion group of gases and dusts and according to the temperature class. As an experienced explosion protection partner, Linde carries out all the necessary certifications and conducts extensive quality checks on the trucks. Alongside the individual assemblies, Linde also certifies the entire truck for zone 1 and zone 21.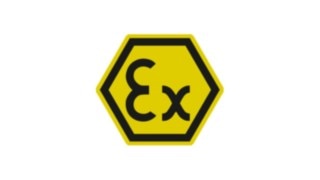 Complete Explosion Protection from a Single Source
Linde believes that users should get all products and services from a single source. This applies in particular for the knowledge-intensive area of explosion protection. Linde offers complete explosion protection packages that satisfy all statutory requirements. Even after delivery, Linde is on hand with a broad service network. Service technicians trained according to international explosion protection regulations ensure that the truck is ready for operation at all times. As with the provision of spare series parts, service partners worldwide also provide spare parts for explosion-proof trucks from a supply which is available 24/7.
Series Level Explosion Protection
The explosion-proof trucks from Linde combine the tried-and-tested advantages of series-produced trucks complemented by tailored explosion protection measures. Electrical components such as the motor, control, sensors, switches or displays are protected using various ignition protection measures.
The mechanics are also fully protected. Spark formation is consistently avoided on prongs, brakes and hydraulics. Plastic components, such as foot mats and tires, are protected against electrostatic charges. In addition, temperature monitoring ensures that the temperatures remain below the maximum limit even when the truck is fully loaded.
Innovative Technologies with Explosion Protection
Due to the close collaboration between the Linde Series Development and Explosion Protection departments, innovative assistance systems, safety features and special equipment are made available in the shortest possible time even for use in ATEX areas. Users can choose from a variety of features and systems. This means that fleet operators are able to offer their drivers the same level of operating comfort and safety for standard and explosion-proof trucks. This uniform level of equipment helps to comprehensively avoid accidents.
Dangerous points in one of our explosion protection areas have been effectively defused with the new explosion protection version of the Linde Safety Guard. Pedestrians are warned in time by flashing lights at dangerous areas where there is forklift traffic. The speed of the forklift is reduced fully automatically and precisely. When leaving the danger zone, the truck automatically increases its speed again. We are all very satisfied with the Linde Safety Guard.
Ralf Froitzheim, Assistant Asset Management E-EMC/ON, BASF Personal Care and Nutrition GmbH, Düsseldorf, Germany
Examples of Safety Solutions in the ATEX Area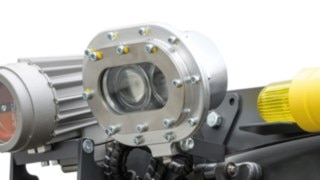 BlueSpot in Flameproof Housing
The blue spot projected onto the floor warns pedestrians and other forklift drivers when trucks are approaching.Find out more about the BlueSpot here.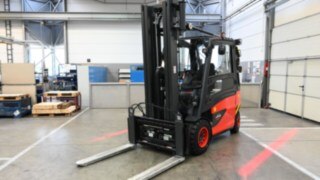 Red Warning Lines for ATEX Zone 2/22
Red warning lines give pedestrians a strong visual signal to keep a sufficient distance from the forklift truck.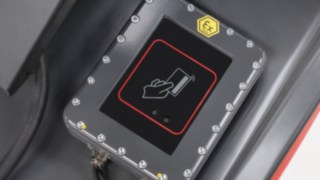 Hardware for Fleet Management in Flameproof Housing
The Linde connect fleet management system allows for active access control and use analysis.Find out more about the Linde connect fleet management system here.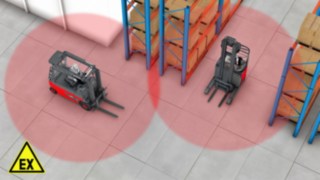 Safely through the ATEX Zone
Even with high safety standards for forklift trucks and the fleet, collisions can occur due to restricted vision, distraction or other factors. This can have considerable consequences in the ATEX zone in particular. TheLinde Safety Guard reliably helps to minimize this residual risk. The assistance system detects hazards and automatically adjusts the speed of the trucks involved. A reduced speed can also be stipulated for a particular ATEX zone or an entire hall of zone 2/22. The Safety Guard also allows for access restrictions for ATEX zones. Drivers of non-ATEX trucks are made aware of the ATEX area by a creep speed function and visual signals.
Simple and Precise Drum Handling
Drum handling is one of the most common applications for explosion-proof pallet stackers. Linde offers both a manual and a remote-control solution for the safe handling of drums. Both versions are suitable for hazard zones 1 and 21.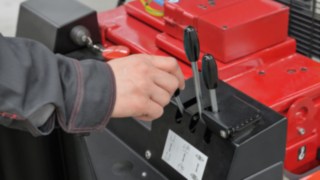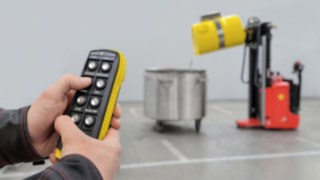 Advantages at a Glance
No matter whether you already have experience of your hazardous zones and the requirements, or whether you are still on the look-out for suitable solutions and the right advice. We're happy to help you on the path to greater safety.
Contact our explosion protection experts now