Heavy duty forklifts
The Heavyweight World Champions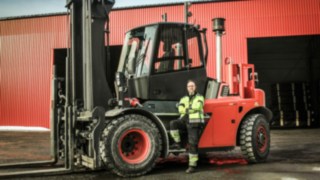 The ideal product for every task
With the heavy duty forklift trucks of the H100 – H180 D, HT100 – HT180 D and E100 – E180 series, Linde has the right truck for any heavy duty application. In addition, thanks to numerous equipment options, heavy trucks from Linde can be precisely tailored to the requirements of your operating environment and they always offer excellent ergonomics for the driver.
Heavy duty forklifts from Linde Material Handling are the perfect embodiment of performance and robustness. Whether it is in the steel industry, in port logistics or during the production of paper, with lifting capacities of up to 18 tons, Linde's powerful heavy duty forklifts can be used in any area that demands resilience and performance. Even the most difficult conditions, such as wet, muddy or dusty environments, red-hot industrial furnaces or negative temperatures are no problem for the agile powerhouses.
With their combination of powerful motors and almost maintenance-free power units, Linde heavy duty industrial trucks ensure a particularly high handling performance in even the most challenging logistics environments. In addition, they offer their drivers the best all-round visibility in this truck class. The driver's cab, truck chassis and visibility-optimized lift masts provide an unobstructed view in all directions, therefore ensuring maximum safety during all driving maneuvers even when the truck is fully loaded. Numerous innovative features increase safety still further.
Heavy duty forklifts for the most demanding applications
Economical Combustion or Electric Heavy Duty Forklifts
The diesel-powered Linde H100 – H180 D and HT100 – HT180 D heavy trucks are impressive as they have the lowest fuel consumption in their performance class. Consumption measurements in a performance test certified by TÜV Nord prove that Linde's heavy load models use up to 30 percent less diesel than trucks from the next best competitor, whilst also achieving higher performance. At the same time, with the E100 – E180 series Linde has an electrically powered truck variant that can also handle weights of up to 18 tons, therefore making it in almost no way inferior to even the most powerful combustion engine heavy duty forklift.
Intelligently Combined Proven Electric Technology
The power unit of the electric 10 to 18-ton trucks is based on the 8-ton electric forklift truck series from Linde but it has a double power unit, meaning that four drive motors, four motors for the lifting hydraulic system and two battery systems ensure there is sufficient power for any operation. For intensive operations, there are Lithium ion batteries from Linde, while more cost-effective lead-acid batteries are available for occasional use. The electric heavy duty forklifts are a particularly good option for companies that already have a charging infrastructure, or which have high requirements in terms of sustainability, environmental protection and noise prevention even during heavy duty work.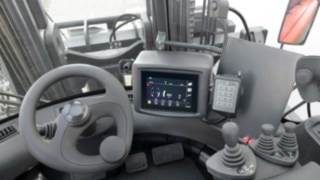 The Display Gives an Overview of the Heavy Duty Forklift
When working with heavy duty forklifts, it is particularly important to keep an eye on all relevant truck data at all times. This is why Linde's forklifts for heavy loads are equipped with a high-resolution 7-inch touchscreen color display. As a result, the driver can always see all important information, such as the load weight display or fuel/charge level, as well as the images from the optional rear-view camera. The touchscreen on the display is very easy and intuitive to operate.
Linde Heavy Duty Forklifts: Features
Benefits at a Glance
Optimally Equipped: Special Equipment for Linde Heavy Duty Forklifts
Forklifts for heavy loads are used for highly diverse storage and transport tasks from rolls of paper, to concrete pipes, right through to molten steel. A wide range of attachments and customer-specific solutions ensure that the right heavy duty forklift is available for any application requirement.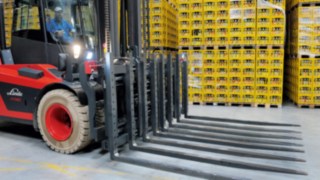 Multi-pallet Clips
They allow several pallets to be held at the same time and therefore are mainly used in areas where lots of freight units regularly need to be transported in one go. With their help, heavy duty forklifts can hold up to eight load carriers depending on the model. As a result drivers do not have to make multiple journeys, and in the optimum case there is no need to use several small trucks.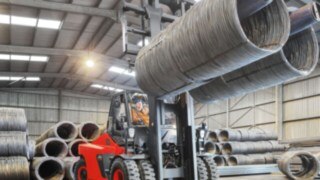 Coil Boom
Heavy duty forklifts often need to transport hollow objects, whether this is pipes, rolls or coils, and they are ideally carried using the hole in their middle. The Linde range includes various coil booms for this purpose. They are available for various lengths and weight classes. Depending on the requirements, they can be mounted directly onto the fork carriage or can be secured to the forks as an attachment solution.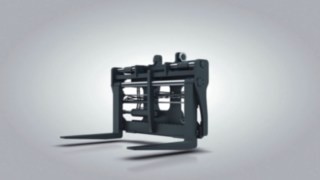 Fork Positioner with End Position Sideshifter
Depending on the truck model and intended use, it may be necessary to ensure that heavy duty forklifts have the right fork carriage so that they are optimally equipped for their work. Linde offers its multi-functional fork carriage for this purpose. With its help, even awkward loads can be moved easily from A to B. In addition to the basic version with its end position sideshifter, versions with additional fork adjustment options and/or single fork adjustment are also available.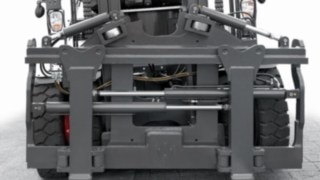 Fork Positioner with Level Compensation
Heavy duty forklifts often have to carry their load on uneven terrain. For this purpose, Linde offers a special fork positioner with level compensation, which can be used to align the fork carriage precisely when the load is not horizontal. The fork positioner is available with both integrated and hook-mounted forks.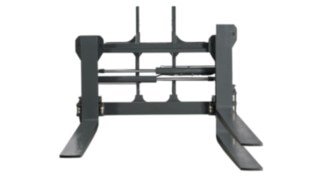 Height-adjustable Forks
In come usage conditions, heavy duty forklift trucks need to carry transport goods that have not been stored completely horizontally. Linde solves this problem with the height-adjustable forks, the insertion point for which can be varied by up to 10 centimeters upwards or downwards. The special device can be combined with all kinds of standard and full taper forks.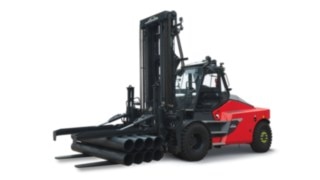 Pipe Clamp
When transporting round goods (e.g. pipes), additional safety measures are required to prevent the load from rolling off. Linde offers an appropriate pipe clamp for this purpose. It prevents the pipes from slipping and therefore makes it easier to handle these challenging loads.
New and Used: Buy, Rent or Lease Heavy Duty Forklifts
FAQ – Frequently Asked Questions about Heavy Duty Forklifts
What is a heavy duty forklift?
Heavy duty forklifts are usually counterbalanced forklift trucks with a load capacity of over ten tons. Unlike normal forklift trucks, which are often designed for a transport weight of two to three tons, heavy trucks handle very heavy loads effortlessly. In some cases, heavy trucks also include telescopic forklift trucks or all-terrain forklift trucks that can carry correspondingly high weights. The line between all-terrain forklift trucks (also known as large-tire forklift trucks) and heavy duty forklifts is blurred. All-terrain forklift trucks have been optimized for outdoor use in the most challenging conditions and, depending on the model, may also carry out heavy load tasks.
What is the load capacity of a heavy duty forklift?
Most forklift trucks have a load capacity of 1 to 8 tons In the load capacity range up to 10 tons, we usually talk about compact forklift trucks. Forklift truck models that can lift heavy weights of between 10 and 18 tons per load unit are known as heavy duty forklifts. However, in some cases the two categories overlap. For example, heavy trucks with a nominal load weight of up to 10 tons are typically still counted as compact forklift trucks.
What attachments are available for heavy duty forklifts?
Heavy duty forklifts can be equipped with various attachments in order to optimize the trucks for their respective application. One frequently used attachment is the multi-pallet clip, which can be used to hold up to eight load carriers depending on the model. Pipe clamps, coil booms and attachments with adjustable forks and functions for level compensation are also often used in the heavy load range.
What drive types are available for heavy duty forklifts?
Currently, most heavy duty forklifts on the market run on diesel. However, electrically powered heavy trucks are now also available. Just a few years ago, electric forklift trucks could not carry loads above five tons. In 2018, Linde launched the first electric forklift trucks that could lift up to eight tons onto the market in the form of the E60 – E80. With the electric E100 – E180 heavy duty forklifts, today Linde has an electric variant that can handle up to 18 tons in weight and can keep up with even the most powerful combustion engine heavy duty forklifts.
Where are heavy duty forklifts used?
Heavy duty forklifts are used in a wide range of sectors. Steelworks and shipyards use then, as do mining companies, mechanical engineering businesses, and the timber and concrete industry. Heavy trucks are also found in ports, where they are used for freight handling in shipping logistics. Companies that build and service airplanes also rely on the lifting power of these robust trucks. Here is a brief overview of the most common areas of use:
Steelworks
Ship building and shipyards
Port work (handling freight for shipping)
Construction and servicing of airplanes
Concrete industry
Timber industry
Mining
Quarrying and stone industry
Metalworking
Mechanical engineering
Paper production
Printing firms
Recycling
What does a heavy duty forklift cost?
The price of a heavy duty forklift varies from model to model. The total price depends on factors such as the load capacity and equipment supplied on the truck.
Who is allowed to drive a heavy duty forklift?
A forklift license is required to drive a heavy duty forklift. A normal driving license is not required. Under 18s may only operate forklifts under certain conditions and under supervision.
What equipment options does Linde offer for heavy duty forklifts?
Each series features a range of model variants and numerous equipment options. Linde manufactures these in series production. Linde also offers customer-specific special solutions for individual requirements.
What operating costs does a heavy duty forklift from Linde entail?
The model selected and its intended usage influence the operating and maintenance costs. In principle, heavy duty forklifts from Linde are the most fuel-efficient and energy-saving models in their weight class and only result in low service and maintenance costs. The H100 – H180 D from Linde do without a maintenance-intensive braking system, as the closed oil circuit of the truck's low-wear hydrostatic system brakes automatically as soon as the driver takes their feet off the pedals. It is only necessary to change the hydraulic oil after 6000 operating hours. The electric versions also only require a low level of servicing work thanks to the maintenance-free motors.
Heavy duty forklift in action