Intralogistics and automation solutions for you
Everything perfectly in sync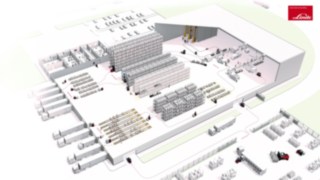 Scalable and cost-efficient automation is a critical element of an optimal material flow. Automated procedures ensure consistent, efficient, and flexible processes. They improve your goods handling times and help minimize personal injury and damage to goods and infrastructure. We provide automated trucks, the latest technology, and a comprehensive material flow consulting service to help you fully exploit your economic potential. From delivery through to dispatch, we use our comprehensive understanding of intralogistics to analyze individual process steps or entire material flows. Whether an existing system or new project: the goal of automation is always to maximize your efficiency gains. Our offer is not just limited to our automated trucks. Together with our partner companies, we provide everything that you need to automate your processes.
Customized Automation Solutions
With automation solutions from Linde, you can streamline your material flow for maximum efficiency. We have a range of standardized solution packages that offer companies from various industries a cost-effective, scalable way to make the leap into the world of automated logistics processes. We will also advise you in terms of your individual processes and the specific challenges you have to contend with. Over the past few years, we have implemented hundreds of automation projects in a whole host of industries worldwide. No matter the sector, we have the perfect application for partial or complete automation of your processes. Our specialists are always on hand to support you with the planning, implementation, and commissioning of your automated warehouse and transport solutions.
Case Studies