Energy Consulting from Linde Material Handling
Three Steps For the Right Energy Solution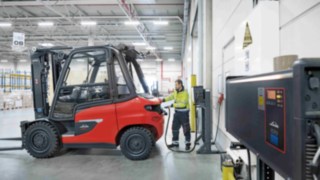 Rising energy prices, growing efficiency pressure, ambitious sustainability targets: Today, almost every industry is forced to deal with energy consumption and costs. Intralogistics is a major factor in this for many companies, as the forklift fleet is often responsible for a large proportion of total consumption.
For companies, this raises many questions:
Can we achieve our goals with our existing fleet?
Are there more efficient, productive, and sustainable alternatives?
Which new energy system fits our requirements?
Is the new solution also economical and future-proof?
Individual Consulting
Each company pursues its own specific goals: reducing energy costs, increasing productivity, reducing CO₂ emissions, or meeting legal requirements. Standard solutions therefore rarely meet the complex requirements of a company. That's why we have pooled our know-how from projects across many industries and made it available as a consulting service. In this way, we develop energy solutions that are ideally tailored to the individual goals of each customer.

The ideal product for every task
Make a start
Use our Energy Quick Check to find out which technologies might be suitable for your application in just a few clicks. The result can be analyzed in more detail by Linde experts and serve as a starting point for in-depth consulting.
We ensure that specific factors such as fleet size, network infrastructure, work processes, or production targets are taken into account from the outset during planning and implementation. Whether diesel, gas or biofuel, lead-acid battery, lithium-ion drive, or hydrogen fuel cell: We work alongside you to determine whether transitioning to a different energy system is worthwhile, and identify which solution best fits your requirements. To do this, we use a three-stage consulting process:
Our Consulting Approach in Detail
Finding the right energy solution means something different for every company. For some, it is advisable to convert all or part of their fleet to a new type of drive. Others can get the most out of their existing system by taking targeted measures.
The starting point of the consulting process is always the software-supported orientation analysis. This will quickly show you opportunities and possibilities that may not have been obvious before. Our step-by-step approach enables you to continue the consulting process at the point that is relevant for you.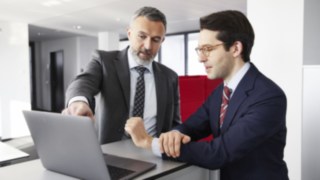 Step 1: Analysis and Orientation
Your sales representative will use a software-supported questionnaire to document all the general conditions for the use of your fleet, including your goals in terms of cost, productivity, and sustainability, within around 15 minutes. We take into account all criteria that are relevant for selecting an energy system:
Fleet size and the type and load capacity of the trucks
Operating conditions and intensity
Current energy system
Available energy sources and infrastructure
Problems or optimization potentials in the existing situation
The consulting software matches this information with data on costs, application suitability, and emissions for all available energy systems. The result is a percentage score of how well the energy solutions under consideration matches your operating conditions and targets, as well as the advantages and disadvantages of each solution.
You can then weigh this result according to your priorities together with the consultant. Whether sustainability, cost minimization, or increased productivity: Our experts probe each of these aspects and thus develop a fact-based foundation for the next step.
Change or Optimize?
If your current setup already fits your requirements, our experts will move on to step 3 – Optimization. If switching to a different energy system is the best solution for you, we will show you which energy system and which components will enable you to achieve the desired return on investment and your CO₂ savings targets during step 2.
Step 2: Validation and Concept
An investment decision regarding a new energy solution can only be made after conducting a detailed cost calculation that factors in all relevant considerations. Likewise, concrete data is required for the CO₂ analysis. Our experts use a data-based software tool for this too. They use it to calculate the costs and CO₂ emissions for different energy component combinations being considered.
This calculation takes the following data into account:
Labor costs as well as the costs for your energy sources
Consumption and emission values for each vehicle* and for the energy system under consideration
Operating times, operating intensity, and vehicle utilization degree
Costs for servicing and maintenance, battery changing, charging or refueling times, infrastructure and space requirements
Investment costs for vehicles, batteries and chargers, and new energy infrastructure
Utilization of government subsidies that are available
* Consumption and emissions for each vehicle category are measured according to real-life working cycles certified by TÜV Nord. The software models this data for the vehicles and energy systems being compared.
If required, we measure the energy consumption of the fleet in operation or record the usage data of each truck. This enables us to determine the required capacity of lithium-ion batteries and chargers, and to determine the charging strategy that best suits your real-world operating conditions.
Our consultants calculate the total costs and ROI for your new energy system in detail – providing you with a valid basis for making a decision.
Step 3: Implementation and Optimization
Once the energy system has been selected, we support you in putting the solution into operation and integrating it into your processes. The primary focus here is on optimizing and controlling energy supply costs, charging concepts and implementing the new infrastructure. If you are retaining your existing energy type, we develop measures to optimize your existing system.
There are different priorities depending on the type of energy:
Combustion engine: Even if your fleet retains the classic combustion engine, we can improve the sustainability of your forklift truck fleet, for example by switching to vegetable oil-based diesel fuel (HVO) or biogas. In addition, after analyzing your operating processes, it may be possible to optimize your fleet size or minimize distances.
Lead-acid batteries: This proven energy system is ideal for less intensive applications. Those switching to lead-acid must take into account the higher grid load and create space for the charging infrastructure. If lead-acid batteries are already in use, modern chargers with increased efficiencies can increase energy efficiency and reduce costs.
Lithium ion batteries: If you are switching to vehicles with lithium-ion batteries, we will work with you to develop a suitable charging strategy. To ensure optimal truck performance, battery size, charging capacity, charging intervals, and operational planning must be precisely coordinated – doing so also helps avoid peak loads.
Fuel cell: Vehicles with fuel cells combine sustainability and high availability, but at the same time increase demands on refueling infrastructure and hydrogen supply. We can help you plan and implement your future hydrogen infrastructure.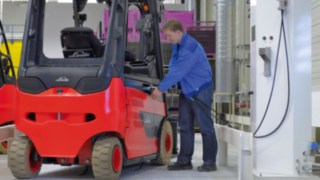 Make Use of Subsidies, Demonstrate Sustainability
A key aspect of our energy consulting approach is financing and sustainability. Our experts take into account possible subsidies that are available in many countries for the use of lithium-ion drives or hydrogen technologies on your behalf. For these programs, we calculate the amount of CO₂ you can save through the use of a new energy system and optimized operating processes.
Holistic Thinking: Taking Your Processes Into Account
Optimal energy use is not limited to the drive systems of your trucks. Using your entire fleet also plays an important role. That's why we develop tailored strategies to increase the efficiency of your processes and maximize the utilization of individual trucks and your entire fleet.
Energy requirements of individual trucks can be reduced if certain transport routes can be avoided or if industrial trucks can be utilized more efficiently. Improved utilization per vehicle also makes it possible to reduce the size of the fleet deployed. We help you to optimize your fleet.
Fundamental process optimization, the use of warehouse management software and forklift guidance systems, as well as the partial or complete automation of processes can help to reduce energy consumption and costs. Our experts advise you on all aspects of your material flow.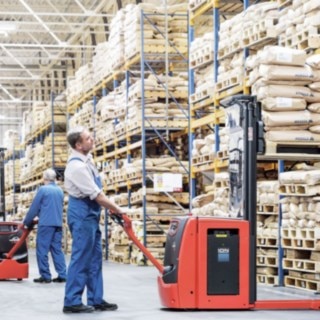 Ensuring Everything is in Harmony: Solutions From a Single Source
As a provider of comprehensive solutions, we offer holistic energy system solutions from a single source. Combustion engines, lead-acid and lithium-ion batteries, fuel cell systems, and all corresponding chargers: you get all the components directly from Linde. These are thus optimally matched to the vehicle in question. This high level of technical integration improves the efficiency of the overall system and ensures that you, the user, can get the most out of every energy solution.
Discover more information about our energy solutions here!