3PL (Third Party Logistics)
Solutions for the Logistics Industry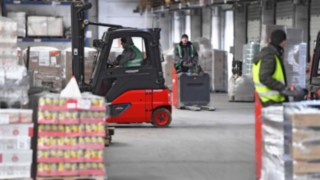 Modern logistics providers are the mainstay of global goods flows. This is evident not least from the fact that more and more companies are outsourcing the storage and shipping of their goods to these third party logistics (3PL) specialists. One of the most significant business areas in the logistics industry is the traditional transport and handling sector, which ensures the movement of goods from A to B. Equally important is contract logistics, whereby logistics experts are directly involved in the customer's production process, within which they are responsible for carrying out various activities. Their activities cover the supplying of production lines, packaging, storage, and shipping of the goods, among other things.
As the complexity of these tasks is increasing year on year, 3PL service providers are finding themselves faced with some major challenges. These include an increasing handling volume, shorter delivery periods, and rising cost pressures on the one hand, and seasonal fluctuations, widespread staff shortages, and an urgent need for high-performance safety solutions on the other. If we take a closer look at the logistics industry, it is possible to identify five particular areas in which 3PL service providers are faced with challenges.
Read More
Challenges Facing the Logistics Industry
Compensating for Staff Shortages in the 3PL Industry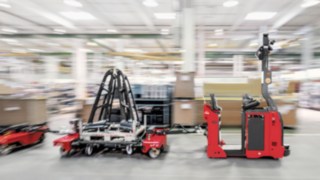 Logistics companies require large workforces, particularly in the area of handling. However, the need for large numbers of staff is not the only problem; the image of the profession has become significantly less attractive in recent years. As a result, it is becoming increasingly difficult for 3PL service providers to find sufficient qualified staff.
Although the obvious solution to this problem is to automate the relevant work steps, this can be difficult to achieve in practice. Given the enormous complexity of certain procedures in the 3PL industry, it is often not possible to resort to standardized automation procedures. The focus on automated individual vehicles in particular is problematic.
This is why Linde Material Handling develops and implements holistic automation solutions that are tailored to the individual requirements of each customer. Thanks to our decades of experience in the 3PL industry, we are able to precisely analyze individual process segments and complete material flows, and come up with suitable automation solutions. During implementation, we pursue a traditional general contractor approach, whereby we manage the implementation of our own and external process components from a single source.
Linde Solutions
Increasing the Flexibility of 3PL Service Providers' Fleets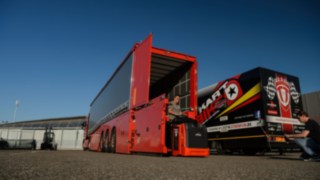 Some sectors of the logistics industry are affected by dramatic seasonal fluctuations. That is why, for third-party logistics service providers, the ability to rapidly adjust the size and technical specifications of a particular fleet to the prevailing circumstances is an essential one. What is required is a reliable way to order, exchange, or return equipment and trucks at short notice. Achieving this whilst also ensuring optimum availability remains a crucial concern for the logistics industry. Changes in consumer behavior in the online age makes this factor all the more important.
Linde Material Handling offers 3PL service providers a range of solutions for coping with fluctuating vehicle utilization. For example, Linde customers can make use of Europe's largest hire fleet of forklifts and warehouse equipment in order to temporarily expand their current fleet. Moreover, special rental programs are available as a flexible solution based on a core fleet. In this case, the user has a fixed number of trucks in permanent use that cover the majority of their maximum capacity. If there is a temporary increase in capacity, they can obtain additional trucks for which they have already signed a contract setting out the terms of use. Compared to traditional long-term hire agreements, the benefit of this approach is that costs always remain proportionate to current demand.
Using Big Data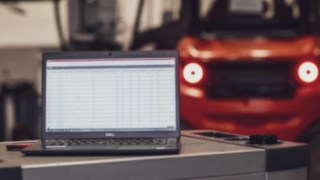 Forklift trucks and warehouse handling equipment often come equipped with modern telemetry systems as standard. These measuring devices collect detailed information about the performance and movement pattern of the trucks. Linde Material Handling now equips around 70% of its trucks for logistics customers with the necessary data collection technology.
However, the percentage of companies who actively make use of the resulting opportunities is much lower. Logistics specialists who actually analyze the data collected and exploit its enormous potential for creating efficiency gains are still the exception rather than the rule.
For this reason, Linde specialists are available upon request to help 3PL service providers use this data. By drawing information from the available data and translating it into practical recommendations, they support the process of optimizing the customer's fleet and material flows. Moreover, they help to improve safety and reduce costs. From improved fleet usage and optimized route planning to tailored, scaled fleet sizes and targeted damage prevention, numerous factors can be considered and subjected to a critical evaluation.
Linde Solutions
Maximizing Safety in the 3PL Industry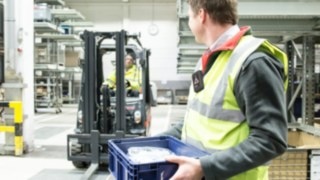 Goods handling can be a rather hectic and staff-intensive endeavor, especially in the case of cross-docking. The close collaboration between human and machine often brings about critical situations where the safety of people, goods, trucks, and infrastructure may be at risk.
Accidents between trucks and incidents resulting in personal injury unfortunately still occur today. Moreover, staff working with forklift trucks and warehouse handling equipment are regularly exposed to excessive noise and vibrations.
Linde Material Handling solves this problem with smart assistance systems that significantly increase safety in the immediate vicinity of vehicles. A package developed especially for the logistics industry, which is based on the Linde Safety Guard, creates safety zones around trucks and pedestrians and alerts them if they come within a dangerous distance of each other. Not only does this prevent collisions, it also reduces noise emissions from constant reversing alarms. In addition, the speed of trucks can be specifically reduced in particularly tight spots by way of virtual gates. This prevents collisions, especially in areas where visibility is restricted. Optical warning signals like the Linde BlueSpot and stationary warning systems can further help to increase safety.
Linde Solutions
Increasing Energy Efficiency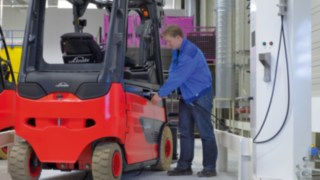 When it comes to energy consumption, many logistics companies are faced with a particular problem. On their premises, it is electric industrial trucks as well as lighting and IT that usually account for the majority of electricity consumption. As energy tariffs are determined based on peak consumption, the end of each shift is a critical moment. If too many trucks are on charge at the same time, there will be a sudden peak in consumption, which in the worst case scenario might exceed the previous threshold value. As a consequence, the company will be moved up to a higher tariff for the following period, leading to higher energy costs.
Linde Material Handling offers a range of solutions to this problem. For example, the use of lithium-ion batteries for propulsion enables regular interim charging of trucks and helps to more evenly distribute energy consumption over the usage period. Packages comprising hardware and software assist in determining the optimum charging sequence for the trucks, regardless of whether lithium-ion batteries or traditional lead acid cells are used. This prevents peaks in consumption, and ensures the specified thresholds for total electricity consumption are not exceeded. Moreover, Linde offers holistic energy consulting services, whereby Linde experts analyze the energy demand of a particular site taking into account all consumers, and then offers tangible recommendations on how to improve efficiency.
Linde Solutions
Customer Examples