Retrofit & Accessories
For Greater Safety, Efficiency and Comfort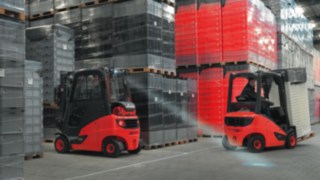 With 77 standard series and 382 model variants, Linde Material Handling has the right solution for every logistics task. However, the equipment requirements for forklift trucks and warehouse handling equipment may change over time, for instance due to new safety regulations, modified logistics processes, or the comfort requirements of drivers who operate the trucks on a daily basis. In the majority of cases, a simple retrofit helps, for example, to adapt a forklift to the new requirements without an expensive conversion, or to upgrade it with the latest technology. You can also standardize the equipment features of your entire fleet. Linde supplies the necessary retrofit solutions and accessories for the areas of safety, efficiency and comfort. These include, for example, the innovative assistance system Linde Safety Guard, the Linde BlueSpot™ driving path warning device, components for the automatic recording and transmission of operating hours, and a practical holder for smartphones.
Safety
There is no room for compromise when it comes to safety in the workplace. That's why Linde provides retrofit solutions ranging from the visual warning signal through to the driver assistance system, which increase safety for drivers and pedestrians in the plant. Examples include the Linde Safety Guard advance warning system for potential hazards, the Linde BlueSpot™ for improved visibility of approaching trucks and the Linde Speed Assist driver assistance system.
SpeedAssist Stops Speeders
Operating the forklift truck quickly may mean higher productivity, but this must not be at the expense of safety in the workplace. Often, forklift drivers are not even aware of their excessive speed. The SpeedAssist assistance system developed by Linde supports drivers by automatically reducing their speed upon entry into the warehouse and production halls – in other words, wherever an adapted speed helps to prevent accidents. The range, sensitivity, and response time of modern radar sensors can be individually adapted to suit the surroundings and customer requirements. This ensures, for example, that the forklift does not inadvertently brake when traveling under bridges in outside areas. The Linde Speed Assist is easy to install, improves safety indoors, and maintains the customary high levels of efficiency of the forklift outdoors.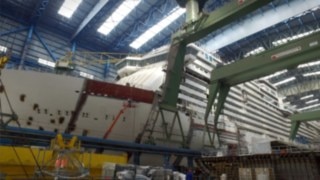 Efficiency
The range of solutions provided by the Linde fleet management system connect: turn warehouse handling equipment and forklift trucks into an intelligent fleet. connect: links your trucks and supplies information to guarantee efficient and safe operation. You get an overview of the truck utilization and the servicing status, and have control over the access rights. Where necessary, Linde can supply selected connect: products as retrofit solutions for existing and third-party trucks.
Comfort
Forklift drivers spend many hours in their trucks every day, making it all the more important to ensure optimum working conditions. This contributes to efficient operation and maximum comfort for drivers. Numerous accessories allow modern Linde driver cockpits to be adapted to suit special requirements where necessary. For instance, Linde supplies reinforced padded seats and retrofitted holders for electronic devices. This enables the truck equipment to be perfectly aligned with the driver's necessary movements and their ways of working.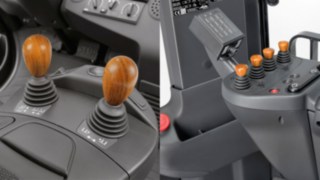 Wooden Handle for Joysticks
The wooden handle for Linde joysticks is a stylish way of enhancing and customizing the workstation. It is available for single lever controls, central and cross lever controls. The non-splintering hardwood offers numerous advantages compared to standard plastic handles. Apart from the pleasant feel, it is less susceptible to contamination and protects against plastic allergies. Every wooden handle is a one-of-a-kind product made in Germany.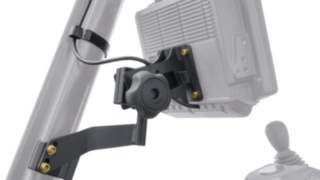 Terminal Holder
The retrofit solution for terminal holders allows existing forklift fleets to be easily adapted for the use of electronic terminals. The sturdy, height-adjustable holder is simply mounted to the forklift's right A-pillar and can be tilted as required. It has a power connection and a power shut-off time for uninterrupted operation of the monitor.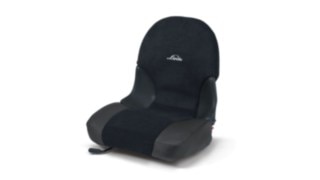 Seat Covers
Forklift seats are exposed to high levels of stress due to contamination and frequent mounting and dismounting. Depending on their degree of wear, covers can become unsightly as well as uncomfortable for drivers. Seat covers made from micro-fiber velor are extremely resilient and easy to maintain. Side inserts made of artificial leather provide additional protection against wear.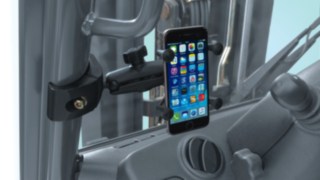 Phone Holder
A cellphone holder means that a driver always has the display in sight and can operate it with ease. The holder, which is easy to attach via a clamp or suction cup, is suitable for all types of truck.
Clipboard
A traditional clipboard ensures enhanced organization and efficiency in the driver's cab at no great effort or expense, with faster access to work documents and optimum legibility thanks to the LED lighting.