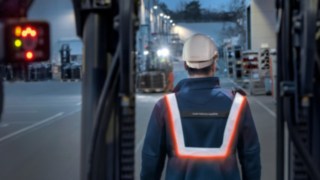 Safety in the warehouse or production environment is the number one priority in intralogistics. With ever-increasing demands on material handling these days, it is essential to have reliable measures in place to protect drivers and employees, as well as the goods being transported, the shelves and any other equipment. Industrial trucks have to work more and more quickly, flexibly and efficiently to meet these growing requirements. These challenges increase the risk of accidents.
Focus on Occupational Safety
Research by the Statistical Office of the European Union demonstrates just how significant the issue of occupational safety is: According to an analysis of work accidents in the EU, almost 18 percent of all major accidents are caused by transportation and storage; more than in manufacturing, where the figure stands at around 14 percent (EUROSTAT 2017). A recent case study from Germany took a closer look at warehouse safety (DGUV 2021). According to this study, an average of over 133 accidents per working day occur in German warehouses, including 60 accidents involving forklift trucks and 13 involving pallet trucks.
"Little" Accidents Also Count
As well as those resulting in personal injury, work accidents also include those which cause property damage to the vehicles involved, or to the goods being transported and the infrastructure. The primary goal is always to protect people's lives. In practice, however, it is minor property damage that occurs most frequently, which leads to repair costs and disruptions to the work flow. A comprehensive safety concept should therefore also include measures to reduce this financial burden and increase productivity. Just as importantly, drivers have a greater sense of security if they have the support of an assistance system, for example. This allows them to focus better on goods handling and work more productively.
The Vision: 100% Accident-Free
Linde Material Handling has one clear goal, which is to avoid 100 percent of accidents in intralogistics. This is the driving force behind "Vision Zero"—a safety philosophy with the aim of increasing safety in internal transportation and preventing forklift accidents and other incidents when handling goods. With this in mind, Linde is developing technical innovations in our industrial trucks, as well as intelligent assistance systems, comprehensive training programs, and consulting services. The result is integrated solutions which help companies to master the diverse challenges of modern, safe intralogistics.
Safety—The Bigger Picture
Safety in the warehouse and production environment is not just a matter of fitting the truck with the right technical equipment—it is about looking at material flows, internal processes and employee qualifications as a whole. In order to record and optimize all factors which affect safety, Linde offers a structured advisory service, digital fleet management and an extensive training program.
Safety as Standard
Forklift trucks and warehouse trucks from Linde Material Handling are fitted as standard with numerous features which increase both active and passive safety in the warehouse and thus prevent forklift accidents. This starts with the contour of the truck: The driver or operator's workplace is outfitted such that the driver's entire body stays within the contours of the truck, while at the same time allowing the driver to keep an eye on their surrounding environment. With all its trucks, Linde attaches great importance to clear visibility for the operator.
Even at full speed, drivers can rely on the safety features that are fitted as standard in Linde trucks. Many Linde industrial trucks are equipped with several different independent braking systems. Standard features include automatic parking brakes, for example, which prevent the trucks from rolling away unintentionally on ramps or when loading HGVs. In addition, Linde Curve Assist automatically adjusts the speed when cornering.
Reliable Load Handling
A key performance feature of Linde forklift trucks is the safe handling of heavy loads. For example, the tilt cylinders on the electric and IC trucks are attached to the rear of the stable roof and frame structure. The longer lever length makes the mast even more stable and results in less swinging when stacking at high lifting heights. This allows the operator to work more precisely, quickly and—above all—more safely. The design also features slimmer mast profiles, which improves visibility.
Fatigue-Free Working
Ergonomic working conditions are a central requirement for fatigue-free and therefore safe working. Linde attaches great importance to giving employees the best possible protection from harmful vibrations and jolts. Decoupled drive and steering axles and decoupled operator workstations are effective technology solutions that ensure maximum operating comfort in Linde industrial trucks, thus improving the operator's concentration.
Read More
Innovations for Warehouse Safety
Here at Linde, we are continually working to come up with solutions that make intralogistics even safer and more efficient. The result is a wide range of innovative assistance systems, practical retrofit solutions, and modern networking possibilities. Safety takes priority at all stages of development.
Safe Interaction with the Working Environment—Light and Warning Systems
Pedestrian Warning Band
The Pedestrian Warning Band is the latest addition to Linde Material Handling's innovative Safety Guard system. It has been designed to alert wearers, in particular pedestrians, to potential dangers ahead of time. The smart technology in the band warns wearers of potential dangers using light signals, vibrations, and acoustic warnings, thereby maximizing warehouse safety—both indoors and outdoors.
Find out more about the Pedestrian Warning Band!
Safe Forklift and Load Handling—Driver Assistance Systems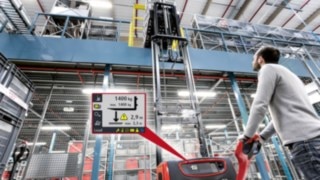 Load Management Advanced
Linde Load Management Advanced makes moving goods with pallet stackers easier and safer. It gives the operator clear visual and acoustic warning signals on a large color display. It even disables the lifting function automatically if the actual load weight exceeds the maximum load capacity.
On the Road to Safe Intralogistics
As the connecting link between all our products and services, Linde Material Handling's "Vision Zero" philosophy has proven to be extremely successful in the world of intralogistics. The solutions designed with this philosophy in mind are setting new records for safety in internal transportation. The advice and service offerings enable people to create the safest possible working environment for them. The innovative, digital solutions support users to continuously improve their processes.
Linde Safety Solutions—Benefits at a Glance