Maintenance & Repair
Whatever It Takes for an Efficient Fleet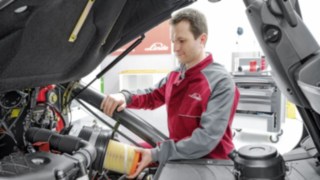 To ensure that industrial trucks efficiently support operational procedures, they must first and foremost be continuously available. This is where Linde Material Handling Services comes in, providing support with maintenance and repair. Our highly qualified service technicians ensure compliance with service intervals, and quickly and reliably service and repair over 300 types of trucks.
Besides the best possible truck and fleet availability, companies can also rest assured that they are on the safe side when it comes to occupational health and safety. Regular servicing also reduces the operating costs and increases the resale value of industrial trucks. Linde offers perfectly tailored service packages to suit specific customer requirements, from one-off repairs through to full service contracts.
The extensive service network with around 8,500 service technicians worldwide means that we are always close to the customer. Linde provides round-the-clock support, seven days a week. This means that your forklift trucks and warehouse handling equipment remain productive and safe, and your operations are consistently cost-effective and sustainable.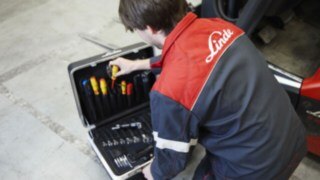 Repair Service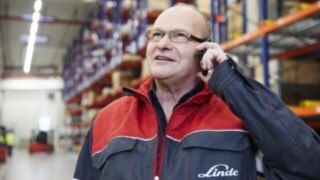 Rapid Assistance in the Event of Damage, Wear, or Conversion Requirement
Whether through multi-shift operation or harsh operating conditions, great demands are placed on industrial trucks. Extreme environmental influences, such as those present in foundries, cold storage houses, the fishing industry, and sectors with a high dust exposure, may also accelerate the appearance of wear and tear. If particularly intensive use or a lapse in concentration on the part of the driver lead to damage to the truck, Linde Material Handling provides fast and reliable support, even if no maintenance contract is in place. One call to the service hotline is all it takes and a technician will be on their way with the required Genuine spare parts. The extensive Linde service network guarantees quick response times and constant availability.
Conversion and Retrofitting for Special Requirements
The challenges faced in everyday logistics operations don't just include wear and repairs. The operating conditions for industrial trucks may change, for instance due to new logistics processes, changed infrastructure on the company premises, or higher safety and comfort requirements. In these cases, a minor conversion or simpleretrofitting by Linde is sufficient. To make sure that operation continues without interruption, even in the event of major conversions, Linde supplies replacement forklifts from the largest rental fleet in Europe.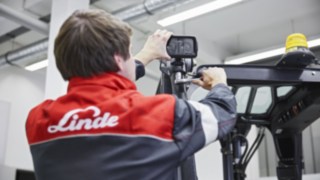 Regular Servicing
Preventative Measures to Minimize Failure and Repair Costs
Ideally, industrial trucks should not require repairs in the first place. After all, apart from damage due to accidents, most repairs on warehouse handling equipment or forklift trucks are due to continuous use, i.e., entirely normal wear and tear. In particular, major repairs can be avoided if wear is promptly detected, minimized, and prevented.
Suitable Servicing Intervals
Detecting damage and leaks, checking the brake system and the steering system, replacing the hydraulic oil: As part of corresponding servicing contracts, Linde service technicians can promptly identify wear and take the necessary measures. The servicing intervals are defined by the manufacturer's specifications and are adapted to the specific truck in the event of an increased workload. The Linde service team coordinates the servicing deadlines with the regular safety checks, such as emissions tests. This means that companies can also satisfy the legal requirements, all in one single step.
Seamless Check Thanks to State-of-the-Art Diagnostics
Powerful control technology, as used in the automotive industry, also allows industrial trucks to be analyzed quickly and reliably. In addition to regular maintenance, this also allows the Linde service technician to suggest preventative measures to avoid costs for unplanned downtime and short-term repairs.
Regular servicing ensures that all forklifts are operational for the long term, and that downtimes and repair costs are reduced.
Full Service
Comprehensive and Straightforward: Minimize the Risk of Failures with Maintenance Contracts
Anyone wanting to have as little to do with servicing and repairs as possible, while simultaneously wanting maximum truck availability, will want a full service contract. This lets you place all the necessary activities, from planning and coordination through to professional implementation and seamless documentation, into the professional hands of Linde service employees and highly qualified service technicians. Regardless of whether it relates to maintenance deadlines, repairs, the procurement of spare parts or safety checks, the full service contract provides comprehensive cover for all the necessary maintenance measures.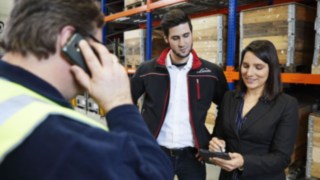 Tailored to Customers' Requirements
Companies can select the right contract from a range of variants depending on their requirements. Moreover, there are numerous options to customize the full service contract to suit specific customer wishes, such as defined response and repair times, permanent assignment of service technicians for on-site fleet management, and the management of the entire battery management system. Full service contracts are worthwhile irrespective of the number of industrial trucks in use. After all, seamless operation and the lowest possible internal expense for servicing and repairs lie at the heart of every efficient operation.
Optimal Service Planning
Continuous servicing enables a significant reduction in costly repairs. However, if repairs do still arise, Linde effectively integrates their planning into the production process in advance and logically combines service jobs so that downtimes are kept to a minimum. This also allows regular servicing activities to be coordinated with the prescribed statutory checks, such as the FEM 4.004 check, which is a requirement throughout Europe. This, in turn, reduces downtimes and saves costs.
Benefits of Manufacturer Maintenance at a Glance
Maximum availability and efficiency of trucks
Early detection of any developing damage
Consistent minimization of safety risks
Reliable avoidance of unnecessary repairs and consequential damage
Predictable and transparent costs for maintenance and servicing
Guaranteed compliance with warranty conditions
Guaranteed compliance with statutory provisions
Reliable service documentation
Significant increase in the resale value of trucks
Check Before Starting Work
Every single forklift driver in a company can make a simple, yet important contribution to ensure seamless operation. After all, if drivers check their industrial trucks before starting work, this not only improves safety, it also helps to maintain the optimal operating status of the trucks. Here you can find an overview of all the necessary checks for electric forklifts and IC trucks.
Chassis, Bodywork & Fittings
Check that the adjusting mechanism on the steering column is secure
Check the condition of the operator's seat and seat belt: Secure, excessive wear, damage
Check the tires and rims: Profile, external damage, air pressure
Check the drive system and steering: Smooth control, responsive to command
Test the service brake and parking brake
Check the level in the washer system reservoir
Engine / Battery & Chargers
Diesel: Check the fuel level, do not overfill
LPG: Check the fill level in the LPG system. Check that the console of the LPG tank is correctly positioned
LPG: Carry out a visual and odour inspection on the LPG system
Check the engine oil level, caution when hot
Check the cooling fluid level, never when hot
Check the truck for leaks

Battery & Chargers

Check the state of charge of the battery
Check the electrolyte level, topping up with distilled water if necessary
Check that the battery poles are tightened, cleaned, and lubricated
Check the battery and charger connections
Hydraulics & Fluids
Check the oil level in the hydraulic system
Check the truck for leaks (visual control), e.g., transmission, steering, working hydraulics
Electrics
Check the electrical system, e.g., lights, beacons, warning units, wipers
Trucks with LSP: Make sure that correct attachment is selected in LSP.
Load Lift System
Check the fork arms and fork latches: Correctly fitted, undamaged
Check that the attachments are working correctly. Observe the manufacturer's operating instructions.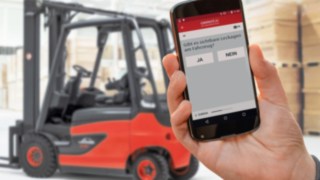 The Electronic Pre-Operational Check
If your drivers are equipped with a smartphone, the Linde Material Handling 'pre-op check' app provides assistance in performing daily safety checks. It enables your drivers to simply use their smartphone or tablet to check that a forklift is fit for use. Instead of using a paper form, the logistics employee responds to questions on the truck status on the touchscreen. Only once the test has been successfully passed can the forklift or warehouse handling equipment be used, making this a simple and expedient measure for improved safety and performance.
Further information here