An industry with a rich history
From Güldner to the Linde MH headquarters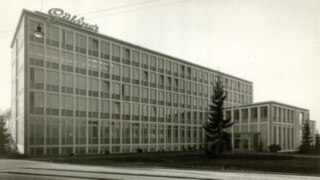 The year is 1956. American actress Grace Kelly has just married Prince Rainier of Monaco, women are wearing petticoats and men are slicking back their hair, and Brigitte Bardot is celebrating her international success following the release of 'And God Created Woman'. Whilst all this is going on, in Aschaffenburg the company Güldner Motorenwerke is adding an administration building to its foundry on Schweinheimer Strasse. The topping out ceremony is held in March.
By this time, the company has already been around for more than 50 years. It was founded in 1903 in Munich as Linde's Eismaschinen Aktiengesellschaft, moving to Aschaffenburg in 1907 to capitalise on the waterways there. Since then, Güldner's gas, crude oil and diesel engines have proven themselves hundreds of thousands of times in refrigeration systems, small diesel locomotives, large saws and tractors.
But the company reaches another turning point. In 1955, Güldner had created an invention that would rewrite technological history: the hydrostatic drive for mobile machinery. The first forklift truck to be fitted with this revolutionary new technology was the 'Hydrocar', a type of mini truck with a hydrostatic power transmission. This technology provided seamless acceleration, both forwards and backwards, with full engine power and without the need for a transmission. Towards the end of the decade, in 1959, Güldner releases the first hydrostatic forklift truck – the 'Hubtrac' – which makes an explosive impact, setting new standards in terms of driving comfort and user convenience.
Employees in the administration building spend the next few years developing a new strategic direction for the company. The management is well aware that the tractor and diesel engine business will decline in the long term. The economy is booming and the flow of commodities is becoming increasingly international, leading to a new emerging market – materials handling. This involves transporting palletised goods and using forklift trucks to unload the goods from lorries, store them in warehouses, pick the orders and eventually unload them again at the end customer's premises. The plans are finalised in 1969, and within just a few weeks Güldner is focusing all production on forklift trucks.
While the company enjoys rapid economic growth, expands its product portfolio and extends its sphere of activity through additional purchases and joint ventures to include the USA, France, England and China, Schweinheimer Strasse has almost become a window to a bygone era. The site is still called 'Plant 1'. The foundry's 1904-style industrial flair casts a shadow over the site's position as the administrative headquarters. The cubicle offices of the 1950s building, located just up from the foundry, are mostly set in dark corridors. With its separate management floor and distinct lack of meeting rooms and kitchens, the building no longer meets modern working requirements driven by rapid globalisation.
After spinning off from Linde AG and becoming legally independent – under the name Linde Material Handling GmbH – as part of the newly formed KION Group, it becomes increasingly clear that the site needs modernising. While Linde gains a reputation as a market leader and technological forerunner in Europe, globalisation continues to accelerate and requirements within the materials handling market evolve. While prior to the turn of the millennium the company's focus was firmly on forklift trucks and corresponding sales volumes, it later shifts to customer service, consulting and other services provided in the sphere of intralogistics. Both the KION Group and Linde adapt to these changing conditions, investing in new drive technologies such as lithium-ion batteries and fuel cells, in customised software solutions, and in the expansion of the global sales network.
All of this naturally has an impact on the company's established work practices. Growing digitalisation and networking as well as the simplified interaction between colleagues across flatter hierarchies help to establish a different working environment from that of the 'Plant 1' of the 1950s. Skipping the trend for open-plan offices, in 2014 Linde takes the opportunity to rent back the newly modernised building in a sale and leaseback arrangement.
Today, it's pretty much widely accepted that there has to be a combination of different office styles to be able to meet the requirements of our modern knowledge-based society.
... explains Prof. Wilhelm Bauer, a renowned expert in labour and office research and consultant in spatial conception from the Fraunhofer Institute.
The modernised old building now features largely open floors with quiet work stations in combination with communication areas and think tanks. The space allows colleagues to ask and answer questions, discuss ideas or check a project status without having to go too far from their workstations. Meetings can also take place at standing desks, and laptops allow employees to work at different desks if they wish. There are a number of workstations available for use by external visitors or those coming from other branches of the international organisation. All phone calls are made over the internet and as such are wireless and flexible, leaving hands conveniently free.
"My main wish for our new headquarters is to break down barriers, reduce the importance of hierarchies and to find solutions," says Andreas Krinninger, Chairman of the Management Board. "The slogan of the redesign was 'Creating a great place to collaborate'. Following the modernisation, this same slogan could be applied to our bringing the space to life. After all, it's up to us to make the most of the opportunities we have created with this new space."