Bernd Roth, Head of Truck Assembly
"Our product inspired me from the beginning"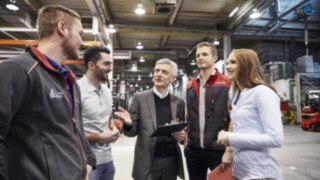 When I arrived at Linde Material Handling as a young engineer completing his degree dissertation over two decades ago, I would never have guessed that I would still be in the same company today. I am still proud to be part of this company. I am especially aware of this when I travel and come across a Linde forklift truck: I have a formed a habit of checking when the forklift truck came off the production line to find out whether it ever stood right in front of my office door.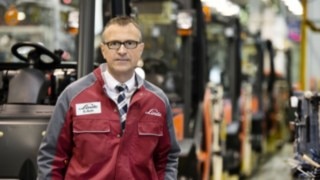 Our forklift trucks inspired me from the very beginning, as, in contrast to suppliers, we manufacture a complete product, which is used in different sectors around the world and meets the highest quality requirements. What's more, with a forklift truck an engineer gets to apply everything that they have previously learned: it consists of different materials such as steel and plastics, as well as electrics and electronics. On the other hand, a forklift truck also requires a range of technology and work steps – from welding through to painting and assembly and much more. But, working at Linde means more than just being employed by an innovative forklift truck manufacturer with the highest quality standards; it also means working together with a highly motivated team, which fully identifies with the product as well as the company.
Working at Linde means working with a highly motivated team, which fully identifies with the product as well as the company.
What I particularly enjoy about my role as Head of Truck Assembly is the fact that I never know precisely how my day will turn out: I am faced with new challenges every day and, in contrast to many other professions, these usually require quick decisions. And, importantly, although we manufacture machines, in the end the focus is primarily on people. While good planning is essential, it is critical that employees are on board and involved in decisions. For me, it is important to be a role model in this respect.
In my career at Linde, I have not only taken over tasks at the site in Germany, but have also spent several years in management positions abroad. My time at the Chinese site in Xiamen in 1996 made a particularly strong impression: at the time, I had the opportunity to help develop the factory and was able to plan it almost from a greenfield site. Today, Xiamen plays a crucial role for Linde as well as the whole group and I am still benefiting from my experiences during this time, from both a professional perspective as well as in dealing with foreign cultures and values.
In other words, I could not imagine a more exciting employer than Linde.