The Linde Safety Guard at Smurfit Kappa LithoPac
In Action to Improve Safety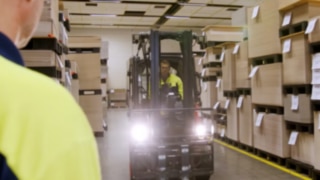 Smurfit Kappa
Founded: 1934
Employees: 46,000
Revenue: 8.5 billion
Smurfit Kappa is one of the world's leading manufacturers of paper-based packaging. Each year, the company produces 11.7 billion square meters of packaging. Smurfit Kappa LithoPac, based in Nybro, specializes in offset printed corrugated packaging.
Safety is of the utmost importance for Smurfit Kappa LithoPac, who are based in Nybro. The Linde Safety Guard assistance system guarantees the high standard of protection that the company has always been proud of.
In areas where people are working with forklift trucks at high speed, safety is paramount. In order to prevent accidents, Smurfit Kappa LithoPac has equipped all its staff and forklifts with the Linde Safety Guard system since 2021.
The Linde Safety Guard detects risks early and warns forklift drivers and pedestrians so that they have enough time to react.
At Smurfit Kappa LithoPac, the entire system was tailored to the specific requirements of the company. This kind of tailored solution is easy to implement due to the modular nature of the system.
"We want to add image projectors to the Linde Safety Guard system so that it can project a warning sign onto the floor in areas where the forklift may cross paths with pedestrians," says Ulf Sigfridsson, Head of Procurement at Smurfit Kappa LithoPac.