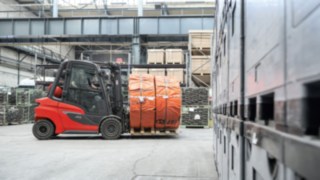 Fit for the future
5 Nov 2019
New generation of fully networked Linde counterbalance trucks
Linde Material Handling has added a new generation of IC counterbalance trucks to its portfolio, thus creating a fit-for-the-future "Swiss Army knife" of intralogistics. The hydrostats in the load capacity range of 2.0 to 3.5 tons take the interaction between man and machine to the next level and set new standards in terms of availability, efficiency, sustainability and safety. At the same time, the fully networked Linde forklifts are prepared for all conceivable applications in conjunction with Industry 4.0.
Newly developed from scratch, this forklift generation is based on an extensive data survey: Almost a thousand forklift drivers and fleet managers from 26 countries evaluated vehicles during multi-hour "truck clinics" and expressed their wishes ranging from step design to easy accessibility for servicing. "We listened closely to our customers and passed on their comments to our development engineers," says Stefan Prokosch, Senior Vice President Product Management Industrial Trucks Counterbalance at Linde Material Handling. The efforts have paid off, as he points out: "The new vehicles support and protect the drivers in an unprecedented way; they are the most cost-efficient trucks on the market and make material flows even more transparent and productive thanks to wireless communication."
Industry 4.0 ready
A significant innovative feature is that the trucks come fully networked as standard: Subject to the most stringent security standards, relevant vehicle data are transmitted to a central cloud server in Western Europe which can be accessed by customers and sales partners. In turn, data can also be received and processed. In this way, hereafter it will be possible to carry out over-the-air software updates and activate functions such as the load weight display. Stefan Prokosch: "In the future, we can adapt forklifts to changing customer needs throughout their entire life cycle – even needs that we do not know about yet." Already now, connectivity is a clear advantage when it comes to servicing: Truck Health Management, remote diagnostics and predictive maintenance enhance vehicle availability and help to reduce costs.
Increased safety and productivity due to improved visibility
Unrestricted all-round visibility is an important prerequisite for quick, precise and safe goods handling when operating forklifts. Particularly in this respect, the Linde Material Handling designers have created a revelation: The fields of vision through the lift mast alone have been increased by a whopping 20 percent compared with the predecessor model. Slim A-pillars and asymmetrical mast profiles open up additional viewing windows that make it easier to position the load with millimeter precision. The flatter counterweight allows a better rear view; the reinforced glass roof combines maximum visibility with the best possible protection.
The weatherproof cabin of new Linde models H20 to H35 also offers optimum side visibility – thanks to fully glazed doors. Additionally, the "Protector Frame" concept with overhead tilt cylinders and load-bearing frame ensures mast stability and maximum residual load capacity.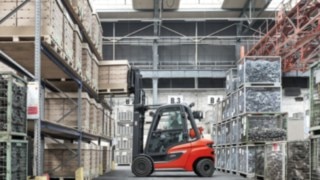 In terms of safety, Linde Material Handling pursues its "Vision Zero": In the long term, the number of accidents is to be reduced to zero. Lighting options such as LED Stripes and VertiLight for non-dazzling illumination contribute to this endeavor – as do "intelligent passengers" including the warning and assistance systems Linde Safety Pilot and Linde Safety Guard which provide important additional information to the driver, thus helping to prevent mistakes and accidents. The Linde Load Assist is fitted as standard. It actively intervenes as soon as the load approaches the capacity limit.
Technology at the service of people
The most important influential factor in material handling, however, is still the human operator. And the more ergonomic and safer their environment, the better they work. This is why the new Linde forklift generation was designed with the driver taking center stage: The truck's step has a height of merely 465 millimeters and is more than twice as wide as before. A range of twelve different driver seat options is available – all the way to a heated super-comfort seat with separately adjustable backrest and automatic weight adjustment. The cockpit offers more than 10 centimeters of increased headroom; freely configurable switches have been integrated into the armrest (Linde Load Control). All forklifts are equipped with an electronic seatbelt monitoring function: If the driver is not wearing a seatbelt, the forklift will travel only at creep speed.
Maximally sustainable
According to Linde Material Handling expert Prokosch, the IC drive will remain the number one choice for many customers for the foreseeable future due to its strong performance and straightforward use. "That's why we attached great importance to optimizing the energy consumption and increasing the handling capacity, while reducing emissions at the same time." Linde Material Handling has achieved this by using a modern, maintenance-friendly industrial engine, integrating a particulate filter as standard and further optimizing the Linde hydrostatic drive. Prokosch continues: "Our measurements show that our forklifts are up to 30 percent more economical than those of our competitors and they are also clearly superior when it comes to handling capacity. This makes them even more cost-efficient throughout their entire service life. At the same time, they are more resource-friendly and produce less hazardous greenhouse gases."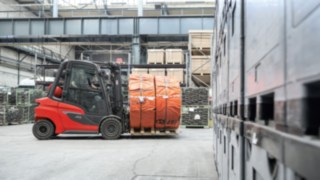 A modular concept
The series is ringing in a new era at Linde Material Handling also from a conceptional point of view: It marks the end of the design separation of IC and electric forklifts. All new counterbalance trucks in the load capacity range of 1.2 to 5 tons will from now on be based on a uniform modular concept. "We want to offer our customers equivalent vehicles for all applications – regardless of the type of drive," explains Prokosch. In this way, Linde Material Handling makes it easier for customers to embark on the transformation process towards sustainable drive concepts. There is a compelling reason why forklifts with diesel, fuel gas and natural gas drives are the first to be manufactured in line with the new platform concept: "We wanted to meet the Euro V emissions standard for this load capacity class with a new vehicle and offer our customers an IC forklift that sets even higher benchmarks in the industry and is prepared for any Industry 4.0 applications," says Prokosch, "We've done exactly this with our newly launched forklift model."