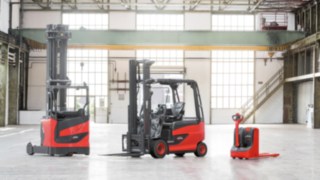 Well-equipped for the future with solutions from Linde
15 Dec 2016
Linde Material Handling and distribution partners attend LogiMAT 2017 in Stuttgart from 14-16 March
The path to increasingly digitised, networked and automated intralogistics has been forged. But which technologies are already available that can be economically used by companies today, and how can they be successively integrated into existing operations? Visitors to the Linde Material Handling exhibition stand (Hall 8/B21) at the LogiMAT trade fair, shared by the company with distribution partners Schöler Fördertechnik and Hofmann Fördertechnik, will find answers to these and many other questions. A large team of experts and consultants will be on hand to discuss the individual logistical needs of customers and prospective buyers, and provide explanations regarding various new products, software solutions and services of the Linde brand.
One central focus at the stand will be the growing fleet of lithium-ion models. In addition to pallet trucks and pallet stackers, order pickers and tow tractors, the range has now expanded to include counterbalanced trucks. Moreover, the manufacturer has announced the launch of additional vehicle models utilizing the new battery technology next year.
Linde is also continuing to expand its range of automated products. In the future, these robotic trucks are to be increasingly deployed in the storage and retrieval of products at higher rack levels in high-bay warehouses. A semi-automatic picking solution will be launched in time for LogiMAT in the form of the Linde N20 OptiPick, which previewed at the "World of Material Handling" customer event in 2016. It allows operators to fully concentrate on their picking activities, avoid unnecessary routes between truck and rack, and thus work more productively overall. A smart bracelet serves as a remote control for this purpose. Using this device, the operator can program individually adjustable travel commands, whereupon the vehicle moves autonomously at a predetermined distance parallel to the rack and stops when it has reached the said distance. Smaller obstacles will be bypassed. The low-level order picker will stop automatically when it reaches the end of the aisle. A comprehensive safety system is provided by intelligent sensors, a circumferential foot protection, an emergency stop switch, and a multi-colour lighting column which indicates different vehicle conditions to the operator.
The further advancement of digitisation and connectivity also opens up considerable potential for improving the efficiency of in-house material flow. At the Linde stand, visitors can learn how to use a range of software and simulation tools to better manage the planning of extensive material flow solutions, and see for themselves how the "Mobile Service Manager" app is instrumental in speeding up maintenance and service and increasing truck availability. The "connect:" fleet management solution with its numerous functional groups such as access control, shock sensors and utilisation analyses will be another focus at the Linde stand.
Last, but not least, several new pallet trucks with stand-on platform, driver's seat pallet trucks and double stackers from Linde will be presented in Stuttgart for the first time. The vehicles, which are preferably used for the loading and unloading of trucks as well as for transport in block storage areas, feature an even more compact design to enable easier manoeuvring in cramped premises and the stand-on models are equipped with an operating platform that is completely disconnected from the chassis. The innovative "Tip Control" operating unit, which is available in select models, features a stable grab handle combined with integrated control elements, which allows the employee to easily control driving and hoisting functions with just their thumb and index finger.