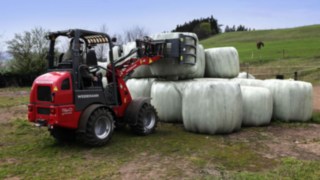 First fully electric farm loader to enter series production
27 Nov 2014
SPS IPC Drives 2014: Linde Material Handling presents the new Weidemann eHoftrac® with drive technology from Linde electric forklift trucks
With its new eHoftrac®, Weidemann GmbH is now putting a zero-emission work truck on the market. Following the completion of a period of trials, the new farm loader now begins series production. For the drive system the company is relying on components and software from Linde Material Handling. About 40 years ago Weidemann developed the extremely versatile machine with articulated pendulum joint: from transport tasks in agriculture and forestry or earth-moving in the construction industry to street and sidewalk cleaning in towns and cities, the "tractor's little brother" can be used for a multitude of different tasks. In 2014 Weidemann is set to become the first commercial vehicle manufacturer to equip a farm loader with electric motors as standard.
Zero-emission and low-noise farm operation
Weidemann aims to sustainably reduce emissions at agricultural and horse management farms with the new eHoftrac®. At the same time, noises levels are also to be reduced on the farm – a benefit above all in animal husbandry. Weidemann has clearly defined the requirements for its electric loader in advance: the eHoftrac® had to achieve the same performance as the combustion-engined model without being significantly more expensive. "That presented a number of technical challenges," explains Jan Prechel, Head of Vehicle Development at Weidemann. "The electric motors have to fit in the existing compact installation space for diesel engines and still produce the same performance. In addition, the software for the eHoftrac® has to be modified to make the vehicle handle more dynamically, especially when reversing (turning). During development we compared the solutions of different suppliers and in the end decided in favour of Linde."
Prototype with forklift components
Working with the Electronic Systems & Drives (ES&D) division at Linde, in autumn 2013 Weidemann produced a first prototype that already satisfied all the technical requirements and was immediately operational after assembly. The drive technology is provided by tried-and-trusted system components of Linde forklift trucks: traction motors and inverters stem from a Linde reach truck and the pump motor from the standard series of electric forklifts. The developers have adapted the system communication software to the loader's performance. As charging technology, Weidemann deploys a 48-volt lead battery that is commonly used in agricultural applications. As a result, the eHoftrac® can be operated continuously for two to three hours – depending on the operating conditions, after which the battery can be charged at an electric socket with the aid of an external charging unit.
From prototype to series production
Weidemann presented the prototype eHoftrac® 1160 for the first time in November 2013 at Agritechnica in Hanover. A customer survey during the fair confirmed the great demand for electric farm loaders and strengthened the company's decision to begin commercial production. Up to now 15 eHoftracs® have been thoroughly tested in extensive field trials and the drive system was adapted and individualized for the eHoftrac®.
Linde supported the path to commercial production with technological know-how and a range of services. Wolfgang Klüpfel, Senior Project Manager at ES&D, explains the main goal for this phase: "It is easy to develop a prototype for a new application with proven electric drive units. The great challenge consists of defining standards for the production vehicles. While a prototype initially 'only' has to work, series production also requires detailed guidelines for quality, safety and maintenance. As a result, Linde's contribution does not stop with the prototype. We will support the customer with our system experience all the way through to commercial production – and also beyond that with services such as spare parts and maintenance."