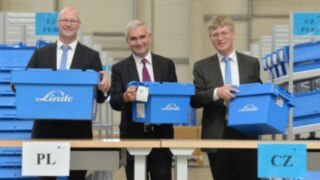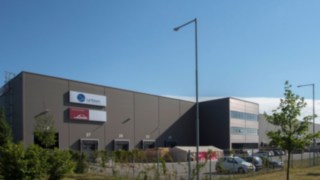 Closer to the customer with new logistics centre
8 Jul 2016
Linde Material Handling opens new spare parts distribution centre in the Czech Republic
On 08th of July 2016 the official launch of operations at Linde Material Handling's new distribution centre in Brno, Czech Republic took place, as Christophe Lautray, Member of the Board and Chief Sales Officer (CSO), and Christoph Hotopp, Head of Sales & Service Operations, both Linde Material Handling, symbolically packed and expertly sealed the first packages of spare parts together with regional managers from the destination countries Poland, Austria, Hungary, Slovakia and the Czech Republic.
"We are further expanding our global service footprint in order to be even closer to our customers and ensure greater availability of their industrial trucks," said Lautray at the inauguration of the regional distribution centre.
As part of this strategy, Linde had already launched a customer service centre in Xiamen, China in early 2015.
Opening the regional distribution centre in Brno for the strong-growth countries in Central and Eastern Europe was the next logical step to take.
"Speed of spare parts supply is a key consideration for our customers. With our new distribution centre we have now laid the necessary foundations," added Christoph Hotopp.
For example, cut-off times now extend into the late afternoon and for the goods to be available either directly at the customer's site the next morning or in the car boot of one of over 500 service technicians in the region, spare part orders can be placed up until 16:45 hrs, depending on the destination.
"Linde customers can therefore count on longer uptimes for their equipment," emphasised Hotopp.
Linde aims to achieve 95 percent availability for its almost 20,000 items stored in Brno.
Goods that are not available there will be delivered within 24 hours from the company's central spare parts warehouse in Kahl am Main, Germany, and arrive at their final destination a further 24 hours later.
"Within the next two years, we will supply even more countries in Eastern and South-Eastern Europe via our regional distribution centre in Brno and further increase the availability of spare parts," Hotopp said with a view to the site's future development.