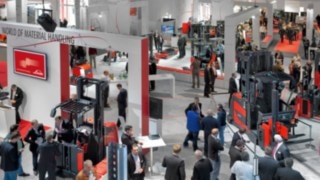 Linde to host second "World of Material Handling" customer event in 2016
23 Oct 2016
Looking into the future of intralogistics
Repeat of a successful concept: In May 2014, Linde Material Handling (MH) caused quite a stir with its customer event called the "World of Material Handling (WOMH)". Around 6,000 guests from over 40 countries attended this exhibition. Now Europe's leading manufacturer of industrial trucks has decided to stage this successful trade show format again with a focus on increasingly networked, digitised and automated in-house logistics.
Visitors to the WOMH 2016 will be able to discover and experience for themselves the benefits of products and services. During the "World of Material Handling", numerous partner companies will present their solutions, providing added information value for visitors. The multi-week exhibition will be in mid-May, the venue is conveniently located in the Rhine-Main area near Frankfurt Airport.
Christophe Lautray, CSO Linde of Material Handling, is convinced that the concept of the event is ideally suited to satisfy the customers' need for comprehensive information. "The very positive feedback from domestic and foreign visitors to the WOMH 2014 has reinforced our decision to stick to this format," he affirms. "Next year we want to show our visitors what products and services we have already implemented with regard to Smart Logistics and where this journey could lead us in the future. Offering them the opportunity to get a taste of it all will play an important part in this context."
Over two weeks, there will be specific events for various target groups, especially for customers and distributors from around the world, as well as for media representatives.