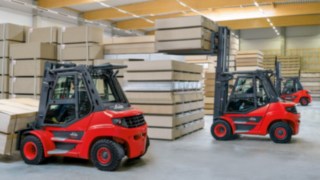 Saving fuel hand in hand with high performance
7 Mar 2016
Diesel and LPG forklifts Linde H50-H80 complete EVO series
With twelve new diesel and LPG trucks in the 5 to 8-tonne load capacity range, Linde Material Handling has raised the remaining vehicles of its 39X series to the advanced EVO standard. The customers, who mainly come from the beverage, construction materials and paper industry as well as from the foundry sector, can now benefit from up to 20 percent fuel savings compared to the previous version. In addition, numerous new technical features make the compact, yet powerful trucks Linde H50 to H80/1100 EVO even more efficient and safer to use. Moreover, the forklifts are cleaner than ever thanks to extensive exhaust aftertreatment.
State-of-the-art engine technology and the change to electronic drivetrain control ensure a high level of fuel efficiency. Along with the large ratio range of the variable displacement pump and motors of the hydrostatic Linde drive, optimised engine characteristics and high performance can be achieved at low speeds. Further saving potential arises from a choice between three different drive modes – Economy, Efficiency and Performance. These can be preselected so that vehicle performance matches individual customer requirements.
Even more finely tuned hydrostatics and configurable driving dynamics manifest themselves to the operators by bringing about up to 20 percent reduction in fuel consumption. And this pays off: Based on 5,000 operating hours in accordance with the VDI cycle and an assumed price of one euro per litre of diesel fuel, savings add up to 4,500 euros.
Transport of wide and swaying loads
Linde has retained a particularly proven design feature, which at the moment is only being used in this series: the torsion support and the associated torsion rack. The latter is attached above the overhead guard on the mast in addition to the overhead tilt cylinders and is fed between the torsion supports on rollers. Thanks to the firm connection between the mast and overhead guard, the torsional forces acting on the mast are reduced by up to 30 percent. Stability increases – especially when lifting wide or swaying loads, or goods with a high load centre, thus allowing faster handling. At the same time, the torsion rack takes over the function of an overhead guard, moving along when the driver tilts the mast forwards or backwards. This special design forms the basis for high residual capacities and therefore additional safety, e.g. when it comes to moving heavy paper rolls, laminated timber or block clamps. All the 8-tonne vehicles retain their full rated load capacity up to a height of 6.5 metres.
Further safety and comfort measures
The diesel and LPG forklifts of type Linde H50-H80/1100 EVO are equipped with the Linde Engine Protection System (LEPS) and the Linde Curve Assist as standard. Both features ensure greater operational safety, whilst increasing the availability and economic efficiency of the trucks at the same time. The LEPS monitors important engine parameters such as the oil level, oil pressure, cooling water level and temperature and it indicates any necessary maintenance to the driver on the display. Designed as a multi-stage warning and protection system, it will even revert to creeping mode, if necessary. The Linde Curve Assist reduces driving speed during cornering proportionally to the steering angle, thus ensuring operational safety. Linde is the only manufacturer worldwide to provide this function as standard, without any additional cost.
The driver's workstation is designed to provide a relaxed seating position. Decoupled from the drive and steering axle via rubber-metal bearings, it absorbs a high level of vibrations and shocks and protects the driver from hazardous whole-body vibration. Thus the decoupled workstation makes a valuable contribution to the observance of human vibration limits according to EU Directive 2002/44/EC. This requires operators to measure and assess actual vibrations and to take appropriate action if limits are exceeded.
Clean AdBlue® technology
Just as in its new heavy diesel forklift trucks HT100Ds to HT180Ds, Linde employs the latest emission reduction technologies for its new H50-H80 EVO series too. The diesel engine from Deutz has in-engine features such as exhaust gas recirculation and additional aftertreatment with AdBlue® technology in order to reduce nitrogen oxides (NOx). This means it meets EU Emission Directive 2004/26/EC Level 4 in the performance range from 56 to 130 kW, which requires an 88-percent reduction in the allowable nitrogen emissions. However, not only does Linde meet these stringent limits, it goes above and beyond. The turbocharged 85-kW common-rail diesel engine with particulate filter and SCR catalyst using AdBlue® additive ensures that carbon monoxide, nitrogen oxide, hydrocarbon and particle emissions even remain on average 64 percent below the specified EU limits.
In exhaust aftertreatment, the emissions go through a selective catalytic reduction (SCR) after having passed the diesel particulate filter. The AdBlue® solution leads to a redox reaction of nitrogen and ammonia, in which a large part of the nitrogen is converted to water. Another, especially low-noise clean-up catalyst then removes the smell of ammonia. In commercial vehicles AdBlue® technology has been used for several years. Linde has now transferred this clean technology to its new EVO forklifts Linde H50 to H80. The customer benefits: Fuel savings and environmental protection hand in hand.
Attractive extras
Moreover, Linde offers a variety of optional extras for its diesel and LPG trucks. The whole vehicle can be fitted with LED lighting, for example, thus significantly extending the operating life of the lamps. Steered anti-spray mud flaps which follow the tyre movement and prevent dirt from the ground splashing against the counterweight can also be fitted. Furthermore, the new CS (closed shoulder) superelastic tyre from Continental is available for this series. Developed in cooperation with Continental, these tyres are available ex works exclusively and feature a special tread pattern and a closed shoulder, so that they offer reduced rolling resistance, cause less noise and have a longer operating life. LPG vehicles feature a significantly lower filling device that facilitates the refuelling process.