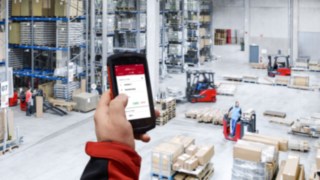 Non-contact assignment of transport orders
11 May 2020
Linde Material Handling supports businesses by offering free app usage
The Truck Call app from Linde Material Handling helps businesses return to a normalized working life while at the same time complying with the corona-related hygiene regulations: The app enables transport orders for industrial trucks to be digitally assigned via mobile phone, which assists in reducing the personal contact between logistics staff. Supporting its customers in adapting to this new way of working, Linde is offering them the chance to test the app free of charge for a period of six months.
"Physical distancing" is the order of the day. This also entails modified working practices aimed at protecting the health and safety of employees in the best possible way. "All companies need to think about how they can maintain the greatest possible spatial distance between employees when lockdown restrictions and contact bans are lifted and economic life gradually returns to 'business as usual'," explains Marietta Landsmann, Senior Manager Digital Products at Linde Material Handling. Remote process control technologies could play a vital role in this context.
The Truck Call app works in a similar way to modern taxi apps like Uber, where a request for pick-up is sent out to all drivers in the company until one of them accepts the job. The call for a truck driver works according to the same principle. The application simplifies the assignment of transport orders significantly and speeds up communication between fleet managers and drivers. And it does so remotely without the need for personal contact between them. This is because the shift supervisors can enter the transport orders into the system from their smartphone, tablet or computer along with an urgency level for the job. The app then informs all the drivers who could take care of the request. If a driver accepts an order online it disappears from the system and once the job is complete, the shift supervisor receives notification.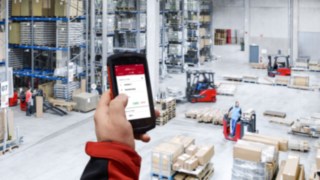 Developed for both Microsoft and Apple devices, the hybrid app is available for download from the Google Play Store and is ready to use immediately after registration, either through the web browser or directly in the app. Both new and existing customers who register for the first time between 1 May and 31 July can use the app free of charge for six months. If they want to continue using the app after the free test period ends, they can sign up through the web portal. "With this offer, we are making it easier for our customers to return to normality and at the same time we are supporting them on their way to a more efficient, digital organization of their processes," says Landsmann.