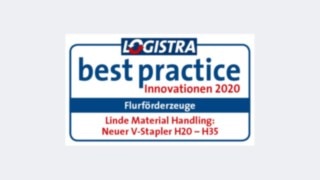 Linde forklift voted "Best Practice Innovation 2020"
15 Oct 2020
Linde Material Handling wins readers' choice in Industrial Trucks category
The fully networked diesel and LPG forklift generation Linde H20-H35 is this year's most exciting innovation to come out of the industrial truck sector. This is the conclusion of a reader survey conducted by Logistra, a magazine published by Huss-Verlag.
"We would like to thank the participants for their positive response and for choosing us as the winner," said Torsten Rochelmeyer, Senior Director Marketing Central Europe at Linde Material Handling, who accepted the award. He highlighted the fact that many employees had worked with great enthusiasm on developing the new IC engine powered forklifts, with the goal of making them the best of their kind ever offered by Linde.
Linde's H20-H35 series trucks are the first fully networked vehicles from Linde, offering customers greater transparency, flexibility and economic viability. They can be perfectly tailored to the driver and come equipped with a comprehensive range of passive and active safety systems. Furthermore, they comply with the strict Euro 5 emissions regulations. "With these new trucks, we are ensuring that our customers can successfully make the leap into the future of intralogistics," emphasizes Rochelmeyer. Sales of the counterbalanced trucks in the 2 to 3.5 ton load capacity range started in late 2019, and in June of this year they finally replaced the predecessor series 39X.
The editorial staff of Logistra (a practice-oriented magazine for commercial vehicle fleets and warehouse logistics) has been recognizing and awarding innovative products and solutions in a total of eight categories (intralogistics and vehicle fleets) since back in 2014. The editors submit three proposals for each category to be voted on. It is then up to the readers to vote on the prize-winning company via an online query. This year, more than 400 Internet users took part, casting their votes between June and September.
"With this award, our publishing house honors particularly imaginative, extraordinary developments that qualify as an innovation, are suitable for practical use and are either already available on the market or will be launched in the foreseeable future," explains Tobias Schweikl, editor-in-chief of Logistra magazine, regarding the background of the competition. The fact that the Aschaffenburg, Germany headquartered logistics specialist is perceived by readers as particularly innovative is demonstrated by the fact that this is the second time the prize has been awarded to Linde Material Handling: The fuel cell hybrid forklift truck also won the award in 2014.