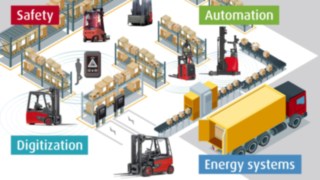 Linde at LogiMAT: Digital, connected, autonomous and safe
4 Dec 2017
Linde Material Handling makes customers fit for tomorrow's intralogistics
It is the many continuous innovation steps that help to make the transition to digitally controlled and interconnected processes, autonomous solutions, the highest safety standards, and even more powerful drives become a reality. At the LogiMAT trade show in Stuttgart, Germany, from March 13-15, 2018 Linde Material Handling will show how large its range of corresponding products has now become and what innovations have been added to make the handling of goods across all sectors fit for the future. Visitors will find Linde on Stand B21 in the new Hall 10.
More and more companies of all sizes are recognizing the opportunities arising from logistics megatrends such as digitization and robotics. Growth opportunities open up above all through higher levels of automation, the networking of IT systems that have been operating separately up to now, as well as the greatest possible individualization and consistent use of innovative energy systems. Linde's products and solutions on display at LogiMAT address these issues.
Automation
Industrial trucks that drive and lift load autonomously and are equipped specifically for these tasks with powerful processors, sensors and navigation technologies are steadily losing their sensational character and are increasingly becoming a familiar sight in the warehouse. In time for LogiMAT, Linde's portfolio includes all the most important storage and system technology equipment. A new addition is the Linde R-MATIC reach truck, which fills shelves with goods at any time, day or night, and provides transparent and reliable replenishment with maximum process reliability. The continuous automated transfer of loads between different self-driving vehicles completes the picture.
Innovative energy systems
Demand for industrial trucks with lithium-ion batteries has risen sharply and is meeting an ever-broadening range on offer. Linde currently offers models with lithium-ion batteries in all load capacity classes up to five tons. In the load range from two to five tons, these now include models with a load center of gravity of 600 millimeters. Using the Li-ION calculator developed by Linde, sales consultants work with the customer to determine which truck with which battery and which charger is best suited for their specific application and how the savings potential compares to the respective model with lead-acid battery. "Good advice is the key to successful lithium-ion projects. That's why we simulate the application in detail together with our customers. Ultimately, the decision-makers will know what savings can be achieved and when the investment will have paid for itself," explains Christoph Englert, Product Manager Li-ION at Linde Material Handling.
Digitization and safety
Digitally connected industrial trucks open up huge optimization potential in goods handling. Equipped with appropriate software, the truck fleet will carry out transport orders in the optimum sequence, using the shortest possible routes, with ideal speed, the highest possible efficiency, and maximum safety. The new Truck Call app for digital order management will be presented at LogiMAT for the first time. It allows logistics managers to quickly and easily create transport orders, allocate priorities and assign the orders to employees operating the most suitable truck model. The app is aimed at effectively controlling transport tasks and avoiding empty trips.
However, Linde also using the increasing level of networking and digitization to enhance operational safety. The "Linde Safety Guard", an assistance system for warning pedestrians and avoiding collisions, will be shown for the first time at LogiMAT. Using radio signals in the four-gigahertz range, the system can "see" through walls, roller shutters and pallet loads with an accuracy of ten centimeters and warns vehicle operators and employees in the immediate vicinity of the truck very effectively, thus avoiding dangerous situations from the outset. In addition, vehicle speed can be reduced in accident-prone areas. The Safety Guard is a new component of Linde's safety concept "Vision Zero – Safety in your world". Designed as a holistic approach including a range of products and services, this concept aims to reduce occupational accidents in goods handling to zero.
Linde also offers its customers greater safety through groundbreaking lighting concepts: The innovative design of the "VertiLight" LED working headlamps provides bright, uniform illumination from floor to top shelf row while glare has been reduced at the same time. Two-color LED stripes on the mast and rear of the vehicle pursue the same goal. They provide the driver with optimum illumination in every direction of travel and signal to pedestrians whether the vehicle is moving forwards or backwards via white or red light.