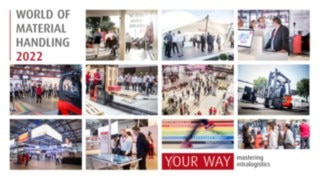 World of Material Handling: Tackling challenges together
22 Mar 2022
Linde Material Handling brings the entire spectrum of intralogistics solutions to life
Following a COVID-mandated break, Linde Material Handling (MH) is now once again inviting visitors to its World of Material Handling (WoMH) event in Mannheim. From June 20 to July 1 of this year, the intralogistics specialist will be presenting its significantly expanded range of solutions for efficient and sustainable in-house material flow to customers and other interested parties from Europe and throughout the world. In keeping with the motto "YOUR WAY IS OUR WAY", the manufacturer is making a clear statement: Its entire range of intralogistics solutions is fully geared to the needs and requirements of its customers. Linde is on their side, taking the journey together with them.
Companies that are planning to buy new equipment or want to realign their intralogistics are faced with a wide range of technical solution options these days. But how can logistics managers find the right vehicles, software systems and services for their operations? The WoMH offers an opportunity to get to know the comprehensive portfolio of Linde MH, which includes numerous innovations. In a large hall and various outdoor areas encompassing 17,000 square meters of space, vehicles can be extensively examined and tested. Product experts, sales consultants and intralogistics planners will be available for face-to-face discussions. Once again, numerous partner companies will have an on-site presence as well to complement and expand the range of products and services on offer. These include automation specialist Dematic, safety specialist A-Safe, forklift attachment manufacturers Kaup, Bolzoni Auramo, Meyer, Durwen and e-l-m Kragelund, fork manufacturer Vetter, battery manufacturers Hoppecke, Intilion and Fronius, fuel cell manufacturer Plug Power, door manufacturer Efaflex, tire manufacturers Continental and Trelleborg, seat manufacturer Grammer, pedestrian detection specialist Blaxtair, Bito storage systems, Ravas mobile weighing systems, flooring group P&K as well as Actil Warehouse Trucks and others.
Using the example of a bottle production plant, the complete in-house material flow from goods receipt, the warehouse and order picking area to production supply and dispatch will be demonstrated. "Our guests will have the unique opportunity to see a large number of very different products live in action and test-drive them. We will be presenting the entire range in one place! This is what makes the WoMH fundamentally different from a 'normal' trade fair, where visitors can only experience a limited portion of our wide range of products and services," says Stefan Prokosch, SVP Brand Management at Linde Material Handling, full of enthusiasm about the special industry event. There will be a key focus on the new, fully networked generation of electric and IC-powered forklifts. Other products and services to be presented include software solutions such as the Linde:connect fleet management system and the Linde Warehouse Navigator, both of which ensure greater efficiency and sustainability. Safety and assistance systems, lighting solutions, energy management systems, automated and autonomous vehicles and project management and consulting services will also be on display. "In recent years, Linde MH has evolved into a provider of comprehensive intralogistics solutions," says Prokosch. "At the WoMH, visitors can experience this first-hand."
The WoMH is aimed both at existing customers and at companies that want to learn more about the full scale of Linde MH's intralogistics expertise. Anyone wishing to attend the event at the Maimarkt site in Mannheim should contact the relevant Linde network partner in their region.