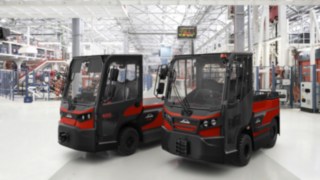 State-of-the-art safety and performance
12 Apr 2022
New electric tow tractors and platform trucks from Linde Material Handling
New powerful electric tow tractors and platform trucks from Linde Material Handling (MH) are now flexing their muscles. Equipped with extensive safety features, improved driving comfort and powerful drive technology, the towing machines and transport vehicles ensure enhanced throughput rates for automotive and steel producers, at airports and wholesale markets or in traffic-calmed areas.
Electric tow tractors, whose design is reminiscent of light trucks, are extremely powerful despite their small dimensions and therefore indispensable in many applications where, for example, they pull heavy trailers loaded with machine components or pieces of luggage over longer distances, or reliably transport large numbers of vegetable crates along narrow aisles. Great driving comfort for operators as well as fast and safe goods handling are the predominant requirements placed on this vehicle class. And Linde MH has once again achieved significant improvements with regard to precisely these parameters.
The new electric tow tractors in the Linde P120 to P350 series are designed for towing capacities of 12, 18, 25, 30 and 35 tons. For the P250 model there is an additional choice between a short or long wheelbase version. The Linde W20 and W30 platform trucks are capable of moving two and three tons of payload respectively or, alternatively, six tons of towing load. Here, too, there are options regarding the length of the wheelbase.
The entire series has been completely revised in terms of performance and ergonomics, resulting in significant potential benefits for users. "For example, the vehicles are even more enduring when transporting over long distances, which provides a boost in efficiency," says Sandra Karras, Product Manager Warehouse Technology, highlighting one of the product benefits. In addition, both the platform trucks and the tow tractor variants are equally agile and safe to maneuver, and they use either lead-acid or lithium-ion batteries as energy storage medium.
Powerful on gradients
Thanks to their powerful electric motors, the vehicles master ramps, underpasses with gradients and long distances quickly and reliably at driving speeds of up to 25 kilometers per hour. In addition, the overall vehicle design takes into account the regulations and standards that apply in highly sensitive airport environments.
The improved ergonomics are aimed at providing the driver with the best possible support and thus make goods transport even more productive. The spacious cabin with wide, non-slip entry, large display, comfortable seats, air conditioning and lighting, as well as many other equipment features, offers a perfect working environment. Additional windows in the doors and roof provide the driver with the all-round visibility that is so important, especially on difficult terrain. The doors are electronically monitored so that the towing machine only starts up when they are closed.
To prevent unintended acceleration on sloping terrain or ramps, the driver can activate the automatic speed reduction at the push of a button. Other safety equipment includes a protective grille for the rear window, emergency stop switches on the right- and left-hand side at the rear of the vehicle, a solid metal shield at the front of the vehicle, double mirrors on the doors and lighting solutions such as the Linde BlueSpot. All these features pay off in terms of high driving comfort and safe operation.
Driving comfort taken to a new level
The fully suspended and fully damped sports chassis is another feature that ensures driving pleasure. "Everyone who got behind the wheel of one of the new electric transporters was thrilled by the completely new driving experience," Karras enthuses and recommends taking a test drive. She highlights the fully encapsulated, maintenance- and wear-free brake system as a particularly service-friendly feature which reduces the maintenance outlay. Last but not least, the greater variety of models and equipment options offers economic benefits: Oversizing is avoided, while at the same time high performance is available whenever needed.