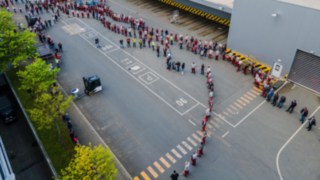 Linde MH stands for respect and tolerance
5 May 2022
"Respect!" – a campaign run by and for employees of Linde Material Handling
Employees of Linde Material Handling (MH) in Aschaffenburg yesterday impressively demonstrated their commitment to treating each other with respect and showing tolerance and appreciation in day-to-day work. In a joint action under the slogan "Respect!", they formed a human chain on the plant premises in Aschaffenburg-Nilkheim and then put their names on the forklifts of Linde's in-house fleet, which had been specially branded with the slogan #actwithrespect for the campaign. "Respect!" was launched as a voluntary initiative by employees, for employees.
Equal treatment, tolerance and respect are values that are firmly rooted in Linde Material Handling's corporate philosophy. The "Respect!" staff initiative is all about making each individual aware of these values in their day-to-day work. Especially during the past two years, which have been very stressful for many and in which communication has been predominantly digital due to the pandemic, the campaign initiators have observed an increasing carelessness in social interaction. This is a development they want to counteract and prevent from happening at Linde MH. "We want to stand up for what actually seems self-evident to all of us by setting an example for diversity and tolerance within our company," explains Maik Hartmann, construction mechanic and member of the "Respect!" team. "Mutual consideration and attentiveness, seeing diversity as an opportunity, listening to one another and being willing to change one's own perspective from time to time are important prerequisites in this regard," adds Ute Weidinger-Hess, HR expert and a member of the "Respect!" team as well.
More than just words: Signatures demonstrate commitment
In order to demonstrate these convictions and the cohesion of the workforce, employees were called upon to get together on the outdoor plant premises. "Each of us here at the company can make a contribution every day to treating each other with respect," was one declaration from the team members during the welcoming ceremony. Following the formation of a long human chain comprised of hundreds of employees along the main axis of the plant, the campaign's emotional highlight saw employees signing their names on the strikingly painted forklifts. In day-to-day operations, the vehicles will from now on serve as eye-catching symbols to ensure that the issue of respect remains visible and present.
An initiative from the heart of the company
The "Respect!" initiative is thus far unique in Linde Material Handling's corporate history. In the fall of 2021, around ten employees from different areas within the company joined forces to stand up for respectful interaction, tolerance and diversity – without a budget and in addition to their respective jobs. Product Manager Jan Berberich explains his commitment to "Respect!" as follows: "It's our time and our everyday work. It's not just up to the company alone to shape how we work together as a team. It is up to all of us to bring our values to life, to treat one another with respect and to create an atmosphere in which all colleagues feel welcome and accepted. We wanted to demonstrate this with our campaign and make everyone aware of the need to contribute their part. The great response among our colleagues shows that we struck a chord with this." Following the successful kick-off, the team plans to extend the "Respect!" campaign to other international sites during the next few weeks – because respect is fundamental to good relations everywhere.