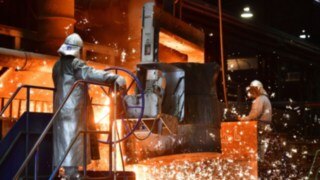 High-performance foundry with a long tradition
8 Jul 2022
Linde Material Handling celebrates 200th anniversary of its Weilbach site
The counterweight is one of the most important components of a forklift, as it ensures that the truck does not tip forward when loads weighing several tons are placed on the forks and lifted. The majority of all forklift counterweights used at Linde Material Handling are manufactured at the company's Weilbach site in the Miltenberg district, Bavaria/Germany. State-of-the-art production facilities and well-trained employees there ensure high-quality castings, while short transport routes to the assembly plant in Aschaffenburg make for smooth and sustainable production processes. This Friday, the foundry can look back on its 200-year history. At the same time, those presently in positions of responsibility are setting the course for continued success in the future.
In 1822, Johann Michael Reubold built the Weilbach hammer mill. The conditions with regard to transport links and labor were favorable, and the small neighboring river Mud provided the required power. Four years later, the company was granted a smelting concession. From then on, it manufactured cast-iron furnaces and machines for agriculture, and among other things, equipment for the chemical industry was produced later on. On May 1, 1975, Linde AG and the Güldner group took over the Weilbach ironworks. The proximity to Aschaffenburg now became a further advantage, as the demand for counterweights for the rapidly growing area of forklift truck production had to be met. Since then, Plant 4 in Weilbach has been continuously modernized and expanded.
The heart of the iron foundry is the large cupola furnace. At temperatures of 1,410 °C, the scrap iron is liquefied and cast in mold boxes. The finished castings undergo post-treatment, before they are machined and finally painted. 52,000 tons of "good castings" are on schedule for this year – a new record. Around 175 employees work to achieve this, many of them in three-shift operation. Even if it doesn't look like it at first glance: There is a lot of expertise built into the counterweights. "The castings are complex components that are perfectly matched to the forklift models. Right from the start, the geometry of these counterweights includes cavities for add-on parts as well as connections for the chassis and engine. In this way, we ensure that everything fits perfectly in assembly from the very first component – the counterweight," says Frank Koch, Plant Manager at the Weilbach site.
To secure the plant's competitiveness in the future, around twelve million euros have been invested over the past four years. Not only is the aim to increase efficiency and capacity, but also to meet more stringent environmental requirements. By using biomass coke, the plant aims to replace part of the fossil energy source of hard coal with biodegradable waste products from agriculture and forestry as well as from the wood, recycling and food industries in the future, thus contributing to climate protection and the more careful use of resources.