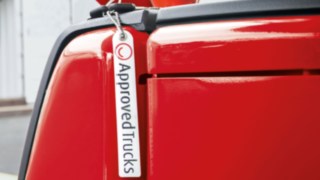 Uniform standard, specific equipment packages
21 Jul 2022
Linde Material Handling restructures its used truck portfolio
Approved used trucks from Linde Material Handling can now be upgraded by means of ten different function packages to suit specific applications. In line with the "mix and match" principle, customers are free to choose only those equipment and service packages they need and benefit from the latest technological developments. The basis is invariably the uniform, high "Approved Trucks" remanufacturing standard. This new concept replaces the previous "Plus", "Super" and "Ultra" quality levels.
Used trucks offer a number of advantages. They are immediately available, attractively priced and make a positive contribution to sustainability by extending the life cycle of the industrial trucks and helping to save resources. Fleet operators who choose a used forklift truck with the label "Approved Trucks" from Linde Material Handling can now enjoy even more benefits. "In order to ensure the uniform, high quality standard specified by us, we attach great importance to an impeccable history of the used equipment on offer," emphasizes Simon Thevenet, Senior Manager UT & STR. Only Linde industrial trucks that undergo refurbishment in Linde's own remanufacturing centers will receive the "Approved Truck" seal of quality. These make up the extensive stock of Linde used trucks from which individual models or entire fleets can be selected.
Those wishing to further upgrade their trucks can now choose from an initially total of ten different equipment and service packages. "Internal evaluations have shown that these options are in particularly high demand," explains Thevenet. Separately or in combination, the vehicles can thus be geared to individual, application-specific requirements. The packages range from safety, ergonomics and energy options to service offers and extended warranties. They all aim to increase operational efficiency and productivity. Fleet operators who choose the "Safety Pack", for example, will receive features tailored to the specific truck model. For counterbalance trucks, these include the "BlueSpot" warning light, the visually striking "Orange Belt" safety seat belt, and a panoramic interior mirror. The "Driver Pack" comes with a refurnished workstation including floor mat, padded seat and armrest and new rubber coating for joystick and drive pedals. With the "Energy Pack", fleet managers acquire a new traction battery, while the "Color Pack" enables customized color schemes in all RAL shades. Various service packages ensure access to full-service regarding the energy system, include regular and predictive maintenance options, or offer the possibility to extend the warranty period. All additional functions are based on state-of-the-art Linde technology, as used in the latest industrial trucks. The vehicles are configured at short notice and delivered directly to the customer's premises.
Before a used truck is granted the "Approved Trucks" seal of quality, it undergoes a rigorous inspection and remanufacturing process. Only those trucks that come either from Linde's own rental fleet or from leasing returns will be accepted at any one of the centers located throughout Europe. Their service booklet must have been consistently updated, and maintenance carried out using original Linde spare parts without exception. The individual steps of the remanufacturing process are precisely defined and guarantee a uniform quality standard – regardless of where the vehicle is inspected from the ground up and repaired if necessary.