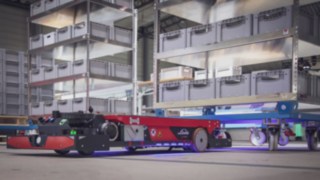 Intelligent transport robot optimizes material flow in the warehouse
8 Sep 2022
Autonomous Linde C-MATIC HP for demanding applications
With the autonomous mobile robot Linde C-MATIC HP and the cloud platform AnyFleet, intralogistics specialist Linde Material Handling (MH) is expanding its portfolio to include two core products from Munich-based company idealworks. The intelligent autonomous mobile robot (AMR) navigates freely in space, actively avoids obstacles, communicates via the Internet and can be used in a wide variety of warehouse areas. The first pilot projects with the vehicle are currently being launched.
The world of intralogistics is becoming more and more diverse. Increasingly, it is automated solutions that are helping companies to make their in-house flow of goods even more efficient. The focus here is on application scenarios in which not only individual but also networked transport tasks are performed by automated or autonomous vehicles. These sophisticated fleet solutions require vehicles that can operate independently, quickly and safely in real time and in the presence of other vehicles and people.
"With the Linde C-MATIC HP, we are offering our customers an autonomous mobile robot that can receive work orders in various ways. Additionally, it is capable of skillfully avoiding both temporary and permanent obstacles, making it perfect for mixed operation with manual industrial trucks," says Stefan Prokosch, Senior Vice President Brand Management Linde MH. The AMR is an ideal choice for customers who want to consistently automate their transport logistics and implement modern, intelligent automation solutions, for example in the industry or the beverage sector. "We are working closely with our partner idealworks – an innovative automation portfolio provider who developed the AMR under the name of iw.hub and is also responsible for its production," adds Prokosch.
The maximum load capacity of the Linde C-MATIC HP (HP for High Performance) is one ton, and its maximum speed is 2.2 meters per second. With a height of just 222 millimeters, the vehicles have a very low profile, making it easier to drive under and pick up pallets or wheeled transport racks. Navigation is based on SLAM technology using a pre-read map of the warehouse as well as a camera and scanner installed on the vehicle. Additional markers, magnets or QR codes are not required. In addition to the vehicle and trolleys, another component of the solution is the charging station.
"Other vehicles, objects and people pose a special challenge in mixed operations. Suddenly occurring obstacles can lead to interruptions in the material flow that add up and cause noticeable delays in subsequent processes," Prokosch explains. Not so with the Linde C-MATIC HP: The AMR detects obstacles via a safety scanner and calculates an appropriate alternative route at short notice depending on the object in question. This saves time and ensures predictable processes. Another significant improvement in the workflow is achieved through the AMR's flexible load pickup capabilities. The transport robot is even able to pick up loads that are not positioned exactly at right angles to the lane, but rather are slightly displaced. In this case, the Linde C-MATIC HP aligns itself accordingly before moving underneath the goods carrier.
The accompanying cloud-based control platform AnyFleet ensures fast and cost-effective implementation of the transport robots. With it, dialogs and a graphical editor can be used to set up the vehicles as well as define zones and rules of operation. There is no need for time-consuming programming, which considerably simplifies both the initial setup and subsequent changes. Another advantage is that the cloud platform supports the VDA 5050 interface standard, which means that the Linde C-MATIC HP can be easily combined with other vehicles.