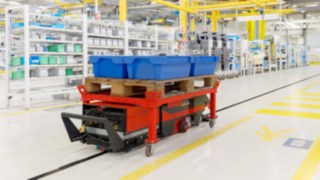 An autonomous workhorse: The Linde C-MATIC
22 Mar 2018
Linde Material Handling presents automated guided cart for production logistics
It is a true "work horse", designed to ensure the reliable supply of parts to the production line: The new, autonomous Linde C MATIC marks Linde Material Handling's entry into the automated guided cart (AGC) segment. It can operate nonstop for up to 16 hours, is equipped with all the necessary safety features and can be flexibly integrated into in-house material flow processes.
Standardized processes are frequently found in production logistics. Day after day, shift after shift, parts stored in wire mesh boxes must be transported to defined positions at the production line. Autonomous transport solutions can help to significantly simplify such processes and relieve employees of arduous work. A push of a button is all it takes to send the new Linde C-MATIC on its way with the required small parts – or summon it to a specific position.
The automated guided cart autonomously maneuvers through the storage area on a previously installed magnetic tape. At the pick-up point, it drives underneath the waiting trolley and "docks" onto it via an extendable pin hook. The Linde C-MATIC can move loads weighing up to 650 kg with ease and takes them to their destination at a maximum speed of 3 km/h on a fixed travel route. A convenient feature is that the magnetic tape can be installed or replaced quickly and easily.
The AGC's movement mode is defined by RFID tags, which are placed under the magnetic tape at individually selectable distances. The corresponding actions when reading an RFID tag are assigned via software during installation: For example, the speed can be reduced in places where pedestrians cross the C-MATIC's driveway. Speaking of pedestrians, thanks to a built-in safety laser scanner with a 3-meter radius and a scanning angle of 270 degrees, the autonomous AGC detects people and obstacles in good time and stops automatically if necessary. In addition, the AGC is equipped with an emergency stop button on the front and an acoustic warning system.
A particular advantage of the Linde C-MATIC is its great endurance. With one battery charge, it can work up to 16 hours at a time. Charging is carried out conveniently via an onboard charger at a 230-volt socket and can be accomplished outside of working hours, such as overnight. The gel batteries are fully operational again after eight hours. For companies with a three-shift system, Linde offers an optional battery exchange system with an external charger.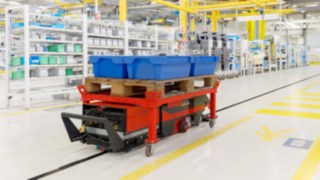 "With the Linde C-MATIC, we are launching an AGC solution which is perfectly adjusted to this type of application," explains Tobias Zierhut, Vice President Product Management Industrial Trucks – Warehouse at Linde Material Handling. "Specifically designed for sequential or continuous production line supply, our customers benefit from ease of use and maximum reliability – also thanks to our 24/7 service via the Linde network." In view of the growing customer demand for application-oriented automated solutions, Zierhut promises: "The Linde C-MATIC is just the beginning; further product developments are to be expected."