Jolt-proof thanks to Active Stability Control
19 Apr 2018
Linde presents innovation to compensate for uneven surfaces
It's a pioneering new development: The highly reactive Active Stability Control (ASC) assistance system from Linde Material Handling is designed to make VNA trucks insusceptible to uneven ground. This innovative technology allows fast and safe driving in high rack warehouses and means that high-cost floor repairs are a thing of the past.
Surface conditions play a decisive role in intralogistics – especially in high rack warehouses serviced by VNA trucks with lifting heights of up to 18 meters where the distances between vehicle and rack are very small. Here, irregularities in the floor surface, even only in the millimeter range, can cause dangerous swaying of the vehicle.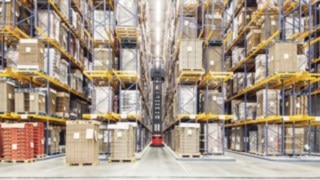 For many years, this was a real problem for users: If the floor did not have the quality required by VDMA (German Mechanical Engineering Industry Association), the surface had to be ground to perfect evenness in order to create a safe working environment – a measure incurring costs of many thousands of euros. Alternatively, the speed of the vehicles had to be reduced for safety reasons, which resulted in lower handling performance for the customer and ultimately counteracted the original goal of increasing productivity.
The new technology from Linde Material Handling is now revolutionizing such applications in high rack warehouses – and it meets all challenges in one go. Active Stability Control (ASC) means that the floor structure is constantly being scanned through an intelligent interaction of mechanical and electronic sensors. If the system detects surface irregularities across the aisle, the load wheels immediately compensate for this and prevent the vehicle from swaying sideways. Thus, the truck is kept permanently in a safe and stable condition.
Highest performance guaranteed
The new assistance system offers trailblazing benefits: With ASC, maximum speeds of up to 14 km/h and lifting heights of up to 18 meters are possible not only on perfectly smooth floors, as prescribed by the corresponding VDMA standard. Ground unevenness between the left and right lanes of up to ten millimeters can be compensated for with sufficient safety distances. This means that floor quality according to the lower requirements specified by DIN 18202 (Table3, line 3) is sufficient, as lateral swaying is compensated for directly as it occurs. The worker can therefore drive quickly and safely.
"The new technology is also interesting for those customers who work in rented halls and can't do anything about the floor conditions," says Anna Keilbach, Product Manager Very Narrow Aisle (VNA) at Linde Material Handling. "With ASC, operators can take full advantage of the productivity potential of Linde K trucks." However, even when it comes to new warehouses it is worth equipping the vehicle fleet with Active Stability Control, Keilbach says: "Many newly laid floors do not meet the necessary quality requirements. Thanks to ASC, this annoyance is now a thing of the past, at least as far as our customers are concerned." As usual, competent advice is all important, emphasizes the VNA Product Manager. "Our network partners analyze the situation on site and calculate the best solution for the customer. The individual circumstances play a key role in this."
With the Active Stability Control system, Linde Material Handling completes its portfolio of assistance systems for maximum stability. When the new K truck was launched six months ago, the company presented its Dynamic Reach Control (DRC) system, a solution that reduces mast oscillations during storage and retrieval. The mast remains stable so that goods can be stored vertically even at maximum lifting height, without the driver having to wait for the load to swing out. This leads to productivity increases of up to 20 percent compared to the standard version.
ASC technology from Linde Material Handling is being presented for the first time at the "World of Material Handling" industry event, which will take place in Mannheim on the Maimarkt site from June 4-15.