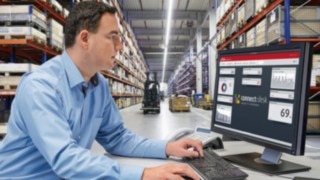 All relevant information at the click of a button
3 May 2018
Fleet management solution "connect" now available for all industrial trucks
More transparent, more cost effective, and even safer: The "connect" software from Linde Material Handling keeps track of operating hours, documents jolts and downtimes, indicates when maintenance work is needed, and much more. The comprehensive fleet management solution is now available for all industrial trucks – and can also be fitted on vehicles from third-party manufacturers.
Modern electronics ensure that today's forklift and warehouse trucks can collect a large amount of data during operation. However, that's only half the battle: To make the most of this potential, users not only need to be able to read the information, but also to evaluate it. This is exactly what Linde enables them to do with its modular fleet management solution "Linde connect" which is available for their entire fleet, either directly ex works or as a retrofit solution. Especially interesting for operators of mixed fleets is the fact that trucks from third-party manufacturers can also be integrated so that the software can be used to manage the essential functions of all their vehicles.
"With the availability of 'Linde connect', we offer our customers full transparency with regard to their fleet," says Anke Hensel, Senior Director Business Solutions at Linde Material Handling. "Thanks to the possibility of integrating third-party brands, our system is also ideally suited for mixed fleets," says Hensel. "connect" is already in use on more than 100,000 industrial trucks worldwide.
Advantages across the range
The functions of "Linde connect" are basically divided into three areas: access control (connect:ac), truck data (connect:dt) and usage analysis (connect:an). Several demand-oriented service modules are available in each segment. Thanks to "connect", for example, a highly effective usage control system can be established in which the driver logs on to the truck either via RFID chip or PIN entry before starting work. The fleet manager therefore always knows who drove which truck and when –this enables better operational planning and ensures more careful handling of the trucks. In addition, which driver may drive a certain truck at a particular time and at what speed can be stipulated.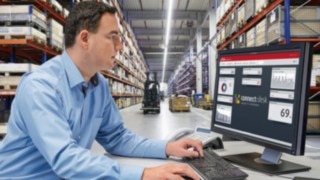 The connect:desk software provides a perfect overview. It serves as a kind of control center for the fleet manager. Here all data converge and are analyzed, mapped and monitored. Depending on the selected connect function modules, the logistician can retrieve more than 25 interactive reports regarding the fleet. These include, among other things, current availability diagrams, detailed usage information or forecasts of the expected truck operating hours. This makes it much easier to identify unused potential, avoid idle times and make optimum use of the trucks.
However, Linde connect users benefit from more than just enhanced cost effectiveness – functions such as the shock report can provide a valuable contribution to increased operational safety. This function makes it possible to reliably trace when a driver has caused a "shock" to the vehicle – for example by means of a collision or by driving over a pothole.
Another advantage is the flexibility of data transmission via GPRS (SIM card), Bluetooth or WLAN. All three standards are possible and can even be mixed within the fleet, for example if there is no WLAN available in the outdoor area. In such a situation, trucks operating there can be fitted with a SIM card which relays information to the database.
connect:desk is installed as standard on PCs or notebooks. The data remains in the company's IT network and the customer retains data sovereignty. In addition, Linde also offers its customers a browser-based version and can host the software on an external server. This solution opens up access to the advantages of modern fleet management not least to companies with limited IT resources.