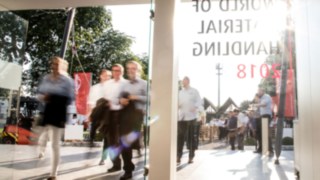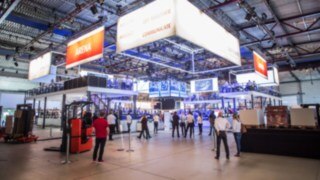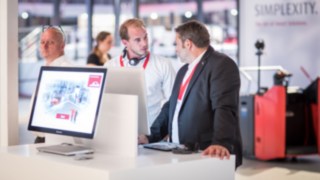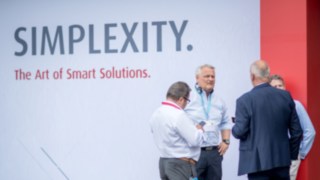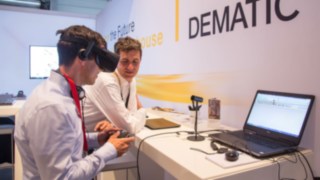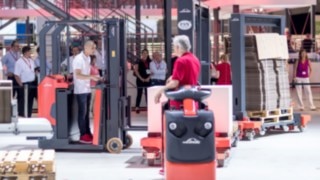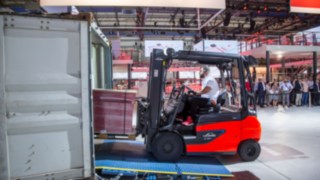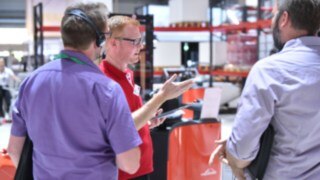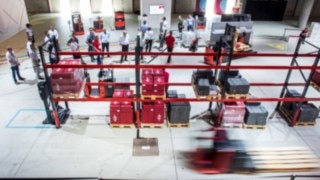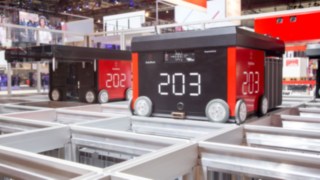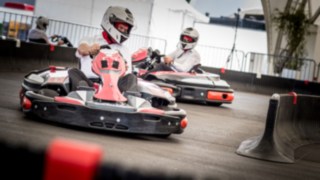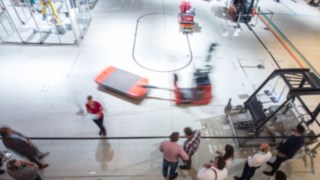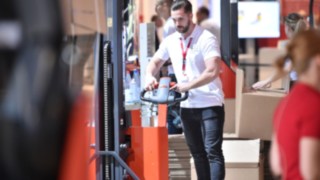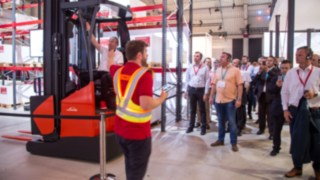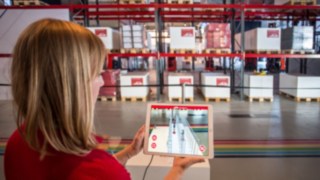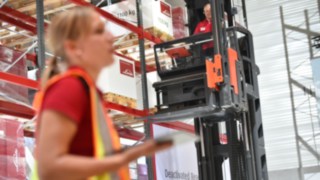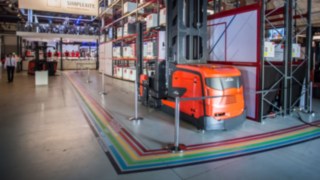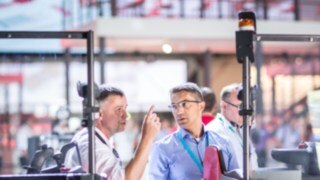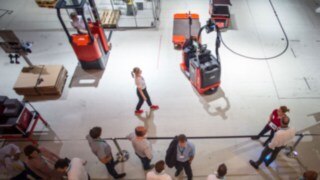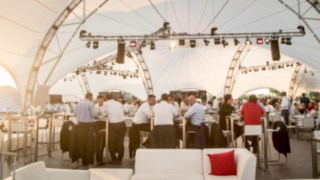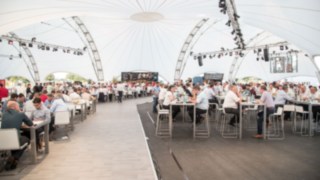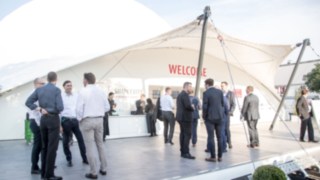 Superlative Intralogistics
11 Jun 2018
World of Material Handling Uses Sophisticated Live Installations to Demonstrate Solutions In Line with the Event Motto "Simplexity. The Art of Smart Solutions."
Around 170 vehicles in four large live installations, product shows, and huge test arenas, over 250 employees offering their combined expertise on stage and behind the scenes, an expected attendance of over 5,000 visitors, an area of over 13,000 square meters, and almost two dozen exhibitors—just a few figures that characterize World of Material Handling (WoMH) 2018.
The event area is impressive even from the outside: Visitors enter World of Material Handling through a vast modern tent construction and feel right at home straightaway. The world of intralogistics opens up behind the entrance, based around four huge live demonstration areas and equipped with everything you could possibly want, from lorries to shipping containers to packaging robots and various (high) shelving systems. Guests are plunged directly into everyday life in logistics operations, experiencing first hand the innovative solutions, products, and software tools that they can use to optimize their own goods handling processes and make them fit for the future. A wide range of partners from various sectors are integrated into subject-specific areas, including fully automated solutions, energy systems, attachments, tire manufacturing, and equipment for driver work stations.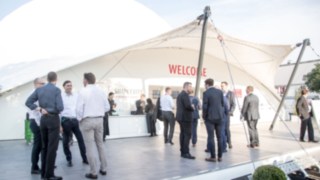 The first main subject area "Loading and Unloading" involves the demonstration of typical set-ups for incoming goods and dispatch: Lorry unloading and deliveries down to the last mile, loading an overseas container, goods transportation from the platform to the bulk storage area. The focus is on a whole range of innovations: narrow pallet trucks and double-deck loaders, a versatile electrical tiller tow tractor for loads of up to 1.3 tonnes, the LED Stripes solution, the optical warning equipment TruckSpot, and the Truck Call app that can be used to issue transport jobs via mobile device.
The second main subject area—"Warehouse"—is all about the handling and storage of goods at different heights on high shelving. A Linde combi-truck moves along a towering narrow-aisle shelving unit. It is equipped with the innovative Active Stability Control assistance system, which compensates for uneven surfaces in milliseconds. In another area, tour guides show visitors how the safety guard functions: Anyone wearing a receiver and the driver of the truck receive a visual and acoustic warning before the approaching reach truck can even be seen. Another warehouse sequence looks at the fast storage and retrieval of goods. This includes the presentation of the new driver-seated pallet truck with lifting heights of up to 6.2 meters, equipped with a lithium-ion battery and the Linde Load Management assistance system. The latter prevents the operator from lifting anything heavier than the maximum permissible load, which could otherwise cause damage or injury. The automated Linde-MATIC trucks demonstrate that all major material flow processes can now be organized in the warehouse with autonomous equipment.
The third main subject area is particularly important, as it is where Linde and its premium partner Dematic have come together to show off the complete range of possible picking solutions: from fully- or semi-automated systems to special solutions for manual picking. Robots control part of the area. People are not allowed in. This is the territory of the AutoStore solution from Dematic—an ultra-compact warehouse and automated goods-to-person picking system—and the Linde robotics autonomous industrial trucks. The Dematic PutWall system is installed nearby. In order to process orders quicker, goods are scanned on one side of the wall and assigned to a compartment via light control; order picking, packaging, and automated reordering are carried out on the other side. The semi-automated low-lift N20 OptiPick order picker is set up in front of another shelving system. Using a wristband, the operator gives driving commands to the device, which carries them out autonomously and therefore saves the employee from unnecessary travel between the truck and the shelf.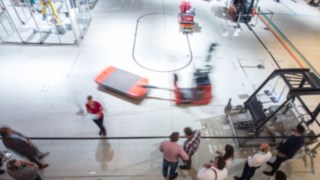 Visitors can experience a complete production environment with corresponding trucks and machines in the fourth main subject area "Production and Transport". It shows how fully- and semi-automated and manual processes can work hand in hand for goods transportation, from pre-assembly to assembly, packaging, and dispatch. Once again, it is particularly fascinating to see the precise interaction between the various autonomous devices and machines, controlled as if by magic. The new autonomous C-MATIC guided cart, the P-MATIC tow tractor, a fully-automated packaging machine, a single-arm articulated robot, and an automated small-load transport system will be on display. There are further innovations in manual equipment: The double-stack order picker, the E10 electric forklift truck, and the Trolly Supply Truck.
Intralogistics—the big picture. Linde Material Handling considers this to mean the optimization of all processes along the internal value chain. The solutions on offer are versatile, based on a large number of modular products, software solutions and services, and are increasingly the result of individual consultations, analyses, and concepts. Growing customer requirements and solution options will be given due consideration at World of Material Handling in the form of special zones for presentations and individual consultation sessions. Four designated "Solution Fields" have been created to cover the topics of Safety, Energy Systems, Automation/Intralogistics, and Digitalization.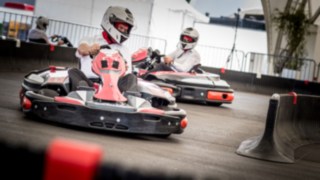 WoMH is offering its visitors a huge amount of amazing opportunities that are usually only very limited at trade fairs: Two test areas for counterbalance forklifts outside and another one for warehouse handling equipment inside in its own hall. And you won't find a more extensive range of products on display that you can try out for yourself anywhere else than at the Maimarkt site, with many other manufacturer brands alongside Linde. Visitors can also experience real technological expertise at the kart circuit. It isn't just the karts' electric drive that is "made by Linde". Their speed is restricted automatically in certain zones, regulated by the Speed Zoning function based on new ultra-wideband technology. And an autonomous kart shows that the Linde robotics devices can also function in a racing environment thanks to their fundamental geo-navigation.