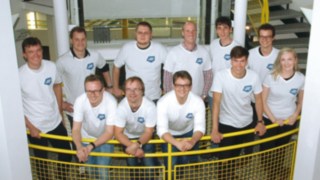 Linde Material Handling takes over start-up Comnovo
6 Jul 2017
Innovative technology for enhanced safety in goods movement and material flow
Industrial truck manufacturer and solution provider Linde Material Handling has taken over the Dortmund/Germany-based start-up Comnovo. With this acquisition, Linde MH is complementing its portfolio with additional safety solutions as well as innovative techniques in the area of vehicle localization equipment.
The number of industrial accidents in Germany has been significantly reduced over the last few years. However, every accident that does occur is one too many, and there are still risks particularly when it comes to the handling of industrial trucks. Linde Material Handling already offers a variety of driver assistance systems, which actively intervene as "intelligent passenger" to prevent accidents. Linde is now expanding its industry-leading safety portfolio by taking over an innovative young enterprise.
Start-up Comnovo has developed an innovative vehicle localization system: Based on ultra-broadband technology, it warns people moving about in halls, buildings or block warehouses of approaching vehicles using signals or vibrations. The special highlight is that due to the high frequency of at least four gigahertz, the system can "see through" pallets, roller shutters, and even through walls – down to an accuracy of ten centimeters.
The system was developed by Comnovo founders Dr. Andreas Lewandowski, Dominik Gerstel and Volker Köster, who will stay with the company as it continues to be operated as an independent entity. Lewandowski will remain in charge of product development and integration as managing director. The founding team has been undertaking research in the area of vehicle localization at the Communication Networks Institute of Dortmund Technical University. Lewandowski obtained his doctorate in the field of RF-based indoor localization systems. He states: "In the car, we're already familiar with a wide variety of assistance systems, such as distance control, collision warning or navigation. We wanted to apply this to the challenges found in intralogistics – that is to say, an area characterized by constantly rising commodity flows and the resulting increasing complexity of processes."
It is exactly here that ultra-broadband technology offers an added benefit, because extremely precise localization is a key requirement in the management of vehicle fleets. "The system will very quickly be able to optimize routes, and thus identify the nearest forklift to undertake a transport order or the most suitable battery charging station, for example," adds Lewandowski.
With the acquisition of Comnovo, the Aschaffenburg company has taken another step forward in its safety initiative. Guided by its "Zero accidents" vision, Linde MH has a decade-long track record of systematically developing innovations for safe, yet highly efficient material handling and material flow. A dedicated department has been set up specifically to this end and utilizes not only the know-how of what is the industry's most extensive sales and service network in more than 100 countries, but also draws on strategic partnerships with lateral thinkers from R&D and consulting.
Comnovo sales director Ron Winkler underscores the excellent prospects arising for the Dortmund company as a result of the partnership: "Linde MH's efficient distribution network is unprecedented in this sector. Both parties will be able to leverage completely new opportunities for product development and market penetration."