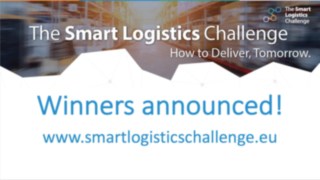 Award-winning logistics ideas
9 Aug 2018
Eight winners announced in FEM young talent initiative "The Smart Logistics Challenge – How to Deliver, Tomorrow"
In spring this year, the European Materials Handling Federation (FEM) called on students across Europe to develop ideas that help meet the challenges of the logistics sector. The winners of this young talent initiative, which is supported by Linde Material Handling, have now been announced.
571 students from 26 countries took part in "The Smart Logistics Challenge – How to Deliver, Tomorrow" competition. In a multi-stage process, a jury of company representatives selected the best concepts submitted. The award-winning participants from Spain, Portugal, France, Denmark and the Netherlands can now finalize their concepts during the course of paid traineeships with partner companies. The official award ceremony will take place on September 14 at the FEM Congress in Antwerp, Belgium, to which the winners are invited as VIP guests. In addition, up until September 10, members of the public will have the chance to vote for their choice of concept to be presented with the TrendSpotter Award: https://www.smartlogisticschallenge.eu/submissions.
"The logistics sector needs young, creative minds who recognize the potential of digitization, automation and networking and develop ideas for innovative solutions and business models. Therefore, we are delighted with the large number of participants. This shows that our efforts are bearing fruit and that students from all over Europe see the material handling sector as an attractive field of work with exciting topics and personal opportunities," summarizes Christophe Lautray, FEM President and Member of the Executive Board of logistic specialist Linde Material Handling as Chief Sales and Service Officer.
Cobots, 3D printers and digital platforms
Entries could be submitted for three different topics. In the category "Logistics in a Sharing Economy", for example, a student team convinced the jury with their idea of accelerating the procurement of spare parts for ships via a decentralized network of 3D printers. In the category "Cobots in Logistics 4.0", one of the award-winning entries selected by the jury was the concept of a robot that can autonomously remove palletized goods from wrapped film. Furthermore, the proposal to optimize transport capacities over long distances by means of a network of autonomous electric trucks, which can also independently plan the loading and unloading processes, was identified as a possible "Enabler of e-commerce". "This competition has shown that both students and companies can benefit from an even closer mutual exchange. We were really impressed by some of the ideas and we look forward to working as a team with them to further develop one of the winning projects and to supporting the young talents," concludes Andreas Kistner, jury member and Senior Director Innovation Management at Linde Material Handling.
More information about the competition is available at www.smartlogisticschallenge.eu; social media contributions can be found at #DeliverTomorrow.