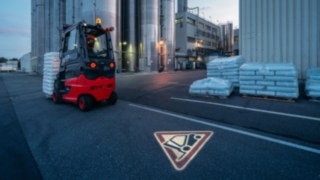 Maximum safety in intralogistics
29 Aug 2019
Linde Material Handling to present comprehensive range of solutions at the A+A trade fair
The goal is called "Vision Zero": In the long term, Linde Material Handling aims to reduce the number of accidents among its customers to zero. This is no easy feat in the intralogistics sector, where people work with equipment weighing several tons, even in narrow racking aisles. At the A+A occupational safety trade fair in Düsseldorf, Germany the company will be presenting its comprehensive range of safety features. One particular highlight at the stand will be an interactive warning vest.
Accidents not only endanger the health of employees, they also disrupt the flow of operations and cause high costs. However, there is much that decision-makers in the intralogistics industry can do to make processes in their companies less hazardous. At the International Trade Fair for Safety and Health at Work (A+A), held in Düsseldorf from 5-8 November 2019, Linde Material Handling will be demonstrating how this can be achieved. The focus at stand A 31 in Hall 10 will be on innovative solutions and assistance systems that ensure greater safety in the interaction between industrial trucks and staff – by informing, warning, controlling or intervening.
The latest innovation developed by the Linde engineers is an interactive warning vest that flashes and vibrates as soon as an industrial truck approaches. The vest is based on the Linde Safety Guard assistance system introduced last year, which precisely transmits ultra-wideband (UWB) radio signals down to an inch, even through walls and doors. Benjamin Reis, Manager Safety Sales at Linde Material Handling, says: "The idea behind this vest is very simple – as well as highly efficient: A simple warning is usually enough to prevent hazardous situations from occurring. This is how accidents can be avoided."
Over the past two years in particular, intralogistics specialist Linde Material Handling has significantly expanded its range of safety solutions, for example, by adding the "LED Stripes" and "VertiLight" lighting concepts. Both are based on LED technology, but follow different approaches to provide targeted, bright and glare-free illumination of a forklift's working area. Optical warning systems such as the Linde BlueSpot and its enhanced version, the Linde TruckSpot, have already proven themselves a thousand times over. The latter projects a red warning triangle onto the floor instead of a blue spot, thereby even more strongly drawing the attention of pedestrians or other forklift drivers to each other. The Linde Roadster features a particularly special construction. This electric forklift was designed without an A-pillar and offers the driver a panoramic view of the surroundings and load. Here, increased visibility translates into greater safety.
New features that serve to protect people, machine, goods and infrastructure are also available for the "Linde connect" fleet management system: With the Pre-Op app, the mandatory vehicle check becomes an unavoidable prerequisite following each and every driver change and ensures that only technically flawless trucks are used. The new "Zone Intelligence" module allows fleet operators to define specific warehouse zones and production areas within which the speed of trucks is automatically reduced. Dangerous crossings or sections with high levels of forklift and passenger traffic can be effectively mitigated in this way. Hall or plant layouts are used as a basis to define the various zones.
But products and solutions are only one side of the coin. On the other are organizational improvements in operations. For this purpose, the company offers the Linde Safety Scan: This structured consulting solution involves safety experts analyzing all logistics processes at the customer's site and visualizing potential hazards on a map. As a further step, measures are proposed to alleviate critical areas and implement them jointly with the customer company.
"It is worthwhile for our customers to pay as much attention as possible to the topic of safety. Every investment is money well spent and ultimately ensures smooth processes. We help our customers achieve this goal by offering the industry's largest portfolio of products, solutions and consulting services," says Linde safety expert Benjamin Reis.