The New HD Reach Mast for the Linde R14 – R25 Reach Trucks
Optimal Mast, Optimal Handling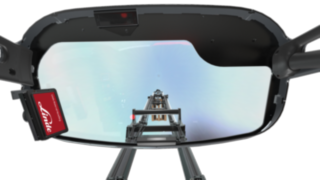 Reach trucks are the perfect choice in almost every type of warehouse. Thanks to their compactness and their ability to lift to considerable heights, they can maneuver in the tightest of spaces whilst reaching the highest and most inaccessible areas of racking. What is so special about a reach truck is its movable mast, which enables goods to be flexibly stored and retrieved at any height, even in narrow aisles.
Due to their many advantages, reach trucks are playing an increasingly important role in warehouse and transport processes. However, these highly specialized trucks are also being confronted with increasingly tough challenges. This is particularly the case in the context of "heavy duty" operations, where ever higher turnover rates are required.
The Challenges Facing Modern Reach Trucks
In the intralogistics sector, it's all about taller and taller warehouses. Logistics space is expensive, so it needs to be fully exploited in every direction. Therefore racking heights of ten meters or more have long since become commonplace. Reach trucks have to ensure safe and rapid turnover of goods at these heights as well.
This means that operators urgently require reach trucks with ever greater lifting heights, but with higher residual load capacities at the same time. But that's not all: Whilst trucks are becoming even taller when their masts are fully extended, they also need to be compact enough when their mast is retracted to fit perfectly through any door or aisle.
Compactness is also the order of the day in terms of truck dimensions, since even though shelf heights are increasing, operators don't want to widen their aisles—they want to optimize their use of space. Two further problems for drivers as masts become higher are increased mast oscillations and restricted views from the cab.
New HD Reach Mast for the R14 – R25 Reach Trucks
Linde is addressing these market challenges and is equipping its R14 – R25 series forklift trucks from load capacity 1400 kilograms with a new HD Heavy Duty reach mast, which will significantly improve the performance of both driver and truck. The new mast improves the driver's view of their load, the racking, and the environment, and allows for higher lifting and higher residual load capacities, while simultaneously ensuring a competitive relationship between lifting height and truck height. Yet even when its mast is retracted, the truck remains compact enough to fit into all typical environments, and low enough to fit under all typical overhead obstacles.
Safety and Performance in View: Improved Visibility in All Directions
Ensuring the best possible view of load and environment is an essential precondition of safe working with reach trucks. With earlier mast designs, the driver's view was partially restricted. This has changed with the new HD reach mast, namely in two respects:
View of the Load
In comparison with its predecessors, the new HD reach mast is significantly wider and no longer requires any cross supports. As a result, the windows between the mast profiles are substantially enlarged, significantly improving the driver's view of the fork. Depending on type and design, the driver enjoys an up to 27 percent larger field of vision. The design of the head cross beam also ensures a more open upward view, making it much easier to control loads when storing and retrieving goods at height.
View Past the Mast
The new reach mast from Linde improves the driver's horizontal view of the working environment, since it is attached to the truck in a more favorable position. This means that the driver can see past the loaded mast, without having to lean out of the truck to do so.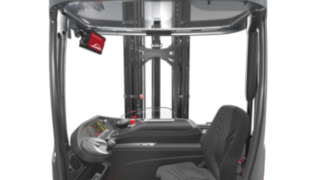 Performance in Every Area: Lifting Height, Residual Load Capacity, and Maneuverability
The following Linde forklift trucks are equipped with the new reach mast:
R14 HD
R16 HD
R20
R20 HD
R20 W
R25
With every meter of vertical warehousing space, businesses are effectively saving money. To utilize this additional space profitably, the reach trucks have to work to greater and greater heights, yet remain compact and maneuverable.
Greater Height: The new reach mast from Linde can achieve a lifting height of up to 15 meters, thereby surpassing its predecessors by a good two meters.
Higher Residual Load Capacity: The residual load capacity has also been improved, meaning that the trucks can handle significantly higher load weights than previously, even when their masts are fully extended.
Same Length: Despite the additional height of the new reach mast, the length of the reach truck remains unchanged, so the trucks remain as maneuverable as ever. They can still turn in narrow warehouse aisles and deliver top-class performance, even in tight spaces.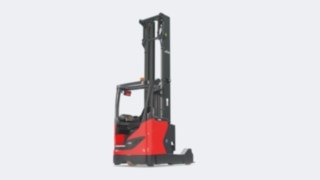 Maximum Compactness: Relationship between Lifting Height and Truck Height
It is not only the height of the extended mast that is important when it comes to reach trucks. When the mast is retracted, the truck needs to be as compact as possible, in order to be able to pass safely through all the access routes in the warehouse. To achieve this, Linde has optimized the relationship between lifting height and truck height for the new reach mast. So the new 15-meter mast, for example, is even lower when closed than the 13-meter version of the predecessor model.
Preventing Oscillations: Robust Profiles for Improved Stability
The stability of the reach mast is all-important when storing and retrieving goods at significant height. If the mast begins to sway, the driver has to wait until it stops. This costs valuable time and, in the worst-case scenario, can result in a collision with the racking and damage to the load. For this reason, the new Linde reach mast has been designed to prevent oscillations even more consistently.
Tougher Construction
The new mast design features a more robust mast profile with staggered reinforcements for enhanced stability. The reach mast is thereby additionally stiffened, and the bending of individual components is minimized. The high level of stability reduces the generation of oscillations during operation, and thereby improves handling performance.
Dynamic Mast Control
The innovative driver assistance system, Dynamic Mast Control (DMC), ensures additional mast stability. A sensor-controlled electric drive compensates at lightning speed for mast oscillations at height through high-precision, targeted countermovements, thereby guaranteeing faster, safer handling processes at high levels. DMC is optional and is also available for the new HD reach mast.
Easy To Manage: Simpler Disassembly, Lower Service Costs
The new reach mast is easier to install and remove than its predecessors. This has been made possible because the sliding carriage remains in the truck chassis when the mast is disassembled. This means that the trucks can be rapidly transferred to another site for prompt redeployment if necessary. It also makes servicing easier: Transportation, disassembly, and reassembly can be achieved in up to half the time, for up to half the cost.
The new reach mast: Benefits at a Glance
Innovative mast profile for a better view of the load
Improved mast position for optimized visibility
15-meter lifting height for working with the highest racking
Higher residual load capacity for maximum performance
Optimized relationship between extended and retracted mast
Unchanged truck length for optimal maneuverability
Sturdier mast profile for a more stable structure
Easier disassembly for lower service costs