Narrow Aisles, Wide Choice
High-Performance Logistics for the Beauty Sector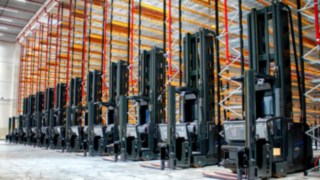 150,000 different items, and up to 60,000 storage and retrieval tasks every day: At its site in Hamm, Arvato Supply Chain Solutions is set to soon achieve this mammoth feat of logistics at peak times, on behalf of a major beauty sector customer. The backbone of the high-performance distribution center is cutting-edge very narrow aisle technology from Linde Material Handling.
One thing is certain: The only quiet moment at the new distribution center for Arvato Supply Chain Solutions in Hamm in North Rhine-Westphalia is the moment when we are there to take photographs. Just a moment ago, all the newly acquired Very Narrow Aisle Trucks equipment was neatly lined up and photographed in front of the equally new rack system; now the vehicles, painted in eye-catching black, don't lose a second of time.
Things Are Moving Here
"We have everything perfectly in place here, ready for the run-up to late summer 2022," says Christian Schmidt, Vice President & Head of Operations at the Consumer Products Division of the global logistics and fulfillment service provider. The facility will then perform an average of 40,000, and at peak times as many as 60,000, storage and retrieval tasks every day on behalf of a major customer from the beauty sector. "That is quite some ballpark," comments Schmidt, adding: "So it's all the better that we have an optimum logistics set-up."
Storage As Far As the Eye Can See
An optimum set-up – what this means in the case of Arvato is: a powerful interplay of trucks, technology, and service. Christian Schmidt explains: "We put this major project out to tender across Europe, and the submission from Linde Material Handling simply met our needs best." The goods flow specialist, based in Aschaffenburg, worked with its contracting network partner Neotechnik Fördersysteme to supply a total of 17 new K trucks to Hamm. Two of these are being used to serve a comparatively small 8000-place pallet warehouse; by contrast, the majority of the fleet will be put into service in the 17 racking aisles of the gigantic 540,000-place carton warehouse. "Given the huge volume of goods movements, we are 100 percent reliant on double working," describes Schmidt.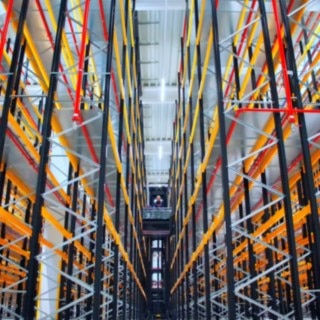 In, Out, Up, Down
Double working – in practical terms, this means: Staff use the inductively-guided Linde K trucks to switch constantly between storage and retrieval tasks. Goods are stored in or retrieved from the racks via conveyors, with the assistance of trays, which each hold 24 cartons – filled with eyeliners, facial care products, luxury perfumes, and so on. Whilst they work at substantial heights of up to 11 meters, Arvato logistics staff enjoy the benefit of multiple features specific to Linde trucks.
I had never seen anything like this before from any competitor. A great idea, which makes order picking easier and helps to improve our handling capacity as a result.
Christian Schmidt, Vice President & Head of Operations Consumer Products
Linde Technology Helps You Move More – and More Safely
"We all agreed that we should order each truck with Dynamic Reach Control," reports Christian Schmidt. The innovative system counteracts mast oscillations, which inevitably occur as a result of rapid reach movements, by means of an electrical drive. "As a result, our people can work faster and more safely within the rack system, because they don't have to wait for the mast to stop swaying," the logistics professional notes with satisfaction. His team has also benefited from the integrated tilting order picking barriers in the Linde very narrow aisle trucks. When the staff lean on these, they immediately tilt outwards by up to ten centimeters. "I had never seen anything like this before from any competitor. A great idea, which makes Order picking easier, and helps to improve our handling capacity as a result," Christian Schmidt is pleased to report.
Li-ION Batteries Ensure Availability
Meanwhile, to power the trucks, the managers have opted for Li-ION Technology.
"This was the only logical choice for us, because we wanted to free ourselves from the usual lead-acid battery charging cycle," underlines Schmidt. Instead, the energy-storage systems are simply supplied with fresh power via the quick-charge access at the rear of the truck. As an additional environmental and economic benefit, the electricity required will soon be drawn from the facility's own photovoltaic system.
Digital Support
And speaking of benefits: Arvato has also profited from the smooth commissioning and implementation of the Linde Warehouse Navigation by Linde Material Handling. The semi-automated K trucks are networked with the customer's ERP system via an interface; this means that route-optimized transport jobs can be sent directly to the forklifts. "Even though IT projects can sometimes be tricky, this system worked almost perfectly from day one," recalls Christian Schmidt.
An Attractive Complete Package
The Arvato logistics expert is also extremely satisfied with the reliable on-site support provided by Linde Material Handling network partner Neotechnik Fördersysteme. "With a project of this size, availability is everything. So we always have a service technician on site. We also store key spare parts right here – so that we can keep downtimes to an absolute minimum. This is exactly what logistics experts dream of."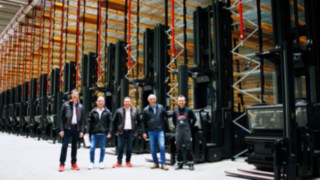 Arvato Supply Chain Solutions
Arvato Supply Chain Solutions is a subsidiary of Arvato Bertelsmann, which in turn is part of the Bertelsmann Group. The company employs around 17,000 people at 85 sites worldwide. At its new 32,000-square-meter distribution center in Hamm, Germany, Arvato Supply Chain Services will perform logistics and fulfillment services for a major client in the beauty segment. A total of 17 Linde K trucks will be deployed on site; servicing will be carried out by Linde Material Handling contracting network partner Neotechnik Fördersysteme from Bielefeld.