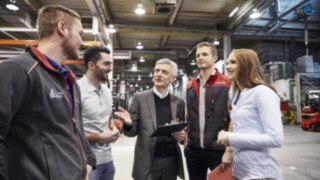 The development of industrial trucks is a core competence of our company: to ensure that our products meet customer requirements, we work closely together with colleagues from other divisions, such as marketing, production, quality, logistics, purchasing, and finance. This allows us to ensure that our trucks are of the highest quality as well as being innovative and cost-effective. Development coordination is organized across brands in the KION Group, our parent company – this is how we guarantee that we jointly reach the right strategic decisions, while also enabling synergies with joint modules and group-wide platforms.
Over 20 years ago, when I started as a design engineer for the development of electric forklift trucks in the development division at Linde Material Handling immediately after completing my degree program, I made a conscious decision to join a sound, long-standing company. My employer had to be established, but dynamic, as, even at the time, I wanted to make a difference. The plan worked: Linde is continuously developing and I am constantly faced with new and interesting areas of activity. Today, I am responsible for project management and product lifecycle management across the KION Group. The entire development division at KION works using joint processes that make use of consolidated data that is based on our integrated cross-brand systems for product realization, budgeting and portfolio planning. Even after two decades, I still find my work as exciting as on my first day. Many of my colleagues agree – staff turnover in the company is low. Anyone who has been a part of Linde is assured long-term prospects with a wide range of career opportunities.
Anyone working at Linde is assured long-term prospects with a wide range of career opportunities.
I believe that clear expectations on my part and a high level of trust in my employees are elementary components of human resource management. I am responsible for a global team – so it is important that we can rely on each other and that each of us is familiar with and pursues the common goals. To encourage the creativity of my employees, I grant them what I myself most appreciate: freedom. Ultimately, Linde aspires to develop the best products and the most innovative solutions, which requires imaginative minds. Anyone looking for autonomy, a place to introduce their own ideas and development opportunities has come to exactly the right place.