Yanis Harmance, Project and Product Manager Linde Automation
"Automation is the future."
Yanis Harmance is Project and Product Manager in Linde Material Handling's automation department. A role that is not only challenging, but also future-orientated.
Yanis Harmance is a commuter, not just between his homeland of France and Aschaffenburg, Germany, where he currently lives, but also as part of his job. As a Project Manager for Linde Automation, he often travels around Europe visiting customers, and as a Product Manager he develops and implements new ideas. Each day is a balancing act between different worlds, and it is precisely this that Harmance finds so exciting about his job.
The 29-year-old studied engineering with a focus on logistics in France. He joined the team of Linde Material Handling in Aschaffenburg in June 2017. "Linde is a large company that offers a lot of potential", he says when asked why he chose to join one of the world's biggest manufacturers of forklift trucks and warehouse equipment. The automation team is still a relatively new part of Linde. But that didn't deter Harmance from applying; in fact, it was quite the opposite:
I was really excited at the prospect of helping to develop this field further.
He has never regretted his decision at all, far from it. "Automation is the future", says Harmance with conviction. In intralogistics, it is essential to keep increasing efficiency all the time. More and more customers, particularly those in the retail and warehousing sectors, are therefore asking about Automated Guided Vehicles (AGV), or driverless transport systems (DTS). While these trucks independently and safely transport goods from A to B, employees can focus on other tasks. The trucks are fitted with special sensors to enable them to orientate themselves within their environment. "This geo-navigation system means that the trucks don't need any additional infrastructure", says Harmance.
When speaking to him, it is clear how much he loves his job. "It's great working for Linde in the area of automation", says Harmance, who is 1.96 metres tall and is a keen handball player. "A new problem can crop up at any time, and must be resolved as quickly as it arose."
Flexibility and know-how are just as important as the need to keep in constant communication with customers and colleagues. Yanis Harmance spends two or three days each week travelling to visit customers across the entire EMEA region (Europe, Middle East and Africa), the destination depends on which customer he is going to see. "At the moment I'm spending a lot of time with customers in France, Hungary, Germany and Switzerland, but if an order came in tomorrow from Denmark or Italy, I'd go there too," he explains.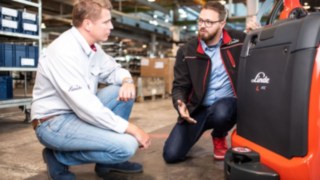 He's always got his eye on both the product and the customer; Harmance is the on-site contact person, he is always aware of delivery times and ensures new equipment is set up successfully. When asked to describe his role, Harmance says: "I am the interface between the engineers and the customers." Moreover, being on site to see the trucks being used in practice gives him an insight into ways to develop the products further. It's this variety that he enjoys so much.
In the future, Harmance is keen to focus more on his role as a Product Manager and dedicate himself to new developments and innovations. "Within the next five years we want to have clearly overtaken the competition when it comes to automation." In order to achieve this goal, he needs one thing above all: skilled professionals. "We're currently right in the middle of expanding the automation division further", says Harmance. He only has positive things to say about his job: "This role boasts a great deal of room for both professional and personal development."